Are Bezos and Musk Launching Us Into a New Space Age, or Just a U.S. Space Grab?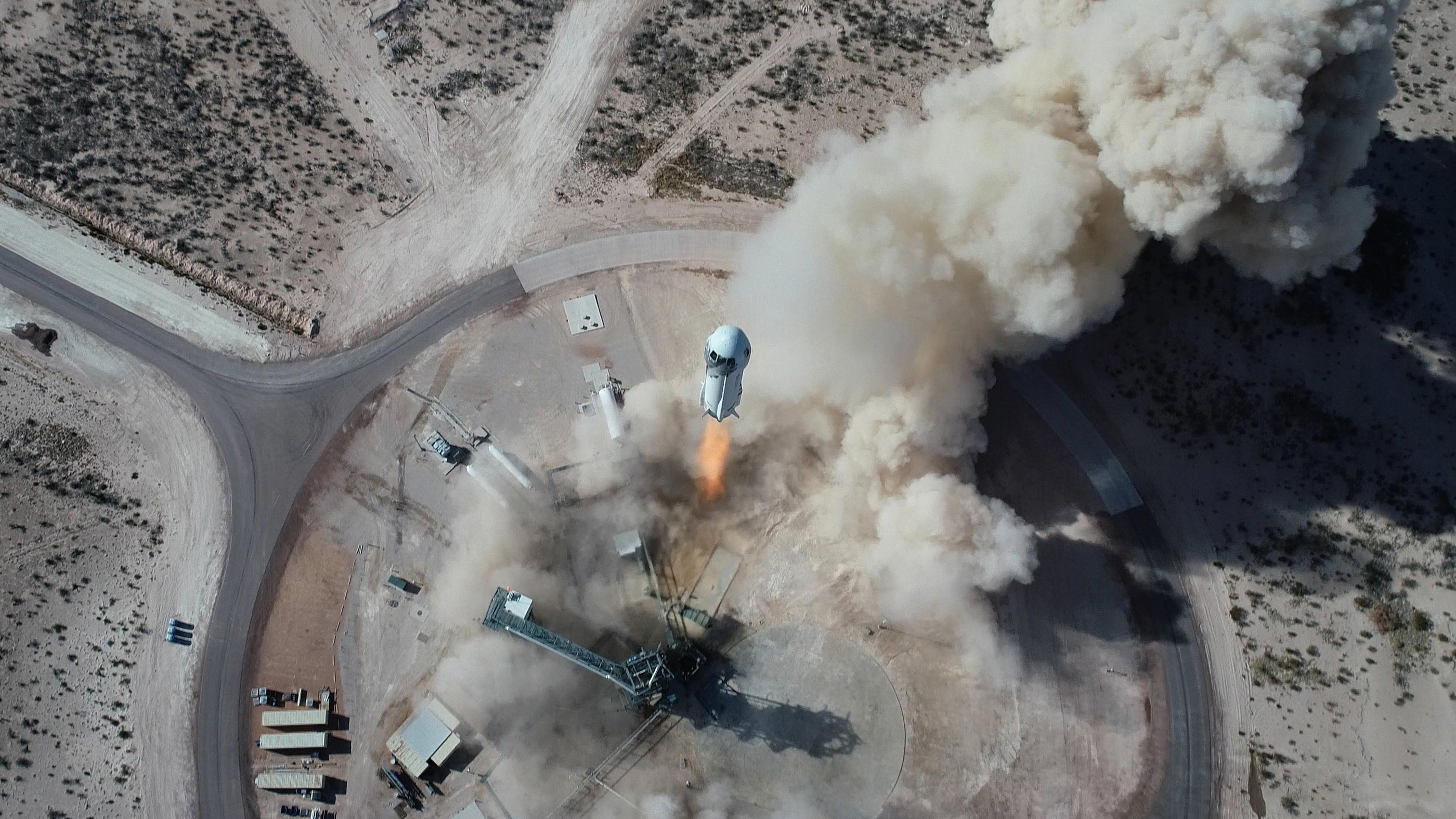 We are entering a new space age in which billionaires can leave this world, which they are destroying, hoping to find another world to conquer and destroy.
The space race was once between two countries—the Soviet Union and the United States. It is now (at least on the surface) between three billionaires—Elon Musk, Jeff Bezos and Richard Branson. Two of them—Branson, founder of Virgin Galactic, and Bezos, founder of Blue Origin—recently rode their respective companies' suborbital flights (meaning that they cannot be considered proper spaceflights, as they did not reach a stable orbit around the Earth). Branson's space ambitions seem to be limited to developing a market for the exotica of space tourism. Elon Musk and his company SpaceX have been playing for the long haul, with a series of rockets and launches already to the company's credit, including to the International Space Station. Bezos and Blue Origin also fall into the latter camp.
Behind this apparent show of rich kids playing with their expensive space toys, there are bigger forces at play—namely, that big capital is entering spaceflight, hitherto the exclusive domain of nation-states. While it appears that three men with deep pockets are funding their respective space ventures, the reality is that it is the U.S. taxpayers who are funding these space efforts. In this new space age, the U.S. is also proposing to ride roughshod over the space agreements that space is a "global commons." The U.S. would like to convert space into its "final frontier," under the premise that space belongs to any country that can mine its riches.
Many people take for granted that the U.S. was the winner of the space race against the Soviet Union, since they beat the Soviets to the moon. But what is overlooked in this narrative is that the space competition is not simply about who sent the first man to the moon, but also about who built the better rockets.
Strangely enough, it was the fall of the Soviet Union that brought forth information that Soviet technology produced rocket engines that had consistently outperformed the American ones. Today, the Russian-produced rocket engines—RD-180 and RD-181—still power U.S. rockets. The Atlas rocket line, which is the mainstay of U.S. heavy-lift launch vehicles, uses RD-180 engines. Atlas is owned by United Launch Alliance (ULA), which is a joint venture of Lockheed Martin and Boeing. When Orbital Sciences (now a part of Northrop Grumman) was looking for launch vehicles for its Antares program, they used Soviet-era 40-year-old, mothballed NK-33 rocket engines. After one of them blew up due to cracks in the aging engines, Antares switched their rocket engines—to yet another engine designed and produced by Russians, the RD-181.
In 1992, just as Russian rocket engines were becoming the mainstay of the U.S. space program, the U.S. imposed sanctions on the Indian Space Research Organization (ISRO) and Russia's Glavkosmos. Glavkosmos was Russia's space marketing arm for selling cryogenic rocket engines and technology. These sanctions were only withdrawn after ISRO developed its own cryogenic engine technology. Russia's contribution to India's rocket program was the seven cryogenic engines that it sold to ISRO, a part of the N1 upper stage of the Soviet Union's moon mission.
Why did the Soviet-era rockets perform better than the U.S. rockets? It is because the Soviets had mastered what is called the closed-cycle rocket engines well before the Americans. For any rocket capable of spaceflight, it needs both fuel—e.g., kerosene, hydrogen, or methane—and a burning medium, such as oxygen. Meanwhile, in an open-cycle engine—Saturn V of the Apollo program was an open-cycle design—a part of the fuel does not reach the main combustion chamber. It is used to power a turbo-compressor pumping fuel and oxygen and exits directly into the atmosphere. This results in a loss of efficiency for the engine, which then has to be compensated by carrying more fuel.
In a closed-cycle engine, or what is called "staged combustion," the products of the first-stage combustion powering the turbo-compressor are fed to the main combustion chamber, avoiding any loss of fuel. The Soviet engineers had solved the problem of materials that had to withstand the extremely harsh conditions of injecting the products of oxygen-rich combustion into the main combustion chamber. The U.S. engineers thought that this was simply not possible and were shocked when, while visiting Russia in the '90s, they were shown the mothballed engines of the ill-fated N1 project, the Soviet attempt at the moon shot. These were the engines that Orbital Sciences tried to use for their Antares program, christening them as AJ-26, before they switched to the more advanced Russian RD-181 engines.
Following the Ukraine crisis of 2014, the U.S. has imposed sanctions on many Russian companies. However, it still uses rocket engines sourced from Russia for its space program, both civilian and military. After the U.S. space shuttle program was shut down in 2011, taking U.S. astronauts to the International Space Station and bringing them back was left to Russian Soyuz rockets. It was only after SpaceX developed its space shuttle that the U.S. again had a spacecraft for carrying its astronauts to the International Space Station.
The U.S. Congress has decreed that U.S. companies will have to phase out the Russian engines from their military launches by the end of 2022. This is where Bezos and Musk come in, as both are vying for the future launches that the U.S. military and NASA are planning. Though it appears as if Musk and Bezos are developing the rockets using their own money, it is still NASA that is footing the bill. NASA pays upfront development costs and, later, price per launch.
If the rocket engines are the key to any serious space program, where does the U.S. stand in this new space age? ULA has had to switch to the U.S.-made engine as per the new NASA requirement. It has chosen the BE-4 rocket engine from Bezos' Blue Origin, though ULA is reportedly unhappy with delays by Blue Origin and the lack of "attention and priority" the company is putting on the engine. The other rocket engines in the fray are from Musk's SpaceX. Orbital Sciences still appears to be tied to Russian engines for its cargo services to the space station. So the U.S. rocket engines seem to be restricted to BE-4 from Blue Origin and SpaceX Falcon Heavy rocket/Raptor engines. The American space race is essentially a two-horse race between the two super-rich billionaires.
How do Bezos and Musk fund their space ventures? The public believes it is with money that the 'visionary' billionaires have made as a result of their acumen for entrepreneurship—they represent a version of Ayn Rand's 'heroes' from her novels. The brutal truth is that Bezos as a capitalist has squeezed his workers, increasing their workload so much that they are unable to even take bathroom breaks. Amazon pays its workers wages that are "close to the poverty line for a family of four" and need to be supplemented by social welfare. The company has destroyed the small retail sector, and it competes with its own suppliers with Amazon-branded products and is "crushing them with competitive pricing."
Musk claims to be the other visionary by developing Tesla, the electric car of the future. While the existing automakers were slow to develop electric cars, Tesla has an edge of being the early mover and cashing in on the environmental regulations in various countries that demanded that automakers earn carbon credits by selling a certain percentage of their output as electric cars. For example, in the first quarter of 2021, almost all of Tesla's profits came from carbon credits it sells to other automakers. Since Tesla makes only electric cars, it has surplus carbon credits that it sells for a profit to other automakers. The crucial component of electric cars is the batteries, which Tesla outsources to others. One of the key battery suppliers to Tesla is Contemporary Amperex Technology Co. Ltd. (CATL), which is the largest lithium battery manufacturer in the world. Its owner, Zeng Yuqun, has a net worth more than that of Jack Ma of Alibaba. What Musk has is a huge social media presence, which he has leveraged in hyping up his auto, and now space, ventures.
The other disturbing aspect of the new space age ushered in by the space billionaires is the U.S. policy of grabbing space for its private companies. This violates the Outer Space Treaty. The U.S. position is that whether or not outer space is a global commons, its commercial exploitation is open to all. This is a position the U.S. had on seabed mining in international waters as well. Such a policy privileges the powerful and technologically advanced states and is another way of blocking the essence of the global commons.
Behind this hype of a new space age is the reality of a new space grab. This is what Bezos and Musk represent: a new space age in which the billionaires can leave this world they are destroying in the hope of discovering new lands to conquer and again destroy.
---
By Prabir Purkayastha
Prabir Purkayastha is the founding editor of Newsclick.in, a digital media platform. He is an activist for science and the free software movement.
COP26: Climate Pledges Don't Match Up With Policies or Consumer Behavior
After more than two weeks of negotiations during the United Nations COP26 climate summit in Glasgow, Scotland, diplomats from almost 200 nations finally agreed on two major points: ramp up the fight against climate change and help at-risk countries prepare. Specifically, governments agreed to meet again next in 2022 with more robust plans to slash carbon dioxide emissions by 45 percent by 2030, significantly reduce emissions of methane (which has even more global warming potential than CO2), and nearly double the aid to poor countries to help them mitigate the effects of climate change. Notably, nations agreed to initiate reductions in coal-fired power and to begin slashing government subsidies on other fossil fuels, representing the first time a COP text mentioned coal and fossil fuels.
Alok Sharma, COP26's chief organizer, called the Glasgow Climate Pact "a fragile win."
Acknowledging the deal is imperfect, U.S. climate envoy John Kerry registered his support. "You can't let the perfect be the enemy of the good, and this is good. This is a powerful statement," he said. "We in the United States are really excited by the fact that this raises ambition on a global basis."
And while the agreement represents a step forward, it has been roundly criticized by scientists, climate activists and representatives from small, poorer nations who will feel the brunt of the climate impacts much sooner than big, richer ones.
Shauna Aminath, environment minister of the Maldives, denounced the final COP26 deal as "not in line with the urgency and scale required." The Maldives has supported life and human civilization for millennia, but 80 percent of the archipelago of low-lying islands in the Indian Ocean is poised to be uninhabitable by 2050 due to rising sea levels caused by global warming. "What looks balanced and pragmatic to other parties will not help the Maldives adapt in time," Aminath said. "It will be too late for the Maldives."
"COP26 has closed the gap, but it has not solved the problem," said Niklas Hoehne, a climate policy expert from Wageningen University in the Netherlands.
Long before the annual climate chinwag, there was an air of futility about what has been described as our "last and best chance" at securing a livable environment for future generations. How could there not be? The leaders of more than 150 countries have been trying to lower humankind's global warming emissions since the United Nations Framework Convention on Climate Change (UNFCCC) talks started more than a quarter-century ago. And since the first summit was held in 1995, global emissions have, instead, skyrocketed.
The summit's host, UK Prime Minister Boris Johnson—who joined activists in invoking the mantra "keep 1.5 alive"—was unimpressed with his guests, saying during the G20 summit (held in Rome in the days leading up to COP26) that all the world leaders' pledges without action were "starting to sound hollow" and criticizing their weak commitments as "drops in a rapidly warming ocean."
Science has put a deadline on us. In order to limit global warming to 1.5 degrees Celsius above preindustrial levels—a limit decided by the Paris agreement—humankind must achieve "net-zero" emissions (i.e., whatever amount we emit into the atmosphere, we must also remove) by 2050. But that target seems highly unlikely. Big polluting nations like the United States, China and Russia not only continue to burn fossil fuels at an alarming rate but also continue to drill for more oil. China—the world's biggest emitter, responsible for more than a quarter of humanity's total emissions—and Russia have pushed their own net-zero targets to 2060. India has pushed it to 2070. That is kicking the climate can down the field, to be dealt with by future leaders. (A quick glance at a graphic created by the Economist showing the quick and steep drop in emissions that China must undergo to achieve its own target underscores the magnitude, and perhaps folly, of winning the war against the climate crisis.)
In the United States, a divided nation has ossified a gridlocked legislature that hasn't passed many game-changing climate laws. Much environmental protection has been exercised through executive actions, such as regulations imposed by federal agencies, which can be simply overturned by the next administration. When a Democrat is in the White House, environmental protection is higher on the priority list. When a Republican is in the White House, it's more about protecting polluters. The country lacks the necessary strong federal and state climate legislation to protect people and the environment from toxic, global-warming pollution, protect fenceline communities (which are often poor communities of color and Indigenous communities) and hold polluters to account.
One of the bright spots of the summit was a landmark $19 billion agreement between more than 100 nations—together responsible for about 85 percent of the world's forests—to end deforestation by 2030. Healthy, intact forests are critical in the climate fight as they prevent around one-third of the world's carbon dioxide emissions from fossil fuel combustion.
But in a press statement, Dan Zarin, the executive director of forests and climate change at Wildlife Conservation Society, said that the Glasgow Climate Pact "does not mean that the world has solved the climate crisis." He pointed out that even if all the participating nations' pledges to reduce emissions (known as "nationally determined contributions" or "NDCs") were achieved, the world would not hit the 45 percent reduction needed by 2030 to limit the temperature increase to 1.5 degrees Celsius. In the Glasgow Climate Pact, countries only agreed to strengthen their NDCs by the end of 2022.
President Joe Biden, who attended the summit, hailed the forest agreement, which aims to restore almost 500 million acres of ecosystems, including forests, by 2030. "We're going to work to ensure markets recognize the true economic value of natural carbon sinks and motivate governments, landowners and stakeholders to prioritize conservation," said Biden, adding that the plan will "help the world deliver on our shared goal of halting natural forest loss."
But activists were less enthused. The forest agreement "is one of those oft repeated attempts to make us believe that deforestation can be stopped and forest can be conserved by pushing billions of dollars into the land and territories of the Indigenous Peoples," said Souparna Lahiri of the Global Forest Coalition, an international coalition of NGOs and Indigenous Peoples' organizations defending the rights of forest peoples.
"[R]eferences to the rights of Indigenous peoples are relatively weak" in the Glasgow text, said Jennifer Tauli Corpuz, a lawyer from the Igorot people in the Philippines and chief policy lead at Nia Tero, a nonprofit advocacy group for Indigenous peoples. Specifically, she said that "[w]e will have to watch closely the implementation of [COP26's] new carbon scheme," referring to the finalization of rules that will manage the creation of the international carbon market, and were part of the 2015 Paris climate accord.
In addition to the lack of Indigenous representation in the final text of the Glasgow Climate Pact, people from poorer island nations that are most susceptible to the impacts of sea level rise were also underrepresented at the talks, mainly due to COVID-19 restrictions. Just three out of 14 climate-vulnerable Pacific island states were able to send delegates to COP26, while the fossil fuel industry sent more than 500 delegates.
Ultimately, the climate pledges made by nations do not match the climate policies of those nations. And since the pledges are non-binding, there is no legal stimulus to ensure that actual policies line up with those pledges. "The NDCs are voluntary measures," said Lakshman Guruswamy, an expert in international environmental law at the University of Colorado-Boulder. "There's no way of implementing, imposing, or trying to enforce a non-binding agreement."
No penalties, no legal ramifications, no climate court, no climate police. All people have is civil society. It's up to us "regular people" to stand up, speak up and mobilize; to inspire care for the climate and the environment in young people; and to rethink and retool our own personal behaviors to be in line with the ultimate goals we have for the future. There can be no significant change without the political will behind candidates who will fight against climate change and pressure to hold elected officials to their word. What many U.S. engaged citizens don't realize is that it's not enough to participate only once every four years by voting in presidential elections. Real change happens when people take an active role in their local communities. It starts at home, with our families, our friends and our neighbors.
Make no mistake: Our personal decisions as consumers play a decisive role in the state of the global climate. "While large oil companies like ExxonMobil, Shell, BP, and Chevron are the biggest emitters of greenhouse gas emissions, we consumers are complicit," writes Renee Cho, a staff writer for the Columbia Climate School. "We demand the products and energy made from the fossil fuels they provide. One scientist found that 90 percent of fossil fuel companies' emissions are a result of the products made from fossil fuels."
Sadly, according to a recent poll, even though a majority of people believe that climate change is a serious issue, few are actually willing to change their lifestyles to help save the environment. "Citizens are undeniably concerned by the state of the planet, but these findings raise doubts regarding their level of commitment to preserving it," according to the survey of 10 countries, which included the United States, the United Kingdom, France and Germany. "Rather than translating into a greater willingness to change their habits, citizens' concerns are particularly focused on their negative assessment of governments' efforts… The widespread awareness of the importance of the climate crisis illustrated in this study has yet to be coupled with a proportionate willingness to act."
Even if consumers become more willing to adapt their behaviors to make them more climate-friendly, they are not necessarily knowledgeable as to how to make those changes. "[I]ndividual consumers are not capable of identifying the behavior changes that are really worth doing to help the climate," writes John Thøgersen, an economic psychologist at Aarhus University, in the journal Behavioral Sciences.
Emmanuel Rivière, director of international polling at Kantar Public, which ran the 10-country survey to coincide with COP26, said the poll results contained "a double lesson for governments."
First, they must "measure up to people's expectations… [b]ut they also have to persuade people not of the reality of the climate crisis—that's done—but of what the solutions are, and of how we can fairly share responsibility for them."
---
By Reynard Loki
Reynard Loki is a writing fellow at the Independent Media Institute, where he serves as the editor and chief correspondent for Earth | Food | Life. He previously served as the environment, food and animal rights editor at AlterNet and as a reporter for Justmeans/3BL Media covering sustainability and corporate social responsibility. He was named one of FilterBuy's Top 50 Health & Environmental Journalists to Follow in 2016. His work has been published by Yes! Magazine, Salon, Truthout, BillMoyers.com, AlterNet, Counterpunch, EcoWatch and Truthdig, among others.