Brazil's vaccination hindered by bottlenecks and a sceptical leader
[ad_1]

A territory of continental size, in the throes of a second wave of Covid-19 and with a leader sceptical of vaccines: Brazil is no easy candidate for a rollout of inoculations against coronavirus.
Latin America's most populous nation started administering the Chinese-made CoronaVac jab days after scenes emerged of patients dying for lack of oxygen supplies in the Amazonian city of Manaus, where the healthcare system has teetered on the brink of collapse. But the week-old inoculation campaign is already facing bottlenecks because of vital pharmaceutical supplies stuck overseas.
As an initial batch of six million imported CoronaVac doses was being administered to priority groups including the elderly, indigenous Brazilians and health workers, another 4.8m units received regulatory approval at the end of last week while an order of two million Oxford/AstraZeneca vaccines, Brazil's other big bet for resistance, arrived from India following a delay. 
But bureaucratic hurdles to the release of key inputs from China threaten to hamper the next phase in the push for immunity. With a plan largely based on domestic production, Brazil will initially be reliant on imported active pharmaceutical ingredients — the essence of a drug — for making both vaccines, until "technology transfers" allow formulation from scratch.
"We have the technological capacity to produce the vaccine, but we depend on the delivery of the active ingredients," explained José Gomes Temporão, health minister between 2007 and 2010 and now researcher at the Oswaldo Cruz foundation (Fiocruz), a biomedical institute in Rio de Janeiro.
"And this has a very serious impact on the disease situation in Brazil. It will take several months to achieve minimum coverage to have an epidemiological impact, reduce hospitalisations and the number of deaths."
Brazil's late start — other countries in the region such as Chile and Mexico began vaccinating their populations last month — has exposed some of the weaknesses of low to middle income countries in securing vaccines, as well as a bungled response to the crisis marked by political squabbling and dysfunction between the federal government and state authorities. The country's death toll of 217,000 is the second-highest in absolute numbers, although per capita it is ranked 21st behind a number of western countries as well as neighbours Argentina and Peru.
The problems have overshadowed some of Brazil's strengths: The country boasts a public health machinery which since the 1970s has eradicated polio and controlled other diseases. Thanks to more than 35,000 vaccination posts, the country administers 300m vaccines every year, a large proportion of which are manufactured domestically. 
"Brazil runs an influenza campaign that vaccinates 80m people in two months," Carla Domingues, an epidemiologist and former co-ordinator of the national immunisation programme, said. "Brazil has this organisation and the knowhow to do this."
While Fiocruz and the Butantan Institute in São Paulo are hoping to receive the inputs for the Oxford/AstraZeneca and CoronaVac vaccines they will produce, respectively, this month, the fear is that the vaccination schedule could be pushed back. "We cannot know if this is a problem that will end soon, or if it is a crisis," said Isabella Ballalai, vice-president of the Brazilian Society for Immunisations.
Some experts even doubt whether enough vaccines have been ordered — 254m of Oxford/AstraZeneca and 100m of CoronaVac, respectively — given that they require two doses and 211m people live in Brazil.
"We don't have a production or import plan that's sufficient to take into account the Brazilian population," said Fernando Aith, a professor of public health at the University of São Paulo. "And the whole world is competing for vaccines."
Critics have suggested President Jair Bolsonaro is partly responsible for the hold-ups. In addition to the rightwing populist diminishing the severity of Covid-19 and the importance of vaccines, members of his inner circle have disparaged China during the crisis, in a style straight from the playbook of his political soulmate Donald Trump. The antipathy has extended to CoronaVac. 
"Bolsonaro has been eroding confidence in the Chinese vaccine for months and not been looking for alternatives," said Alexandre Kalache, a former senior official at the World Health Organization and president of the International Longevity Centre Brazil.
"By the time the government woke up, the allocation of vaccines was given to other countries. Why should the vaccine-makers give priority to Brazil? Brazil has antagonised virtually everyone."
Another target of anger is health minister Eduardo Pazuello, an army general drafted into the position at the height of the first wave last year. The military logistics expert has forecast Brazil could reach 1m people vaccinated per day and has said it will even export shots to neighbours.
But on his watch, efforts to secure stocks of vaccines and syringes have stuttered, while hospitals in some regions have been overwhelmed. Mr Pazuello has insisted Brazil fulfilled an objective to deliver all the initial vaccines within five days and last week said there was no delay in the delivery of the pharmaceutical ingredients.
Yet even as medical oxygen supplies were running out in Amazonas, the health ministry was still pushing for the use of chloroquine on the rainforest's beleaguered communities. The antimalarial has been touted by President Bolsonaro as an early treatment against Covid-19, despite a lack of evidence over its effectiveness.
"[Mr Pazuello's] conduct is of someone about to be expelled from the force, not a four-star general. He is an embarrassment," said Major Olimpio, a senator with the rightwing PSL party and a former ally of Mr Bolsonaro. "He was placed there as a logistics specialist. But look at all these logistical mistakes. Nothing works."
Chinese and Russian vaccines key to vaccination in Latin America
Governments in Latin America have increasingly relied on Chinese and Russian alternatives to the sought-after BioNTech/Pfizer and Oxford/AstraZeneca shots.
Mexico was the first such country to begin vaccinating against Covid-19, using the BioNTech/Pfizer jab. But when the US drugmaker said it would have to pause deliveries for three weeks while it retooled its plant in Belgium to meet world demand, President Andrés Manuel López Obrador's government scrambled to source Russia's Sputnik V vaccine. Even before granting regulatory approval, Mexico has scheduled a rollout of the vaccine starting this week and expects to buy 24m doses.
Argentina, the first Latin American country to approve Sputnik V, is also betting big on the Russian jab after negotiations with Pfizer fell through. It has also ordered Oxford/AstraZeneca doses but in the meantime it is administering Sputnik V to over-60s — including leftist President Alberto Fernández.
Socialist Venezuela, a close ally of Russia, is banking on Sputnik V after hosting clinical trials in October. "We trust the Russian government, we trust Russian medicine and Russian science," said President Nicolás Maduro's son, Nicolás Maduro Guerra, who got his jab last month. Venezuela will manufacture the jab and roll it out in the first quarter; Nicaragua also says it could manufacture Sputnik V for distribution to Central America.
In Bolivia, former president Evo Morales attacked "a misinformation campaign to discredit the [Sputnik] vaccine". The country, now on its fifth health minister since the start of the pandemic, has ordered 5.2m doses, although it is not relying on the Russian jab exclusively.
Mexico has also turned to Beijing: it expects to vaccinate more than a quarter of its population with the one-shot CanSino Biologics' jab.
Peru, whose death toll per capita is the worst in Latin America at more than 1 in every 1,000, is betting on China's Sinopharm vaccine to inoculate 44 per cent of its 32m population.
Chile has secured 10m doses of a Chinese vaccine by Sinovac. Ecuador is hosting clinical trials for one developed by China's Anhui Zhifei Longcom.
Colombia is one of the few major regional economies not to bet either on Russian or Chinese vaccines. Like many Latin nations, it is pinning large hopes on the World Health Organisation's Covax initiative. But Rodrigo Riaza, analyst at The Economist Intelligence Unit, warned that Covax rollout "could span through 2023".
By Jude Webber in Mexico City, Gideon Long in Bogotá and Benedict Mander in Buenos Aires
[ad_2]

Source link
If You Grew Up With the U.S. Blockade as a Cuban, You Might Understand the Recent Protests Differently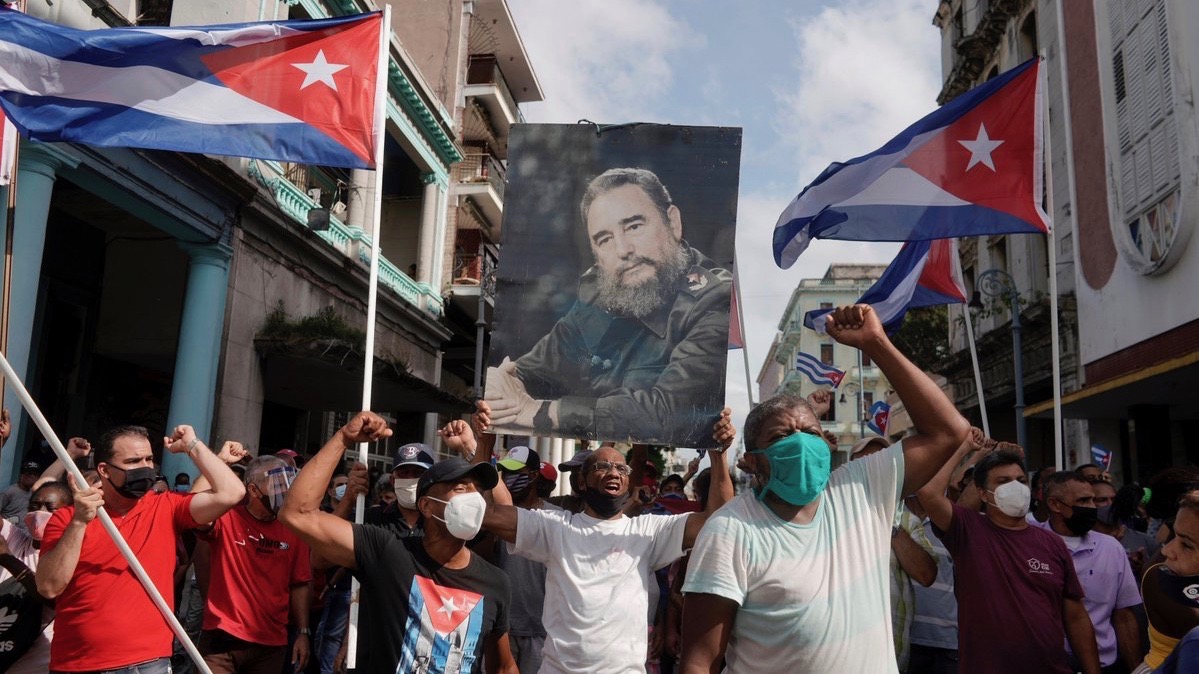 During the early morning of July 17, Johana Tablada joined tens of thousands of Cubans as they gathered along the Malecón boulevard in Havana to stand with the Cuban Revolution. "We are human beings who live, work, suffer, and struggle for a better Cuba," she told us. "We are not bots or troll farms or anything like that." She referred to what has been called the Bay of Tweets, a social media campaign developed in Miami, Florida, that attempted to inflame Cuba's social problems into a political crisis.
The social problems, Tablada told us, derive from the U.S. blockade of Cuba that began in the 1960s but has been deepened by former U.S. President Donald Trump's 243 coercive measures. "The United States has criminalized Cuban public services," she said, "including our public health system and our public education system." These sanctions make it impossible for Cubans to visit their families in the United States. They make it impossible for remittances to be sent into Cuba, and they make it impossible for Cuba to access essential goods and services (including fuel). On top of everything else, Trump designated Cuba as a "state sponsor of terrorism," a decision which U.S. Senator Patrick Leahy called "frivolous." The U.S. government claims that the blockade and these coercive measures are to punish the government, but—says Tablada—they "criminalize the country."
The Miami Mafia
Tablada keeps a close eye on the Cuban policy being shaped by Washington, D.C., and Miami, where right-wing Cuban exiles effectively drive the agenda. She does this in her role as the deputy director-general in the Cuban Foreign Ministry in charge of U.S. affairs. There is a cast of characters in this story that is little known outside the world of U.S. right-wing politics and the Cuban exile community. Of course, four well-known elected officials lead the attempt to overthrow the government in Cuba: Republican Senators Marco Rubio and Rick Scott of Florida, as well as Democratic Senator Bob Menendez of New Jersey and Republican Representative María Elvira Salazar of Florida. Beside them are other politicians such as Miami Mayor Francis X. Suarez and a range of Cuban American businessmen and professionals such as Emilio Braun of the Vulcan Funds and the lawyer Marcell Felipe.
These men are at the core of a set of organizations that lobby U.S. politicians to harden the U.S. blockade on Cuba. Felipe runs the Inspire America Foundation, which Tablada describes as the "heir to the most anti-Cuban, reactionary, and pro-[former military dictator of Cuba Fulgencio] Batista traditions from South Florida." This foundation works with the Assembly of the Cuban Resistance—a coalition of anti-communist groups that calls for a U.S. invasion of Cuba. At the center of these men is Mauricio Claver-Carone, a former head of the Cuba Democracy Advocates, who was Trump's main adviser on Cuba and is now president of the Inter-American Development Bank based in Washington, D.C. Claver-Carone, Tablada tells us, "has been nothing short of the leading lobbyist of the groups acting politically against Cuba in the United States, in the U.S. Congress, representing those entities who benefit from this policy of hatred and aggression against my country." "If you ever mentioned [Fidel] Castro, he'd go berserk," recalled Claver-Carone's friend about his attitude in the 1990s.
"The main goal of these people," Tablada said, "is to overthrow the Cuban Revolution." Their plan for Cuba, it seems, is to revert it to the days of Batista when U.S. corporations and gangsters ran riot on the island.
Lester Mallory's Memorandum
In 1960, the U.S. State Department's Lester Mallory wrote a memorandum on Cuba. Mallory said that most "Cubans support Castro" and there is "no effective political opposition." Mallory said that there was only one way to go: "The only foreseeable means of alienating internal support is through disenchantment and disaffection based on economic dissatisfaction and hardship." There has been no change in policy. The entire embargo is based on Mallory's memorandum.
In 2019, Trump's National Security Adviser John Bolton gave a speech to the veterans of the Bay of Pigs. He said that the U.S. government would use every instrument to suffocate tourism to Cuba. The Trump-era coercive measures are intended to deprive Cuba of any means to conduct normal trade and commerce not only with the United States but also with other countries and firms. Sixty-three companies that sell oil do not want to challenge the U.S. embargo, Tablada said.
Let Cuba Live
The Trump policy continues into the Biden administration. "There are 22 signed agreements that Trump didn't revoke," Tablada told us. "They could be implemented. Today, we could've been cooperating against COVID. Nobody knows why Biden excluded Cuba from one of his first executive orders in which he instructed a complete review of the sanctions that hindered the capacity of states to respond to COVID-19." In fact, on February 24, Biden signed an executive order to continue the national emergency with respect to Cuba (which prevents traffic between the countries).
While the economic stranglehold has been severe, the information war against Cuba has been equally vicious. Certainly, Cubans migrate to other countries, as the weight of the blockade is difficult to bear. But there is a higher migration rate from Central American countries and other Caribbean islands into the U.S., Tablada said. The U.S. government's embargo costs Cuba $5 billion per year, Tablada told us, while the U.S. spends "tens of billions of dollars trying—and failing—to drive us to defeat." There is cruelty in these policies.
Tablada considers what it would mean if Biden ended Trump's 243 coercive measures against Cuba. As a result of the blockade, she said, Cuba produced 90 percent of its medications. It is out of this tradition that Cuba's scientists were able to develop five COVID-19 vaccine candidates. "If Trump's measures were lifted," she said, "Cuba would be able to buy necessary inputs to produce medication." In which case, Cuba's medical internationalism would be enhanced.
"Even if Biden does nothing," Tablada said, "we'll still pull through. It may cost us a bit more, but we have a plan, we have a strong social consensus. None of these plans include giving up socialism. The ordinary Cuban—all of us—is capable of sacrificing our individual interests because we know that it is essential for us to have a sovereign homeland [that is]free [and] independent, and that might be as far as we go."
---
By Manolo De Los Santos and Vijay Prashad for Telegraf
Manolo De Los Santos is a researcher and a political activist. For 10 years, he worked in the organization of solidarity and education programs to challenge the United States' regime of illegal sanctions and blockades. Based out of Cuba for many years, Manolo has worked toward building international networks of people's movements and organizations. In 2018, he became the founding director of the People's Forum in New York City, a movement incubator for working-class communities to build unity across historic lines of division at home and abroad. He also collaborates as a researcher with Tricontinental: Institute for Social Research and is a Globetrotter/Peoples Dispatch fellow.
Vijay Prashad is an Indian historian, editor and journalist. He is a writing fellow and chief correspondent at Globetrotter. He is the chief editor of LeftWord Books and the director of Tricontinental: Institute for Social Research. He is a senior non-resident fellow at Chongyang Institute for Financial Studies, Renmin University of China. He has written more than 20 books, including The Darker Nations and The Poorer Nations. His latest book is Washington Bullets, with an introduction by Evo Morales Ayma.