California makes change to pay unemployment benefits faster Urban California Fresno Republican Gavin Newsom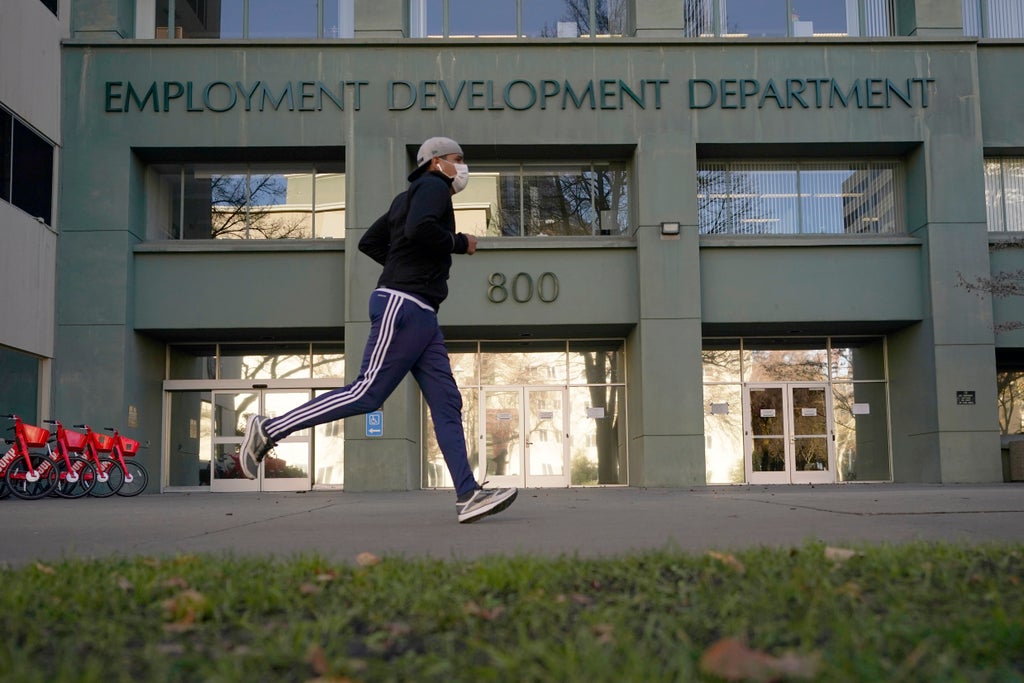 [ad_1]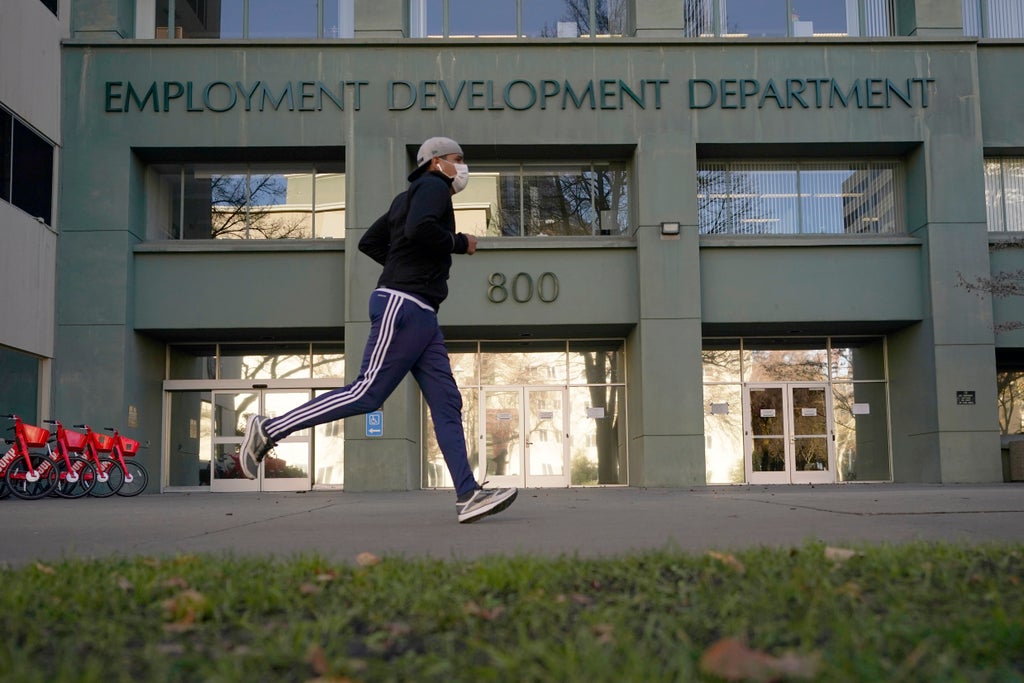 California Gov. Gavin Newsom s administration on Thursday announced a major change in how the state pays unemployment benefits, potentially unlocking payments for up to 100,000 people who have gone weeks or months without assistance.
Getting unemployment benefits is a two-step process. First, state officials must decide if people are eligible. If they are, the state starts paying them. But those people must contact the state every two weeks to confirm they are still eligible to keep getting paid.
Sometimes, state officials must investigate residents' eligibility after they have been paid. When this happens, the state stops paying them until the investigation is complete. Before the pandemic, these investigations usually did not take too long. But during the pandemic, the state has been overwhelmed with millions of claims that have caused lengthy delays.
The Employment Development Department announced Thursday it would keep paying people unemployment benefits even while they are investigating their eligibility. The change is part of a lawsuit settlement between the state and the Center for Workers' Rights, an advocacy group.
The change applies only to people who have certified for benefits and have already received at least one week of payment in the past. Daniela Urban, the group's executive director, said it could impact up to 100,000 people.
"This is a monumental change by EDD that will allow more claimants to be paid on time," she said.
Unemployment claims skyrocketed across the country during the pandemic, causing backlogs in many states. Claims have slowed since then, but California still has more than 3 million people receiving some form of unemployment benefits. The state has had a persistent backlog throughout the pandemic.
The change is not without risk for Newsom, who is facing a recall election in September. The governor has been heavily criticized for failing to stop billions of dollars in fraudulent benefit payments to prison inmates and others who were not eligible to receive them. But he's also faced complaints for a growing backlog of people with legitimate claims who have been unable to get paid because of a complex bureaucracy overwhelmed by the pandemic.
"There's a continuing trade-off between rapid payment of unemployment insurance claims and anti-fraud protocols," said Michael Bernick, a former Employment Development Department director who is now an attorney for the Duane Morris law firm. "This action today in paying continuing claims that have had previous verifications seems to have low fraud risks, while reducing the backlogs."
It's possible this action will cause the state to pay people who are not eligible. In a news release, the Employment Development Department said people who get benefits when they are not eligible could have to pay those back at some point. But it is possible to waive repayment if people claim financial hardship and the overpayment was not the result of fraud.
State Assemblyman Jim Patterson, a Republican from Fresno said the state's action is a "stunning admission that they can't do their fundamental task" of paying legitimate claims while rooting out fraud.
"Now to clear their giant backlog, they're going to take the dangerous risk of paying fraudsters, too," Patterson said.
Since March 2020, more than 23 million people have filed unemployment claims in California, and the state has paid $160 billion in benefits. Meanwhile, more than 226,000 people are still waiting for the state to resolve their claims and pay them.
They include 57-year-old Abdulkarim Adam, who lost his job as a bus driver for a private company during the pandemic. The state stopped paying him unemployment benefits in March and never told him why, he said.
Adam had to borrow money from friends and move in with his sons while he waited. He said he called the state every day but could not get through. He was surprised to later receive a text message from the agency, asking for feedback on their customer service.
Adam said he replied with a flattering message, hoping that would spur the agency to pay him faster. When that didn't work, he later sent an angry message comparing the agency to the authoritarian dictatorship in North Korea
He was relieved on Thursday to finally hear about the state's policy change and hoped it would get him his money faster.
"It will ease a lot of financial difficulties, and it will improve our lives," he said.
The Employment Development Department received more than 5.8 million calls from 421,005 unique callers in the final two weeks of June, according to a report posted on the department's website. The department said it answered 478,749 calls during that period.
Urban said many of those calls were from people like Adam wondering why their benefits were halted. She said fewer of those people will likely call now that they know their benefits won't be interrupted.
"I think it will allow claimants to be more confident in relying on the support of these unemployment benefits, while they still have them, as they look for post-pandemic work," she said.
[ad_2]

Source link
Connecting the Dots Between Climate Devastation and Fossil Fuel Profits
As Pakistan drowns, as Puerto Rico is cast into darkness, and as Jacksonians remain thirsty, it's past time for a climate tax on fossil fuel companies.
What do Pakistan, Puerto Rico, and Jackson, Mississippi, have in common? They've all recently experienced climate-related catastrophic rains and flooding, resulting in the loss of homes, electricity, and running water. But, even more importantly, they are all low-income regions inhabited by people of color—the prime victims of climate injustice. They face inaction from negligent governments and struggle to survive as fossil fuel companies reap massive profits—a status quo that United Nations Secretary-General António Guterres has called a "moral and economic madness."
Pakistan, which relies on yearly monsoons to enrich its agricultural industry, has had unprecedented floods since June, impacting 30 million people and killing more than 1,500—a third of them children.
Zulfiqar Kunbhar, a Karachi-based journalist with expertise in climate coverage, explains that "things are very critical" in the rain-affected areas of his nation. Kunbhar has been visiting impacted regions and has seen firsthand the massive "agricultural loss and livelihood loss" among Pakistan's farming communities.
Sindh, a low-lying province of Pakistan, is not only one of the most populous in the nation (Sindh is home to about 47 million people), but it also produces about a third of the agricultural produce, according to Kunbhar. Twenty years ago, Sindh was stricken with extreme drought. In the summer of 2022, it was drowning in chest-deep water.
The UN is warning that the water could take months to recede and that this poses serious health risks, as deadly diseases like cerebral malaria are emerging. Kunbhar summarizes that provinces like Sindh are facing both "the curse of nature" and government "mismanagement."
Climate change plus government inaction on mitigation and resilience equals deadly consequences for the poor. This same equation plagues Puerto Rico, long relegated to the status of a United States territory. In September 2022, on the fifth anniversary of Hurricane Maria, which devastated Puerto Rico in 2017 and killed nearly 3,000 people, another storm named Fiona knocked out powerfor the entire region.
Julio López Varona, chief of campaigns at Center for Popular Democracy Action, spoke to me from Puerto Rico, saying, "the storm was extremely slow, going at like 8 or 9 miles an hour," and as a result, "it pounded the island for more than three days" with relentless rain. "Communities were completely flooded; people have been displaced," he says. Eventually, the electrical grid completely failed.
Days after the storm passed, millions of people remained without power—some even lost running water—leading the White House to declare a major disaster in Puerto Rico.
Even on the U.S. mainland, it is poor communities of color who have been hit the hardest by the impacts of climate change. Mississippi's capital of Jackson, with an 82 percent Black population and growing numbers of Latin American immigrants, struggles with adequate resources and has had problems with its water infrastructure for years.
Lorena Quiroz, founder of the Immigrant Alliance for Justice and Equity, a Jackson-based group doing multiracial grassroots organizing, told me how the city's residents have been struggling without clean running water since major rains and resulting floods overwhelmed a water treatment plant this summer.
"It's a matter of decades of disinvestment in this mostly Black, and now Brown, community," says Quiroz. In a state run by white conservatives, Jackson is overseen by a Black progressive mayor, Chokwe Antar Lumumba, who is now suing the state government over inaction on the city's water infrastructure.
Quiroz says it's "painful to see how government is not doing what they should, how the state government is neglecting its most vulnerable populations."
Over and over, the same pattern has emerged on a planet experiencing catastrophic climate change. Setting aside the fact that we are still spewing greenhouse gasesinto the atmosphere as the world burns and floods, the impacts of a warming climate are disproportionately borne by poor communities of color as evidenced in Pakistan, Puerto Rico, Jackson, and elsewhere.
The UN head, Guterres is doing what he can in using his position to lay blame precisely on the culprits, saying in his opening remarks to the UN General Assembly in New York recently, "It is high time to put fossil fuel producers, investors, and enablers on notice. Polluters must pay." Guterres specifically touted the importance of taxing fossil fuel companies to cover the damage they are causing in places like Pakistan. According to the Associated Press, "Oil companies in July reported unprecedented profits of billions of dollars per month. ExxonMobil posted three months profits of $17.85 billion, Chevron of $11.62 billion, and Shell of $11.5 billion."
Contrast this windfall with the countless numbers of people who lost their homes in Pakistan and are now living in shanties on roads where they have found some higher ground from the floods. "If you lose a crop, that's seasonal damage, but if you lose a house, you have to pay for years to come," says Kunbhar.
Kunbhar's view of what is happening in Pakistan applies equally to Puerto Rico and Jackson: Society is "divided between the haves and have-nots," he says. "The poorest of the poor who are already facing an economic crisis from generation to generation, they are the most vulnerable and the [worst] victims of this crisis."
In Puerto Rico, Varona sees displaced communities losing their lands to wealthier communities. He says that the local government in Puerto Rico is "allowing millionaires and billionaires to come and pay no taxes and to actually take over many of the places that are safer for communities to be on." This is an "almost intentional displacement of communities… that have historically lived here," he says.
And in Jackson, Quiroz says she is aghast at the "mean-spiritedness" of Mississippi's wealthier enclaves and state government. "It is so difficult to comprehend the way that our people are being treated."
Although disparate and seemingly disconnected from one another, with many complicating factors, there are stark lines connecting climate victims to fossil fuel profits.
Pakistan's poor communities are paying the price for ExxonMobil's billions.
Puerto Rico remains in the dark so that Chevron may enjoy massive profits.
Jackson, Mississippi, has no clean drinking water so that Shell can enrich its shareholders.
When put in such terms, Guterres's idea for taxing the perpetrators of climate devastation is a no-brainer. It's "high time," he said, "to put fossil fuel producers, investors and enablers on notice," so that we can end our "suicidal war against nature."
Independent Media Institute____________________
Sonali Kolhatkar is an award-winning multimedia journalist. She is the founder, host, and executive producer of "Rising Up With Sonali," a weekly television and radio show that airs on Free Speech TV and Pacifica stations. Her forthcoming book is Rising Up: The Power of Narrative in Pursuing Racial Justice (City Lights Books, 2023). She is a writing fellow for the Economy for All project at the Independent Media Institute and the racial justice and civil liberties editor at Yes! Magazine. She serves as the co-director of the nonprofit solidarity organization the Afghan Women's Mission and is a co-author of Bleeding Afghanistan. She also sits on the board of directors of Justice Action Center, an immigrant rights organization.