China urged to stop forcibly returning North Korean defectors
Human rights activists have urged Beijing to stop repatriating North Korean refugees over fears that more than 1,000 people detained in China could be tortured by Kim Jong Un's security officials.
At least 1,170 North Koreans are detained in China, including 450 men in a prison in Changchun, a city in north-eastern Jilin province, according to Human Rights Watch.
The calls came amid concerns about a sharp fall in the number of North Korean defectors who have successfully escaped, navigating dangerous journeys through China to South Korea.
Just two defectors arrived in South Korea in the second quarter of the year, a record low and following 229 in all of 2020, according to Seoul's Ministry of Unification. That is down from more than 1,000 in 2019 and close to 3,000 in 2009.
The criticism of Beijing also followed a report by Radio Free Asia that China repatriated about 50 North Koreans this month. The report has not been independently confirmed by the Financial Times.
The event would have probably marked the first case of mass forced returns since January 2020, when North Korean authorities instituted sweeping crackdowns on trade and travel in response to the risk of Covid-19 transmission from China.
"China is obligated not to force back anyone who would be at risk of persecution or torture upon return," said Lina Yoon, a researcher at Human Rights Watch, noting that Beijing was a party to UN conventions to protect refugees and prevent torture.
"Since anyone who returns to North Korea after fleeing will likely be tortured or otherwise mistreated, all have a claim for refugee status in whichever country they reach," she said.
The long-term decline in the number of escapers reflects harsher security procedures imposed in the borderlands of North Korea and China following the rise to power of Kim Jong Un and Xi Jinping.
Beijing has long been wary of the risks of destabilisation in North Korea, which could cause a flood of refugees across its 1,352km border with the nuclear-armed state.
Estimates of the number of North Koreans in China range upwards from 50,000. Many defectors live in China for years, some paying off debts, before they venture to south-east Asia, where they can be accepted and processed through South Korean embassies.
But experts who help defectors reach safety said Beijing's increasingly strict controls on internal movement and the uptake of technological surveillance had created new risks.
The number of brokers willing to assist North Korean defectors has also fallen, a sign of the effectiveness of the crackdown on both sides of the border.
Pyongyang has not reported a single coronavirus infection since the start of the pandemic. North Korean observers remain uncertain about the likelihood of any near-term vaccination programme despite mounting signs of a severe economic downturn and worsening humanitarian situation in the country.
North Korea could access Oxford/AstraZeneca jabs via the Covax programme under Gavi, a UN-backed alliance, but foreign experts have not gained access to the country to assess the status of its distribution networks.
Some experts expect trade flows with China might slowly pick up over the coming months via new, highly controlled disinfection zones near Sinuiju, North Korea's main road artery with Dandong in north-eastern China.
Taliban show conciliatory face at first Kabul news conference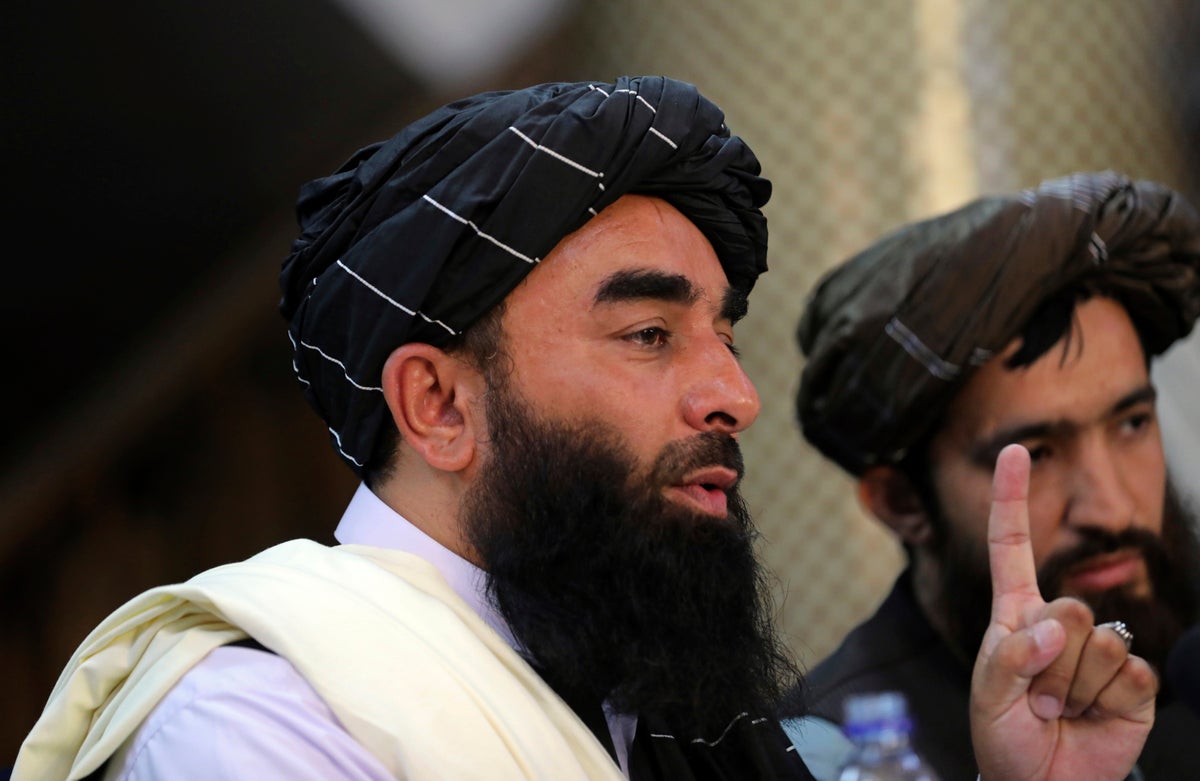 The Afghan Taliban said on Tuesday (Aug 17) they wanted peaceful relations with other countries and would respect the rights of women within the framework of Islamic law, as they held their first official news briefing since their shock seizure of Kabul.
The Taliban announcements, short on details but suggesting a softer line than during their rule 20 years ago, came as the United States and Western allies resumed evacuating diplomats and civilians the day after scenes of chaos at Kabul airport as Afghans thronged the runway.
"We don't want any internal or external enemies," the movement's main spokesman, Zabihullah Mujahid, said.
Women would be allowed to work and study and "will be very active in society but within the framework of Islam," he added.
As they rushed to evacuate, foreign powers assessed how to respond to the transformed situation on the ground after Afghan forces melted away in just days, with what many had predicted as the likely fast unraveling of women's rights.
US President Joe Biden and British Prime Minister Boris Johnson said they had agreed to hold a virtual meeting of Group of Seven leaders next week to discuss a common strategy and approach to Afghanistan.
During their 1996-2001 rule, also guided by Islamic sharia law, the Taliban stopped women from working and meted out punishments including public stoning. Girls were not allowed to go to school and women had to wear all-enveloping burqas to go out and then only when accompanied by a male relative.
The UN Human Rights Council will hold a special session in Geneva next week to address "serious human rights concerns" after the Taliban takeover, a UN statement said.
Ramiz Alakbarov, the UN humanitarian coordinator for Afghanistan, told Reuters in an interview the Taliban had assured the United Nations it can pursue humanitarian work in Afghanistan, which is suffering from a drought.
'WALK THE TALK'
The European Union said it would only cooperate with the Afghan government following the Taliban's return to power if they respected fundamental rights, including those of women.
Within Afghanistan, women expressed scepticism.
Afghan girls' education activist Pashtana Durrani, 23, was wary of Taliban promises. "They have to walk the talk. Right now they are not doing that," she told Reuters.
Several women were ordered to leave their jobs during the Taliban's rapid advance across Afghanistan.
Mujahid said private media could continue to be free and independent in Afghanistan and that the Taliban were committed to the media within their cultural framework.
He also said families trying to flee the country at the airport should return home and nothing would happen to them.
RESISTANCE AND CRITICISM
Mujahid's conciliatory tone contrasted with comments by Afghan First Vice President Amrullah Saleh, who declared himself the "legitimate caretaker president" and vowed not to bow to Kabul's new rulers.
It was not immediately clear how much support Saleh enjoys in a country wearied by decades of conflict.
NATO Secretary General Jens Stoltenberg said the Taliban should allow all those who wanted to leave the country, adding that NATO's aim was to help build a viable state in Afghanistan and warning that the alliance could strike if the country again becomes a breeding ground for terrorism.
The decision by Biden, a Democrat, to stick to the withdrawal deal struck last year by his Republican predecessor, Donald Trump, has stirred widespread criticism at home and among US allies.
Biden's approval rating dropped by 7 percentage points to 46 per cent, the lowest level of his seven-month-long presidency, according to a Reuters/Ipsos poll conducted on Monday. It also found that less than half of Americans liked how he has handled Afghanistan.
US forces took charge of the airport – the only way to fly out of Afghanistan – on Sunday as the militants wound up a week of rapid advances by taking over Kabul without a fight.
US General Frank McKenzie, the head of US Central Command, was at Kabul's airport on Tuesday to evaluate security.
The State Department said on Tuesday that Washington had completed a drawdown of embassy personnel from Kabul and remaining diplomats were assisting in the evacuation.
US military flights evacuating diplomats and civilians restarted after having been suspended on Monday due to chaos at Kabul airport.
Asked how Washington would hold the Taliban to their pledge to respect women's rights, Biden's national security adviser, Jake Sullivan, signalled that options included sanctions and marshalling international condemnation and isolation.
Washington was blocking the Taliban from accessing any Afghan government funds held in the United States, including about US$1.3 billion of gold reserves held at the Federal Reserve Bank of New York, a Biden administration official said.
Biden said he had had to decide between asking US forces to fight endlessly or follow through on the withdrawal deal.
He blamed the Taliban takeover on Afghan political leaders who fled and the army's unwillingness to fight. REUTERS