China's Xi makes first official visit to Tibet as tensions rise on Indian border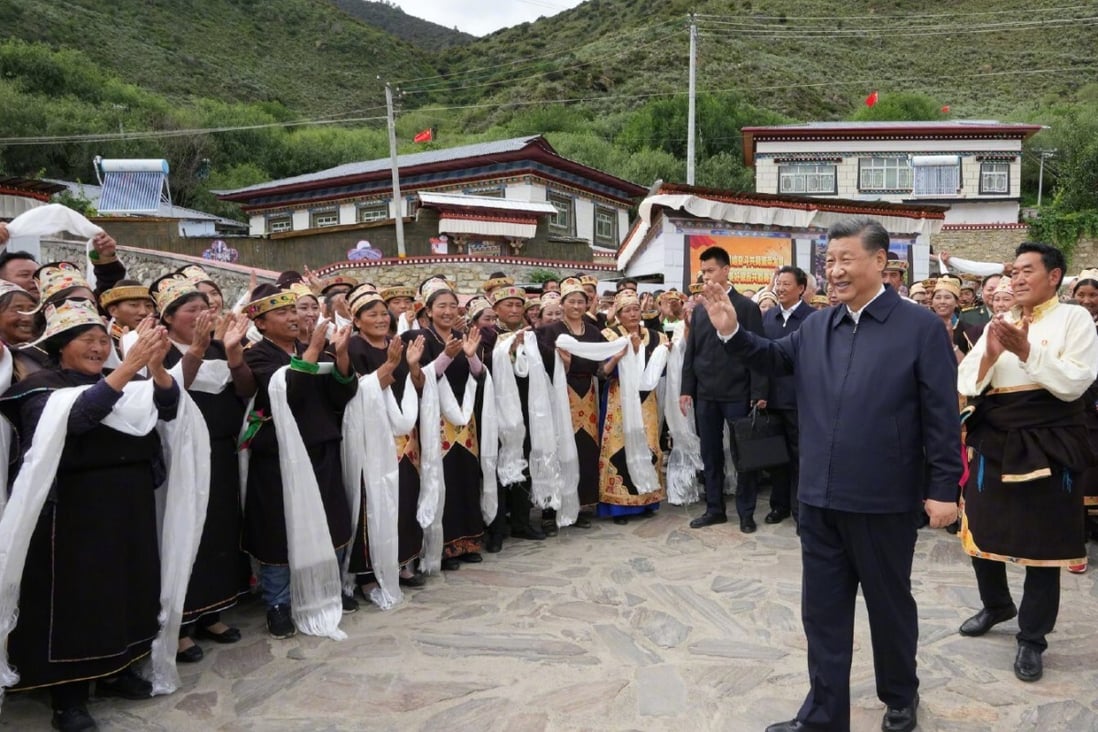 Xi Jinping has made his first visit to Tibet as Chinese president, affirming Beijing's control over a region where its military buildup and policies on ethnic assimilation have drawn international criticism.
Xi arrived in the regional capital of Lhasa on Thursday, the official Xinhua News Agency wrote on social media. He inspected the operations of the Sichuan-Tibet railway during his visit, China Central Television said.
State media showed Xi being greeted by enthusiastic Tibetans and riding a train with Liu He, China's economic czar, and Zhang Youxia, vice chairman of the Central Military Commission.
Robert Barnett, a British academic who has written about Tibet, posted videos showing the Chinese leader speaking to locals.
"All regions and people of all ethnicities in Tibet will march toward a happy life in future," Xi says in one video. "I am full of confidence as you all are. Lastly, I will not delay your dancing. Let me say this: I wish everyone a happy life and good health."
"Tashi Delek," he adds, using a phrase wishing good fortune.
Earlier this year, the People's Republic of China marked the 70th anniversary of its assertion of sovereignty over Tibet. That was part of a broader effort by Mao Zedong's communists to consolidate control over territory historically claimed by China before decades of colonialism, war and internal strife.
The region is at the center of border tensions with India. Both sides have reorganized forces to the area after the deadliest fighting in decades last year.
Earlier this month, Indian Foreign Minister Subrahmanyam Jaishankar and Chinese counterpart Wang Yi agreed to continue discussions over the border standoff. Those talks came after India redirected at least 50,000 extra troops to the border in a historic shift toward an offensive military posture against the world's second-biggest economy. India had roughly 200,000 troops focused on the border at the time, according to two people familiar with the matter.
China has faced criticism for its policies in Tibet, which has been subject to intense social, security and religious controls, much like its northern neighbor Xinjiang. In May, Wu Yingjie, the Communist Party chief of mostly Buddhist Tibet, lauded the progress Beijing has made developing the region, saying that "religion has been increasingly compatible with a socialist society."
Xi told officials at a meeting on Tibet issues in August last year to "actively guide Tibetan Buddhism to adapt to socialist society, and promote the Sinofication of Tibetan Buddhism."
"To govern a country, it's necessary to govern the border," Xi said at the symposium, where the party discussed policies for developing the region. "To govern the border, it's required to stabilize Tibet first."
Xi's visit comes about two weeks after Tenzin Gyatso, the 14th Dalai Lama, turned 86. The choice of successor to the spiritual leader of Tibetans, who now lives in exile in India, is shaping up to be a struggle between India and the U.S. on one hand and China on the other.
Senior security officials in India, including in the prime minister's office, have been involved in discussions about how New Delhi can influence the choice of the next Dalai Lama, Bloomberg News reported in April. China's Foreign Ministry has said the reincarnation of the Dalai Lama is an internal affair that "allows no interference."
In September last year, prominent Xinjiang researcher Adrian Zenz released a report alleging that Beijing was instituting a mass labor system in Tibet similar to the one it has rolled out in Xinjiang. Tibet Governor Qi Zhala said at the time that forced labor transfer "does not exist," maintaining that the local government was focused on providing job training.
Radio Free Asia reported Thursday that security measures limiting people's movements in public were in place in Lhasa, and that work at factories and construction sites has been halted. A ban on flying drones and kites was also in place, it said.
Tenzin Lekshay, a spokesman for the Tibet government in exile in northern India, wrote in a tweet that Xi should "understand the true aspiration of Tibetan people and resume the dialogue to resolve the Sino-Tibetan conflict."
In a time of both misinformation and too much information, quality journalism is more crucial than ever.
By subscribing, you can help us get the story right.
Wall St. Journal Columnist Too Easily Dismisses an Eastern-Led World Order
In his latest broadside in the Wall Street Journal, Walter Russell Meade takes aim at a body that most Americans have never heard of – the Shanghai Cooperation Organization [SCO] — and its annual summit in Samarkand, Uzbekistan.
Mead's core message seems to be twofold: first, "the Eurasian power balance is shifting," he argues— that is to say, China's support for its friend and fellow charter SCO member, Russia is waning. To illustrate this he draws a head-scratching comparison between Presidents XI and Putin on the one hand and Hitler and Mussolini on the other.  Second, he damns the SCO with faint praise, noting that with the addition of India and Pakistan "the organization has become more significant"; but proceeding then to suggest why the opposite is the case: "Russia, China and Iran seek a new global system but propose no positive agenda."
There follows a checklist of current crises across the extended SCO region that, for Mead, illustrate the SCO's relevance vacuum: the "humanitarian nightmare" of Afghanistan (and at whose feet do we lay that?); the disastrous floods in Pakistan; food and energy deprivation "from Turkey to Kazakhstan," collateral victims of US and EU-imposed sanctions on Russia.  This incongruous balance of natural disaster and Russian culpability  as somehow the fault of SCO is followed by a swipe at China, whose "saber rattling over Taiwan has galvanized a stronger alliance against it." Does he mean NATO? On a recent trip to northern Europe I heard rumblings of intra-alliance discord over future conflict with China.
Mead's central argument is that SCO's agenda is clumsy and insubstantial: in a rather weak final paragraph he sums up the Samarkand summit thus: "If SCO nations seriously want a new international system, they will have to do better than this."   This makes one wonder if Mead actually read, for instance, President  Xi's keynote address to the summit.  In addition to some broad general principles: "consultation and cooperation for shared benefit"; "consensus-based decision making"; "commitment to the purposes and principles of the UN charter" and the like, the Chinese leader outlined specific SCO measures, ongoing or planned: joint anti-terrorism exercises; China's commitment to train 2000 law-enforcement personnel in fellow SCO countries on counter-terrorism, drug and human trafficking; an SCO-Afghan contact group to address humanitarian needs, and pledging 1.5 billion remnimbi ($215 million) in emergency assistance; a regional development initiative and a five-year Treaty of Cooperation on trade and investment, infrastructure building and scientific/technical innovation; and a series of SCO forums on poverty reduction and sustainable development.  Finally, he proposed a series of "people to people and cultural exchanges on education, health, and science and technology."
Lest all this be dismissed as cavalierly as Mead intends, let us remember that: SCO is the world's largest regional organization, whose eight permanent members, including Russia, China and India, with Iran and Turkey in the wings, represent 40% of the world's population over an area 60% of global geography and with 30% of global GDP.  While there are intra-group tensions, it is a forum for historic rival members such as Armenia and Uzbekistan, India and Pakistan, Iran and Saudi Arabia.  To quote Churchill: better to jaw-jaw than war-war.
In February 2010 I wrote an article on the SCO. I cautioned against dismissing the organization: "The conclusion is that the SCO, far from an empty vessel, is a regional force to be reckoned with … a neighborhood watch over some of the world's most insecure places."  Twelve years and several influential new members on, this seems all the more obvious.  One wonders if the reference in Walter Russell Mead's title to "disrupting the world order" stems from an indignation over an institution that reflects a new world order and operates independently of the West?
Globetrotter____________________
David C. Speedie, a board member of ACURA, was the former chair on International Peace and Security at Carnegie Corporation.