Corporate Japan gets serious about ESG
For Hitachi, the appointment of its first chief environment officer in April meant closing a critical gap in its sustainability efforts.
In recent years, the Japanese industrial group has undergone a radical makeover. It withdrew from its thermal power business, spent $6.4bn to buy Swiss-Swedish engineering group ABB's electricity grid assets, and strengthened its global presence in railways.
Hitachi's business mix has also left it better placed to seize new opportunities arising from climate change disruptions — more so than at any point in the group's 111-year history.
Yet Alistair Dormer — whose April appointment means he now leads Hitachi's environmental initiatives as well as its mobility business — says a tangible commitment by senior management to meet sustainability targets had still been missing.
"We were working on this for five years or so but it was almost being done in a corner of Tokyo," Dormer explains. "We had senior-level sponsorship for sure, but who was worrying about it on a day-to-day basis and making it happen? That's my job."
Road maps required
Accountability is a common challenge for Japanese companies. With prime minister Yoshihide Suga pledging to achieve carbon neutrality by 2050, many companies have followed suit by setting long-term targets in addition to any existing sustainability goals. Honda, for example, wants to end the sale of petrol and diesel cars by 2040.
But few companies provide a detailed road map showing how they will go about achieving these ambitions.
"As a first step, it's extremely important to present a target," says Norichika Kanie, an expert on sustainable development at Keio University. "The next phase is making sure that real action is being taken. It is true, though, that more companies are now aware that efforts in sustainability lead to actual business success."
At Hitachi, Dormer has led efforts to introduce a remuneration scheme for heads of business units that will tie annual bonus payments to hitting carbon emission targets. He also persuaded chief executive Toshiaki Higashihara to sponsor the COP26 climate change summit in the UK later this year.
"We need to be creative in how seriously executives engage with targets that are far into the future," says Keiji Kojima, Hitachi's newly appointed president. "It's hard to take it forward when you're thinking that you can leave it to the next generation. That's why we made sure that everyone does their job thinking about the environment on a day-to-day basis."
While measures to incorporate environmental, social and governance (ESG) metrics in annual executive pay are widespread in the US and Europe, Japanese companies are only now starting to introduce them. Entertainment group Sony and cosmetics business Shiseido are among those taking a lead.
A survey conducted by consultancy Willis Towers Watson last year suggested that 15 per cent of Japan's top 100 companies by market capitalisation had such schemes in place. However, analysts estimate that the proportion is less than 5 per cent for the 2,000 or so companies listed within the Tokyo Stock Exchange's first section.
That compares with 52 per cent of S&P 500 companies and 63 per cent of companies listed on the main European indices, according to the Willis Towers Watson research. Meanwhile, initiatives to link ESG to long-term incentives are far less common, both in Japan and elsewhere.
Takaaki Kushige, a senior director at Willis Towers Watson, says one reason for Japan's tardiness in linking ESG to executive pay is that many businesses have governance structures that are not sophisticated enough. This, in turn, means they lack the kind of independent remuneration committees that can fairly assess ESG metrics, which are more complex than stock price and other financial indicators.
Cleaner and greener
Still, companies are increasingly keen to ensure that senior managers hit sustainability targets, as investments to cut carbon emissions become critically important in sectors that were built around fossil fuels.
Mitsubishi Heavy Industries, for example, is seeking to reinvent itself in clean energy as it tries to shift away from businesses such as coal power stations and shipbuilding. One key technology it is investing in is carbon capture, which was recently chosen by Drax, the FTSE 250 power company, for use at its main site in northern England to achieve "negative emissions".
"The market [for carbon capture] does not exist yet, but if we wait for the market to be built, we won't be able to achieve carbon neutrality by 2050," says Makoto Susaki, head of MHI's carbon capture, utilisation and storage business task force. "It's very tough for us [financially] in the near term but we have to continue these efforts towards 2050."
Even as companies scramble to raise their environmental game, pressure is growing to address other ESG concerns.
Executives say the challenge is even greater with social issues such as labour practices. Already, the supply chains of businesses ranging from Fast Retailing, owner of Uniqlo, to electronics group Panasonic have come under scrutiny.
Joji Tagawa, Nissan's chief sustainability officer, says that, since his appointment in 2019, the carmaker's management has strengthened its focus on human rights, alongside efforts to reduce carbon emissions and maximise recycling.
Last month, Nissan released global guidelines on human rights, which emphasised its opposition to forced and child labour and promised protection to whistleblowers. In recent years, campaigners have highlighted the dependence of electric vehicle makers such as Nissan on cobalt, some of which is mined in exploitative conditions in the Democratic Republic of Congo.
"The focus on human rights and sustainability has been increasing more than regular companies had anticipated," Tagawa says.
"We are not perfect but we are working on it extensively."
Indonesia's B40 biodiesel plan faces new delay due to palm price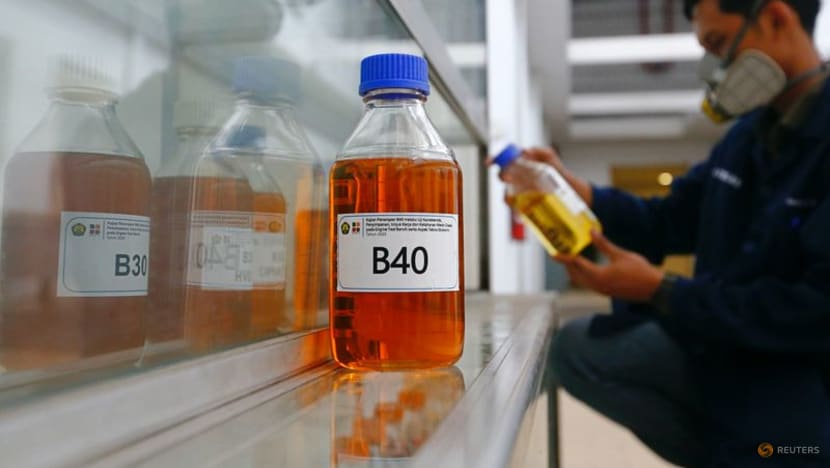 Indonesia's plans to raise the mandatory bio-content in its palm oil-based biodiesel to 40per cent may face further delays, after the high price of the vegetable oil has made the programme too costly, a senior government official told Reuters.
Indonesia, the world's largest palm oil producer and exporter, has a mandatory biodiesel programme with 30per cent palm oil content, known as B30, but intends to expand the use of the oil for energy to save on fuel imports.
Authorities had planned to increase the mix to 40per cent in July this year, but the timetable for the B40 programme is now unclear.
"We don't have a timeline yet for B40, although from the technical side, we're ready," Dadan Kusdiana, a director general at the energy ministry, said in an interview. He said implementing B40 in 2022 will be "challenging".
Indonesia funds its biodiesel programme with proceeds from palm export levies.
However, authorities have revised levy rules three times since last year as they sought to support the biodiesel programme after prices soared, but without hurting exports.
Malaysian palm oil futures hit a record of 4,560 ringgit (US$1,089.35) a tonne on Aug. 12 and have been trading around 4,300 ringgit recently, about 60per cent higher than a year earlier.
Dadan said 45 trillion rupiah to 46 trillion rupiah (US$3.1 billion-US$3.2 billion) is needed this year to fund the difference between using regular diesel and the palm-based fatty acid methyl ester (FAME) for B30.
If prices stayed constant, mixing 40per cent FAME would require around 60 trillion rupiah (US$4.16 billion), he said, while noting adopting B40 would likely boost palm oil prices by shrinking global supply, making the programme even more expensive.
"That is what we're considering, how capable are we in terms of the levies. We have to provide bigger financing, but it doesn't have to come from higher levies," Dadan said, without elaborating on alternatives.
The Indonesian Palm Oil Association (GAPKI) had already said in January it expected B40 to be delayed beyond 2022.
On the technical side, Dadan said the water and monoglyceride contents in FAME must be reduced for B40 to work, requiring new investment by biodiesel producers.
Although biodiesel promises lower emissions, the use of palm oil as a feedstock raises concern about deforestation in the clearance of land to grow it. The European Union is planning to phase it out as fuel for transport.
(US$1 = 14,425.0000 rupiah)
(US$1 = 4.1860 ringgit). REUTERS