Delta variant of Covid one of the most infectious of all respiratory diseases, CDC director says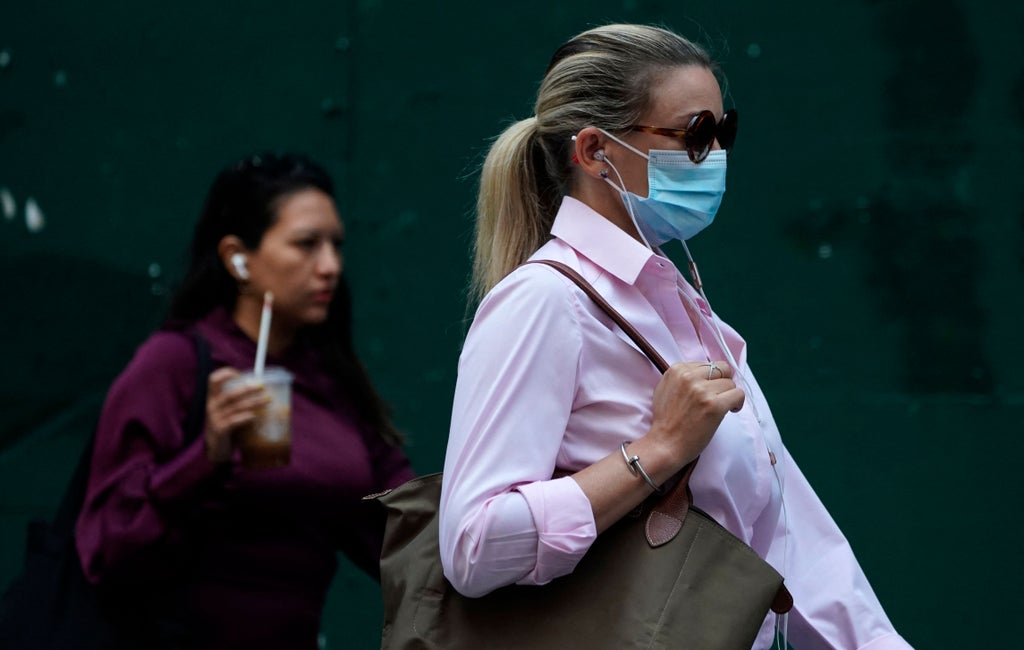 The Delta variant of Covid-19 is one of the most infectious of all respiratory diseases, the director of the Centres for Disease Control and Prevention (CDC) said on Thursday.
"The delta variant is more aggressive and much more transmissible than previously circulating strains. It is one of the most infectious respiratory viruses we know of, and that I have seen in my 20-year career," CDC Director Dr Rochelle Walensky said.
Dr Walensky told reporters that "this virus has no incentive to let up, and it remains in search of the next vulnerable person to infect," reported NBC News.
"We are at yet another pivotal moment in this pandemic, with cases rising again and some hospitals reaching their capacity in some areas, we need to come together as one nation," she said.
The CDC, however, hasn't changed its guidance that vaccinated people do not need to wear masks.
Dr William Schaffner, a professor of infectious diseases in the health policy department at the Vanderbilt University School of Medicine in Nashville, said this delta (strain) at the moment is honing in on largely unvaccinated persons.
Delta variant has become the most dominant variant across the US and is accounting for over 80 percent of sequenced cases. The US has also witnessed a surge in the Covid-19 cases with close to 600,000 cases over the last four weeks.
Till 15 July, over 341.7 million doses of Covid-19 have been administered but scepticism against vaccines led to a slowdown. According to reports, over 95 per cent of people admitted to the hospital in the US with symptoms of Covid-19 are unvaccinated.
The scepticism, however, may soon change due to rising Covid-19 cases.
Jeff Zients, who is head of president Joe Biden's Covid-19 team, on Thursday told media that several states with the highest proportions of new infections have seen residents get vaccinated at higher rates than the nation as a whole.
The officials cited Arkansas, Florida, Louisiana, Missouri and Nevada as examples.
Additional reporting by agencies
American Journalist Killed Near Kiev
The Videographer Brent Renaud, a well-known war journalist and a former New York Times correspondent, was shot dead on Sunday in Ukraine, near the capital Kiev, the regional police chief has reported. The newspaper has clarified that it hadn't sent him on assignment.
The circumstances surrounding Renaud's death are unclear, but Irpen, the scene of the incident, has seen heavy fighting between Russian and Ukrainian forces in recent days.
The journalist "paid with his life for trying to highlight the aggressor's ingenuity, cruelty and ruthlessness," Andrey Nebytov wrote on Facebook, referring to the Russian military. In another post shortly afterwards, the police chief shared an image of a bloodied corpse with a bullet wound near the ear, presumably that of Renaud.
In addition to the 51-year-old reporter's killing, two more correspondents were injured, Nebytov further claimed, adding that they were "rescued from the scene" and taken to a hospital in Kiev.
At the time of writing, the White House had not confirmed reports of Renaud's death, and said it was consulting with the Ukrainians, US National Security Advisor Jake Sullivan explained.
Renaud was a well-known war correspondent and had reported from conflict zones in the Middle East and Latin America. While he was identified in several reports as a New York Times correspondent, the newspaper on Sunday put out a statement saying that "he was not on assignment for any desk at the Times in Ukraine," and that he "was wearing a Times press badge that had been issued for an assignment many years ago." Renaud had last worked for the New York Times in 2015.
Situated on the outskirts of Kiev, Irpen has been the scene of intense fighting between Russian and Ukrainian forces for several days, and it is unclear how or even if Renaud got caught in the middle. Likewise, Nebytov is the only official to have blamed Russia for the shooting.
An unverified video shared by Italian journalist Annalisa Camilli purportedly shows one of Renaud's companions, who identifies himself as "Juan," lying on a hospital bed. "Juan" tells Camilli that the journalists were taken past a checkpoint by someone who offered them a ride, when their car was fired upon.
https://twitter.com/annalisacamilli/status/1502978846500573185?ref_src=twsrc%5Etfw%7Ctwcamp%5Etweetembed%7Ctwterm%5E1502978846500573185%7Ctwgr%5E%7Ctwcon%5Es1_&ref_url=https%3A%2F%2Fwww.rt.com%2Frussia%2F551809-us-journalist-killed-kiev%2F
The Guardian named him as Juan Arredondo, a Colombian-American photographer. He can be seen in the video wearing a badge of the American Spanish-language network Telemundo, but the network has not yet commented on the incident.
According to the man, the driver turned around, but Renaud was shot in the neck and left behind as the man was taken to hospital, possibly in an ambulance. The man did not say who did the shooting, or whether their ride past the checkpoint was in a civilian or military vehicle.
It is unclear whether anyone else was injured, as Nebytov originally stated that "two more correspondents" had been hit, yet the man named only himself and Renaud as traveling in the vehicle.
Ein 51-jähriger US-Journalist ist heute in Irpin, einem Vorort von Kyiv, getötet worden. Sein Kollege, mit dem er unterwegs war, konnte verletzt gerettet werden. Das Video, das wir unter der Brücke aufgenommen haben, zeigt die Evakuierung des verletzten Kollegen. pic.twitter.com/TemuQaUL50

— Paul Ronzheimer (@ronzheimer) March 13, 2022
Several international journalists were nearby at the time of the shooting, and Bild journalist Paul Ronzheimer shared footage apparently showing the man being evacuated on a stretcher by several men in Ukrainian military and emergency services uniforms.
____________
RT