Democracy is not coming to China
[ad_1]

China is a successful, modern, and dynamic state. It is not a Western nation … and it likely will never be a democracy, as many utopian Western elites envisage. This has not stopped some of the most influential Western thinkers from believing that China has a democratic destiny. It doesn't.
The Communist Party of China (CPC), under the draconian leadership of President-for-life Xi Jinping, has charted a long-term course for potentially dominating the 21st century in the same way that the United States ruled the 20th century. Suffice to say, the CPC isn't planning on going anywhere or ceding any ground to Chinese democrats, no matter how much trade China engages in with the United States. 
Yet there remains a strain of thinking among Western analysts that questions the longevity of the CPC. These analysts dismiss the China 2049 plan and are ambivalent to the growing threat that Red China poses to the American-led world order. 
Let us first consider what might become of a democratic China. Certainly, it would have a better track record on human rights than the CPC does. Given China's economic dynamism and its large population, a democratic China could become freer and more prosperous than it currently is.
From an American perspective, though, a democratic China could be an even more serious challenger to US power than it is now. China possesses a highly educated, innovative population with a modern infrastructure. When paired with democracy, China might become the greatest power in the world: fulfilling the dreams of Chinese nationalists everywhere – all at America's expense.
A more popular theory in the West is that the seeds of the CPC's destruction can be found within the very structure of its regime, like the Soviet Union.
Of course, few in the West who believe the China-collapse theory acknowledge that it took almost a century for the Soviet Union to collapse. And, judging from the last few years here in the United States, one could say that the seeds of self-destruction are rooted deeply within all forms of political regimes – autocratic and democratic alike.
But let's for a moment concede that China, like all countries, has problems and that those problems could devolve into regime-ending catastrophe. China certainly has its share of demographic concerns, environmental woes, income inequality, stifling ethnic division – the list goes on.
In response, Xi Jinping has aggregated as much power toward himself as possible. When China succeeds under Xi's reign, he is given the credit and his rule is reaffirmed. When something goes wrong, however, Xi gets the lion's share of the blame – and his rule is threatened. 
To those Western analysts who subscribe to the China-collapse theory, the question should be: Which China will potentially collapse, China as ruled by Xi Jinping? The CPC? Or China as a nation? 
Xi Jinping's rule could end badly, given how much exclusive responsibility he has taken on. The more power Xi takes for himself, the more likely cadres will form against him (some already have) as his failures mount. 
Sadly, that does not mean the CPC will end. And even if the CPC did collapse in the wake of Xi Jinping's potential fall, it does not necessarily imply that a democracy would bubble up in the wake of any regime collapse. 
After all, from 2070 BC to AD 1912, a total of 13 different imperial dynasties ruled China. Never once did those dynasties come close to creating a democracy.
And when the final imperial dynasty, the Qing, imploded, another dynasty did not rise to take its place. Instead, China balkanized into a land of competing warlords. Chaos and civil war reigned for decades. Once the mess was sorted out, the CPC, a regime that is far closer to the centralized dynasties of old than to any democracy, won the day.
That same pattern is far likelier to play out in a post-CPC China than anything Western fantasists have concocted. 
The fact is, the China-collapse theory is deeply rooted in the 1990s. At that time, the United States had vanquished the USSR in the Cold War. There were no major threats to America then.
Fashionable theories about America's victory representing the "end of history" were ubiquitous, and often misunderstood by those who embraced such theories.
Two 19th-century philosophers, Georg Wilhelm Friedrich Hegel and Immanuel Kant, appear to have inspired such utopian theories: Hegel with his idea that history had an end point and Kant with his belief that perpetual peace could only be achieved through the spreading of universal democracy.
These utopian assumptions of perpetual peace through universal democracy were tested ad nauseam over the last 30 years by Americans in the form of liberal imperialism. Each time the experiment was tried – in post-Soviet Russia, in Afghanistan in 2001, and in Iraq in 2003 – it failed.
Frankly, for most non-Western countries, democracy is not a natural end point. 
In those countries where democracy was imposed successfully, such as Japan or Germany after World War II, the Prussian and Samurai warrior cultures were utterly eradicated by the Allies. No such defeat was visited upon Russia after the Cold War. Such a total defeat was not imposed upon either Afghanistan or Iraq, for that matter.
Given that the United States would not be able to seek unconditional surrender from the CPC in a future Sino-American war, it is unlikely that democracy could be imposed in an ancient polity, like China, which has absolutely no history or experience with democracy.
What's more, should internal collapse occur without much interference from the West, it is likely that another highly centralized regime would replace the CPC.  
Western elites should make policies built on this reality rather than the fantasy that China will remake itself into a peaceful democracy. 
[ad_2]

Source link
Taliban show conciliatory face at first Kabul news conference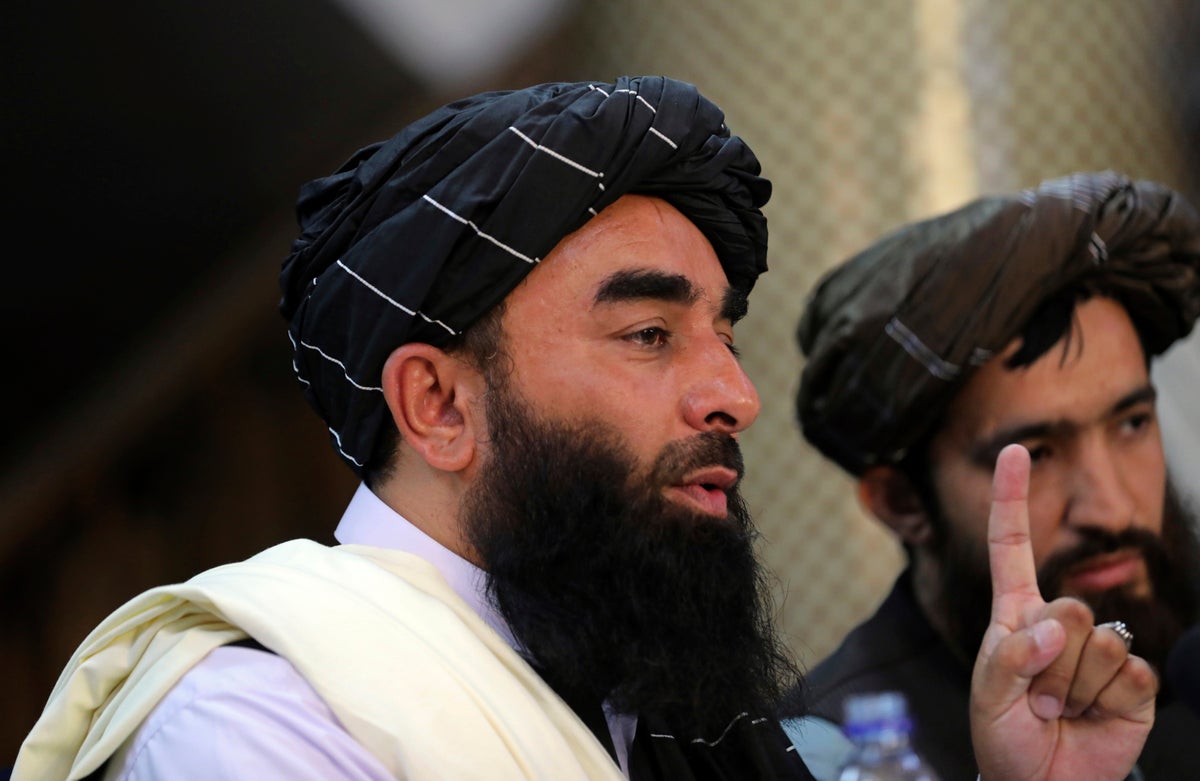 The Afghan Taliban said on Tuesday (Aug 17) they wanted peaceful relations with other countries and would respect the rights of women within the framework of Islamic law, as they held their first official news briefing since their shock seizure of Kabul.
The Taliban announcements, short on details but suggesting a softer line than during their rule 20 years ago, came as the United States and Western allies resumed evacuating diplomats and civilians the day after scenes of chaos at Kabul airport as Afghans thronged the runway.
"We don't want any internal or external enemies," the movement's main spokesman, Zabihullah Mujahid, said.
Women would be allowed to work and study and "will be very active in society but within the framework of Islam," he added.
As they rushed to evacuate, foreign powers assessed how to respond to the transformed situation on the ground after Afghan forces melted away in just days, with what many had predicted as the likely fast unraveling of women's rights.
US President Joe Biden and British Prime Minister Boris Johnson said they had agreed to hold a virtual meeting of Group of Seven leaders next week to discuss a common strategy and approach to Afghanistan.
During their 1996-2001 rule, also guided by Islamic sharia law, the Taliban stopped women from working and meted out punishments including public stoning. Girls were not allowed to go to school and women had to wear all-enveloping burqas to go out and then only when accompanied by a male relative.
The UN Human Rights Council will hold a special session in Geneva next week to address "serious human rights concerns" after the Taliban takeover, a UN statement said.
Ramiz Alakbarov, the UN humanitarian coordinator for Afghanistan, told Reuters in an interview the Taliban had assured the United Nations it can pursue humanitarian work in Afghanistan, which is suffering from a drought.
'WALK THE TALK'
The European Union said it would only cooperate with the Afghan government following the Taliban's return to power if they respected fundamental rights, including those of women.
Within Afghanistan, women expressed scepticism.
Afghan girls' education activist Pashtana Durrani, 23, was wary of Taliban promises. "They have to walk the talk. Right now they are not doing that," she told Reuters.
Several women were ordered to leave their jobs during the Taliban's rapid advance across Afghanistan.
Mujahid said private media could continue to be free and independent in Afghanistan and that the Taliban were committed to the media within their cultural framework.
He also said families trying to flee the country at the airport should return home and nothing would happen to them.
RESISTANCE AND CRITICISM
Mujahid's conciliatory tone contrasted with comments by Afghan First Vice President Amrullah Saleh, who declared himself the "legitimate caretaker president" and vowed not to bow to Kabul's new rulers.
It was not immediately clear how much support Saleh enjoys in a country wearied by decades of conflict.
NATO Secretary General Jens Stoltenberg said the Taliban should allow all those who wanted to leave the country, adding that NATO's aim was to help build a viable state in Afghanistan and warning that the alliance could strike if the country again becomes a breeding ground for terrorism.
The decision by Biden, a Democrat, to stick to the withdrawal deal struck last year by his Republican predecessor, Donald Trump, has stirred widespread criticism at home and among US allies.
Biden's approval rating dropped by 7 percentage points to 46 per cent, the lowest level of his seven-month-long presidency, according to a Reuters/Ipsos poll conducted on Monday. It also found that less than half of Americans liked how he has handled Afghanistan.
US forces took charge of the airport – the only way to fly out of Afghanistan – on Sunday as the militants wound up a week of rapid advances by taking over Kabul without a fight.
US General Frank McKenzie, the head of US Central Command, was at Kabul's airport on Tuesday to evaluate security.
The State Department said on Tuesday that Washington had completed a drawdown of embassy personnel from Kabul and remaining diplomats were assisting in the evacuation.
US military flights evacuating diplomats and civilians restarted after having been suspended on Monday due to chaos at Kabul airport.
Asked how Washington would hold the Taliban to their pledge to respect women's rights, Biden's national security adviser, Jake Sullivan, signalled that options included sanctions and marshalling international condemnation and isolation.
Washington was blocking the Taliban from accessing any Afghan government funds held in the United States, including about US$1.3 billion of gold reserves held at the Federal Reserve Bank of New York, a Biden administration official said.
Biden said he had had to decide between asking US forces to fight endlessly or follow through on the withdrawal deal.
He blamed the Taliban takeover on Afghan political leaders who fled and the army's unwillingness to fight. REUTERS