Democrats 'not giving up' on Biden bill, Talks With Manchin
President Joe Biden appears determined to return to the negotiating table with Sen. Joe Manchin, the holdout Democrat who effectively tanked the party's signature $2 trillion domestic policy initiative with his own jarring year-end announcement.
Biden, responding to reporters' questions Tuesday at the White House, joked that he holds no grudges against the conservative West Virginia senator whose rejection of the social services and climate change bill stunned Washington just days ago.
Instead, the president spoke passionately about the families that would benefit from the Democrats' ambitious, if now highly uncertain, plan to pour billions of dollars into child care, health care and other services.
"Sen. Manchin and I are going to get something done," Biden said.
The president's off-the-cuff remarks constitute his first public statement as Democrats struggle to pick up the pieces from Manchin's announcement over the weekend that he would not support the bill, as is. Manchin essentially crushed Biden's sweeping policy measure in the 50-50 Senate, siding with all Republicans who oppose the bill.
Senate Majority Leader Chuck Schumer also struck a determined tone later Tuesday, telling Senate Democrats on 90-minute video call to expect a vote in January on the package as they push toward a deal.
Schumer acknowledged the frustration among Democrats but he told senators the party was "not giving up" on the proposal, according to a Democrat on the private call who provided details on the condition of anonymity.
But the Democrats face serious questions over whether the $2 trillion initiative can be refashioned to win his crucial vote or the party will be saddled with a devastating defeat.
Manchin and his party are so far apart, his relationships so bruised after months of failed talks, it's unclear how they even get back to the negotiating table, let alone revive the sprawling more than 2,100-page social services and climate change bill.
Biden spoke forcefully of the economic pressures that strip away the "dignity of a parent" trying to pay the bills, and the assistance millions could receive from the federal government with the legislation. He also said his package would help ease inflationary pressures and pointed to analyses suggesting it would boost the economy.
"I want to get things done," Biden said. "I still think there's a possibility of getting Build Back Better done."
The setback has thrown Biden's signature legislative effort into deep doubt at a critical time, closing out the end of the president's first year and ahead of congressional midterm elections when the Democrats' slim hold on Congress is at risk.
Coupled with solid Republican opposition, Manchin's vote is vital on this and other initiatives, including the Democrats' priority voting rights legislation that Schumer also said would come to an early vote.
On Tuesday, Schumer said that if Republicans continued to block voting rights legislation in January, the Senate would bring forward proposals for changing the Senate rules, the Democrat on the call said. That's a nod to long-running efforts to adjust or end the filibuster, which typically requires 60-vote threshold for measures to advance.
While Manchin has said he cannot explain the bill to constituents in West Virginia, a union representing coal miners, including some of the nearly 12,000 from his home state, put out a statement urging the lawmaker to "revisit his opposition" to the package.
Cecil Roberts, the president of the United Mine Workers of America, outlined the ways the package would benefit union members, including those in West Virginia, which is the most coal-dependent state in the country.
Some of those provisions include language that would extend the current fee paid by coal companies to fund benefits received by victims of coal workers' pneumoconiosis, or black lung. The bill would also provide tax incentives to encourage manufacturers to build facilities in the coalfields, potentially employing miners who have lost their jobs, according to the union.
The next steps remain highly uncertain for the president and his party, with Congress on recess for the holiday break.
The White House appeared to take interest in Manchin's preference for a reimagined bill that would tackle a few top priorities, for longer duration, rather than the multifaceted and far-reaching House-passed version.
But it will be extraordinarily difficult for progressive and centrist Democrats to rebuild trust to launch a fresh round of negotiations having devoted much of Biden's first year in office to what is now essentially a collapsed effort.
The sweeping package was among the biggest of its kind ever considered in Congress, unleashing billions of dollars to help American families nationwide — nearly all paid for with higher taxes on corporations and the wealthy.
For families with children, it would provide free pre-school and child care aid. There are subsidies for health insurance premiums, lower prescription drug costs and expanded Medicaid access in states that do not yet provide it. The bill would start a new hearing aid program for seniors. And it includes more than $500 billion to curb carbon emissions, a figure considered the largest federal expenditure ever to combat climate change.
A potential new deadline for Biden and his party comes with the expiration of an expanded child tax credit that has been sending up to $300 monthly directly to millions of families' bank accounts. If Congress fails to act, the money won't arrive in January. AP
Taliban Controls 65% of Afghanistan as Rapid Advance Continues: E.U. Official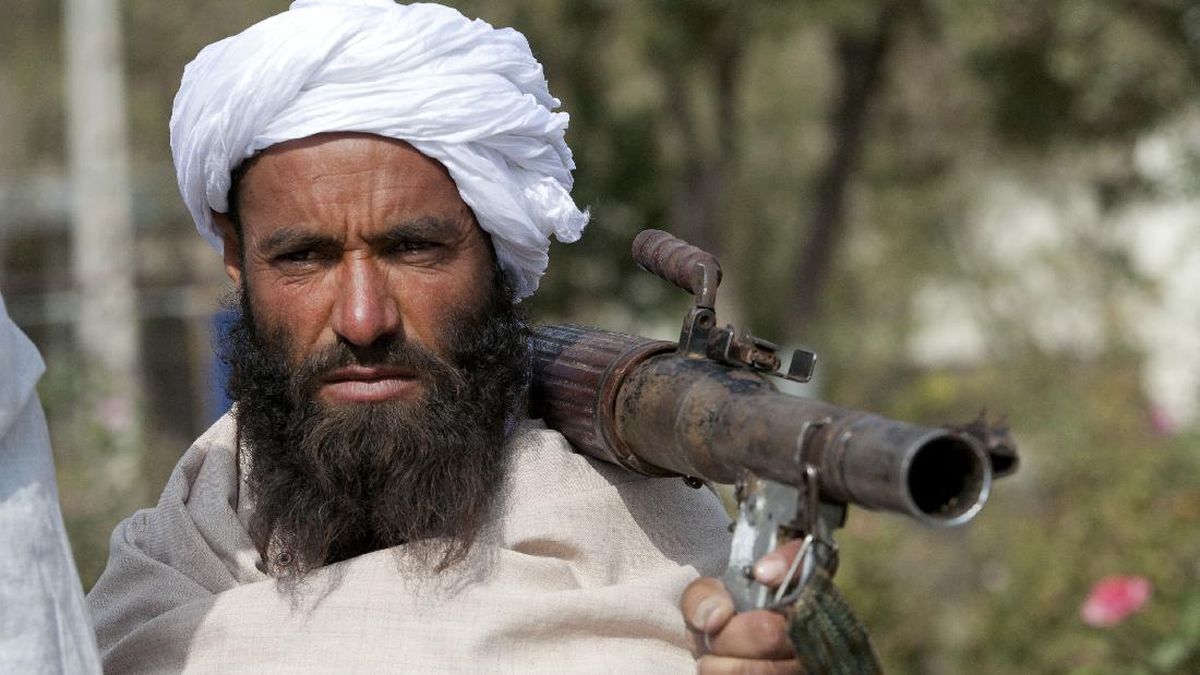 Taliban insurgents tightened their grip on captured Afghan territory on Tuesday as civilians hid in their homes, and a European Union official said the militants now control 65 per cent of the country after a string of gains as foreign forces pull out.
President Ashraf Ghani called on regional strongmen to support his government, while a U.N. official said advances made in human rights in the 20 years since the hardline Islamists were ousted from power were in danger of being erased.
In the capital Kabul, Ghani's aides said he was seeking help from regional militias he has squabbled with over the years to rally to the defense of his government. He had also appealed to civilians to defend Afghanistan's "democratic fabric."
White House says Taliban won't gain international legitimacy following capture of Afghanistan's provincial capital
---
White House says Taliban won't gain international legitimacy following capture of Afghanistan's provincial capital
In the town of Aibak, capital of Samangan province on the main road between the northern town of Mazar-i-Sharif and Kabul, Taliban fighters were consolidating their control, moving into government buildings, residents said.
In the town of Aibak, capital of Samangan province on the main road between the northern town of Mazar-i-Sharif and Kabul, Taliban fighters were consolidating their control, moving into government buildings, residents said.
Most government security forces appeared to have withdrawn.
"The only way is self-imposed house arrest or to find a way to leave for Kabul," said Sher Mohamed Abbas, a provincial tax officer, when asked about living conditions in Aibak.
"But then even Kabul is not a safe option anymore," said Abbas, the sole bread winner for a family of nine.
Abbas said the Taliban had arrived at his office and told workers to go home. He and other residents said they had neither seen nor heard fighting on Tuesday.
For years, the north was the most peaceful part of the country with an only minimal Taliban presence.
The militants' strategy appears to be to take the north, as well as the main border crossings in the north, west and south, and then close in on Kabul.
The Taliban, battling to defeat the U.S-backed government and reimpose strict Islamic law, swept into Aibak on Monday meeting little resistance.
Taliban forces now control 65 per cent of Afghan territory, are threatening to take 11 provincial capitals and are trying to deprive Kabul of its traditional support from national forces in the north, a senior EU official said on Tuesday.
The government has withdrawn forces from hard-to-defend rural districts to focus on holding major population centers, while officials have appealed for pressure on neighboring Pakistan to stop Taliban reinforcements and supplies flowing over the porous border. Pakistan denies backing the Taliban.
The United States has been carrying out air strikes in support of government troops but said it was up to Afghan forces to defend their country. "It's their struggle," John Kirby, a Pentagon spokesperson, told reporters on Monday.
'DEEPLY DISTURBING REPORTS'
Taliban and government officials have confirmed that the Islamists have overrun six provincial capitals in recent days in the north, west and south.
Security forces in Pul-e-Khumri, capital of Baghlan province, to the southeast of Aibak, were surrounded as the Taliban closed in on the town at a main junction on the road to Kabul, a security official said.
Gulam Bahauddin Jailani, head of the national disaster authority, told Reuters there was fighting in 25 of the 34 provinces and 60,000 families had been displaced over the past two months, with most seeking refuge in Kabul.
Mendicino says feds will 'fully support' Afghan refugees for one year
---
About 400,000 Afghans have been displaced in recent months and there has been an increase in numbers of people fleeing to Iran over the past 10 days, the EU official said.
Six EU member states warned the bloc's executive against halting deportations of rejected Afghan asylum seekers arriving in Europe despite major Taliban advances, fearing a possible replay of a 2015-16 crisis over the chaotic arrival of more than one million migrants, mainly from the Middle East.
A resident of Farah, the capital and largest city of Farah province in western Afghanistan near the border with Iran, said the Taliban had taken the governor's compound and there was heavy fighting between Taliban and government forces.
UN warns Afghanistan will see 'unprecedented' civilian casualties as NATO departs
---
UN warns Afghanistan will see 'unprecedented' civilian casualties as NATO departs – Jul 26, 2021
Civilians said the Taliban had captured all key government buildings in the city.
U.N. human rights chief Michelle Bachelet said reports of violations that could amount to war crimes and crimes against humanity were emerging, including "deeply disturbing reports" of the summary execution of surrendering government troops.
"People rightly fear that a seizure of power by the Taliban will erase the human rights gains of the past two decades," she said.
The Taliban, ousted in the weeks after the Sept. 11, 2001 attacks on the United States, appeared to be in a position to advance from different directions on Mazar-i-Sharif. Its fall would deal a devastating blow to Ghani's government.
Atta Mohammad Noor, a northern militia commander, vowed to fight to the end, saying there would be "resistance until the last drop of my blood."
"I prefer dying in dignity than dying in despair," he said on Twitter.
India sent a flight to northern Afghanistan to take its citizens home, officials said, asking Indians to leave. The United States and Britain have already advised their citizens to leave Afghanistan.
The United States will complete the withdrawal of its forces at the end of this month under a deal with the Taliban, which included the withdrawal of foreign forces in exchange for Taliban promises to prevent Afghanistan being used for international terrorism.
The Taliban promised not to attack foreign forces as they withdraw but did not agree to a ceasefire with the government.
(Reporting by Afganistan bureau, additional reporting by Emma Farge in Geneva and Sabine Siebold and John Chalmers in Brussels; Editing by Nick Macfie and Mark Heinrich)
© 2021 Reuters/Globalnews