Director Of Tokyo Olympics Opening Ceremony Fired For Holocaust Joke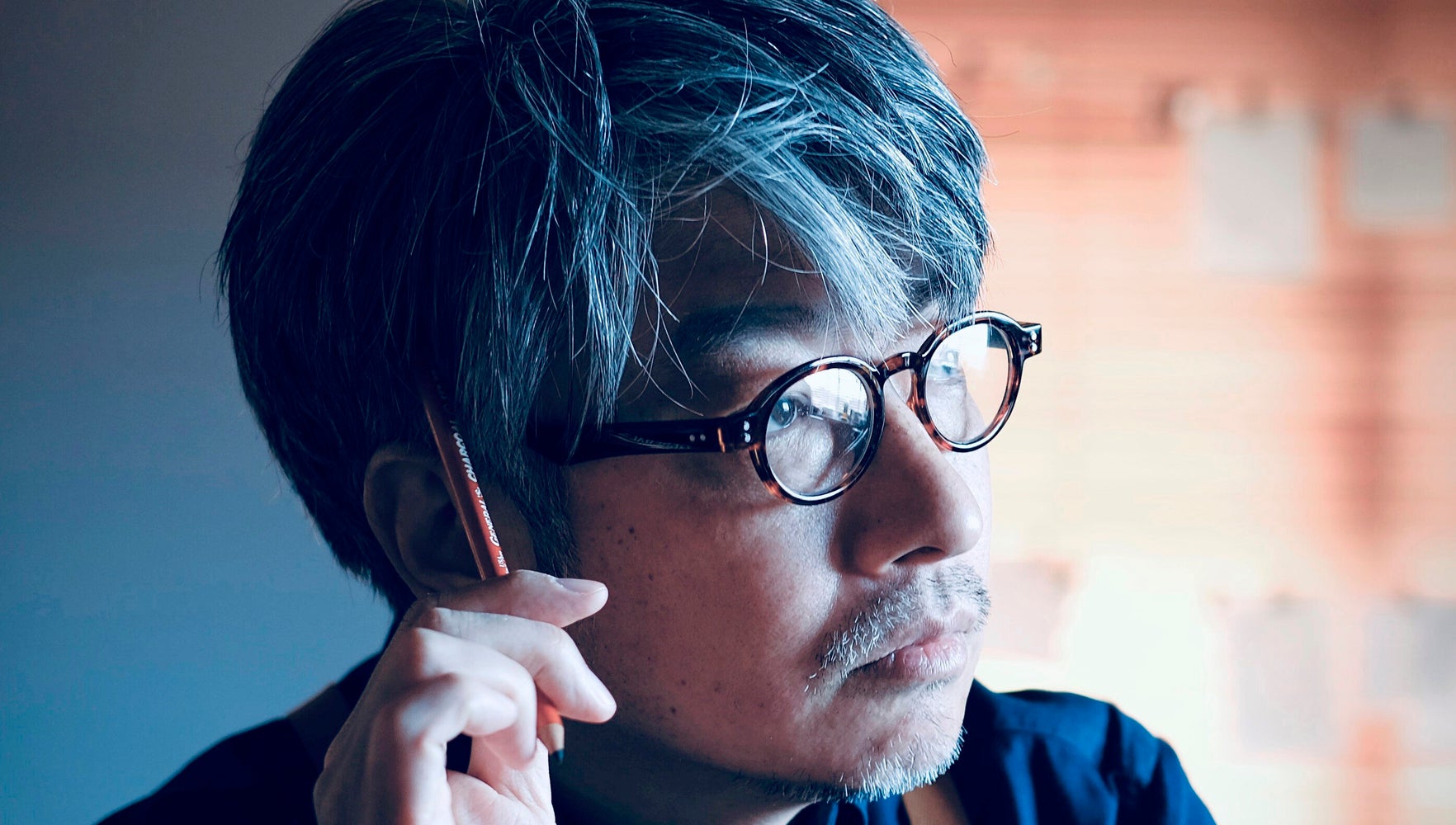 [ad_1]

TOKYO (AP) — The Tokyo Olympic organizing committee fired the director of the opening ceremony on Thursday because of a Holocaust joke he made during a comedy show in 1998.
Organizing committee president Seiko Hashimoto said a day ahead of the opening ceremony that director Kentaro Kobayashi has been dismissed. He was accused of using a joke about the Holocaust in his comedy act, including the phrase "Let's play Holocaust."
"We found out that Mr. Kobayashi, in his own performance, has used a phrase ridiculing a historical tragedy," Hashimoto said. "We deeply apologize for causing such a development the day before the opening ceremony and for causing troubles and concerns to many involved parties as well as the people in Tokyo and the rest of the country."
Tokyo has been plagued with scandals since being awarded the Games in 2013. French investigators are looking into alleged bribes paid to International Olympic Committee members to influence the vote for Tokyo. The fallout forced the resignation two years ago of Tsunekazu Takeda, who headed the Japanese Olympic Committee and was an IOC member.
The opening ceremony of the pandemic-delayed Games is scheduled for Friday. The ceremony will be held without spectators as a measure to prevent the spread of coronavirus infections, although some officials, guests and media will attend.
"We are going to have the opening ceremony tomorrow and, yes, I am sure there are a lot of people who are not feeling easy about the opening of the Games," Hashimoto said. "But we are going to open the Games tomorrow under this difficult situation."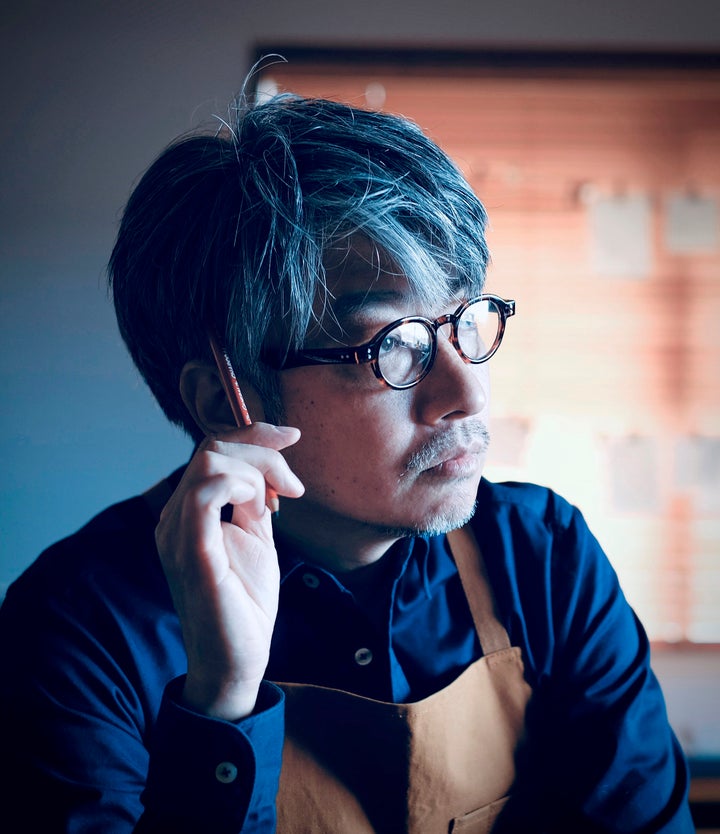 Earlier this week, composer Keigo Oyamada, whose music was to be used at the ceremony, was forced to resign because of past bullying of his classmates, which he boasted about in magazine interviews. The segment of his music will not be used.
Soon after a video clip and script of Kobayashi's performance were revealed, criticism flooded social media.
"Any person, no matter how creative, does not have the right to mock the victims of the Nazi genocide," said Rabbi Abraham Cooper, associate dean and global social action director of the Simon Wiesenthal Center, a Los Angeles-based human rights group.
He also noted that the Nazis gassed Germans with disabilities.
"Any association of this person to the Tokyo Olympics would insult the memory of 6 million Jews and make a cruel mockery of the Paralympics," he said.
Kobayashi is a former member of a popular comedy duo Rahmens and known overseas for comedy series including "The Japanese Tradition."
Japan is pushing ahead with the Olympics against the advice of most of its medical experts. This is partially due to pressure from the IOC, which is estimated to face losses of $3 billion to $4 billion in television rights income if the Games were not held.
The official cost of the Olympics is $15.4 billion, but government audits suggest it's much more. All but $6.7 billion is public money.
"We have been preparing for the last year to send a positive message," Hashimoto said. "Toward the very end now there are so many incidents that give a negative image toward Tokyo 2020."
Toshiro Muto, the CEO of the Tokyo organizing committee, also acknowledged the reputational damage.
"Maybe these negative incidents will impact the positive message we wanted to deliver to the world," he said.
The last-minute scandals come as Prime Minister Yoshihide Suga's government faces criticism for prioritizing the Olympics despite public health concerns amid a resurgence of coronavirus infections.
Koichi Nakano, who teach politics at Sophia University, wrote on Twitter that the opening ceremony chaos underscores a lack of awareness in Japan about diversity.
Tokyo Governor Yuriko Koike said she learned of Koyayashi's comments from Hashimoto.
"I was astonished," she said.
Kobayashi's Holocaust joke and Oyamada's resignation were the latest to plague the Games. Yoshiro Mori resigned as organizing committee president over sexist remarks. Hiroshi Sasaki also stepped down as creative director for the opening and closing ceremonies after suggesting a Japanese actress should dress as a pig.
Also this week, the chiropractor for the American women's wrestling team apologized after comparing Olympic COVID-19 protocols to Nazi Germany in a social media post. Rosie Gallegos-Main, the team's chiropractor since 2009, will be allowed to finish her planned stay at USA Wrestling's pre-Olympic camp in Nakatsugawa, Japan.
Calling all HuffPost superfans!
Sign up for membership to become a founding member and help shape HuffPost's next chapter


[ad_2]

Source link
As Delta COVID Variant Spikes, Vaccine Mandates Surge from the Ground Up
In San Francisco, the owners of nearly 300 bars now demand proof of vaccination before customers may enter. A growing number of Los Angeles restaurateurs require diners to prove they've been vaccinated or produce a recent negative test. Broadway patrons won't be seeing a New York show unless they've got proof of vaccination. Private businesses and hundreds of colleges are telling employees and students they can't show up if they haven't been jabbed.
The irony cannot be lost on governing bodies who still resist the idea of large-scale COVID-19 vaccine mandates: They're happening anyway. The mandates are simply occurring in a patchwork, haphazard sort of way, rather than following governmental top-down guidance.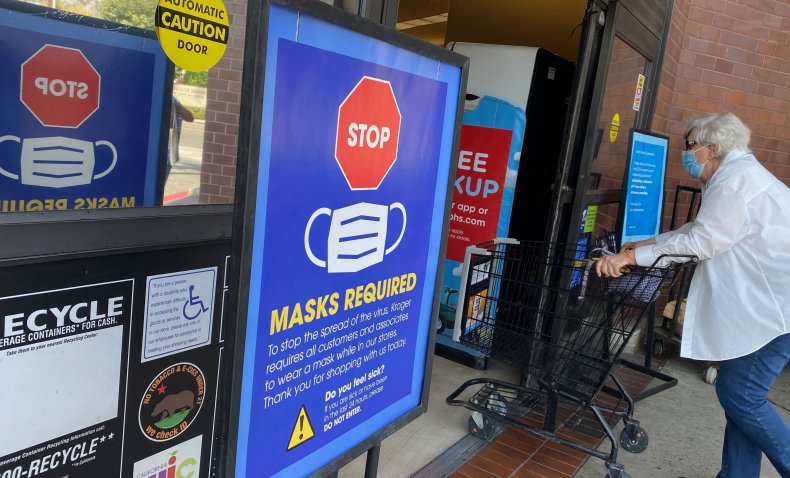 People shop at a grocery store enforcing the wearing of masks in Los Angeles on July 23, 2021. – With the Delta variant pushing US Covid cases back up and governing bodies reluctant to demand vaccines, more and more small businesses require proof of vaccination.
CHRIS DELMAS/AFP via Getty Images
---
Nationally, 58.2 percent of those over age 12 are fully vaccinated against COVID, although the surge of the Delta variant appears to have prompted an uptick in the numbers over the past week. For the population at large, the figure is 49.7 percent. (No vaccine is approved for those 12 and under.) Incentives ranging from cash to cannabis have largely failed to persuade the vaccine-hesitant to get a shot. And state and local governments have shied away from large scale requirements to get inoculated, even though the U.S. Supreme Court upheld their ability to enforce mandatory vaccinations more than 100 years ago.
Instead, the movement toward higher vaccination rates is happening from the ground up. In many cases, it starts with food and drink establishments that have everything to lose if runaway COVID rates once again force mass lockdowns on the public or on businesses like theirs.
"We haven't fought this hard, for this long, to let it go awry now," owners of the Los Angeles restaurant Osteria La Buca wrote in an Instagram post announcing that all guests at both of its locations show proof of vaccination beginning Aug. 2. "If you are not vaccinated, please do not argue. This policy will not be broken for anyone."
"It was done in order to keep our staff, our community, our musicians safeand hopefully to prevent another shutdown," said Jay Bordeleau, owner of an indoor-only jazz venue in San Francisco.
If you live in a smaller town, as I do, you may have seen both sides of the situation play out in real time. A local bar, fearful of being shut down, opts for either a strict mask mandate or for proof of vaccination to avoid an outbreak among patrons or staff—but by doing so, it opens itself up to argument and blowback, even if only from a disgruntled minority.
Having a higher authority make a policy of such requirements might provide businesses with some cover when dealing with unhappy customers, but that has proved elusive. A notable exception occurred Tuesday, when Mayor Bill DeBlasio announced that New York will require vaccines of both workers and customers at indoor dining, gyms, performances and entertainment venues, making it the first U.S. city to do so.
With case rates rising dramatically, Los Angeles County last month reinstated an indoor mask mandate regardless of vaccination status. But neither the county's top health officials nor its supervisors have acted to require that its own 100,000 employees either be vaccinated or face regular testing, which would set a powerful example for the county's estimated 4 million unvaccinated people. (A proposal may come at the supervisors' next meeting, scheduled for Aug. 10.)
California Gov. Gavin Newsom, meanwhile, has not initiated even an indoor mask requirement statewide. The closest Newsom has come is his administration recommending that folks mask up, and that came a day after the U.S. Centers for Disease Control and Prevention had largely issued similar advice. A statewide vaccine mandate is not on the table.
Private businesses have the right—and the obligation—to keep their workplaces safe, legal experts say. As long as they make an allowance for someone who is medically unable to take a vaccine or has a specific religious objection, most employers can require that their workers become inoculated.
Masking remains a valuable tool to prevent the spread of COVID—"The data we have on masks is incredibly reassuring," Dr. Jeanne Noble, who directs COVID response at Zuckerberg San Francisco General Hospital, told Capital & Main. But the most effective deterrent to the spread of the virus is vaccination. That brings the conversation back to businesses and employers, even those at the federal level.
"The Justice Department has made it clear that it is legal to require COVID-19 vaccines," President Joe Biden said in announcing that all federal employees and contractors must be vaccinated or face workplace restrictions and weekly testing. "Local communities can do that, local businesses can do that. It's still a question whether the federal government can mandate the whole country."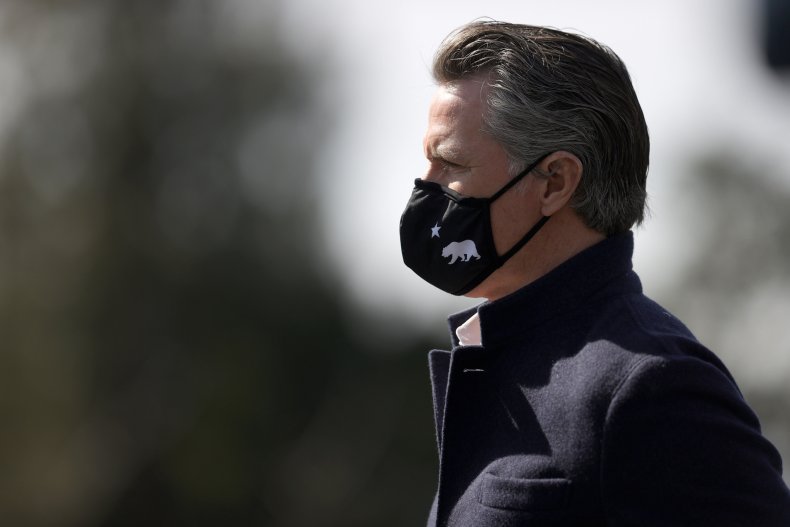 Facing a recall election next month, California Governor Gavin Newsom has not initiated even an indoor mask requirement statewide. Newsom on March 2, 2021 in Palo Alto, California.
Justin Sullivan/Getty Images
---
That question likely won't be answered any time soon—another reason why this pandemic is being fought on the ground. The three vaccines in the U.S. (Pfizer, Moderna and Johnson & Johnson) are currently being administered under emergency use authorization by the Food and Drug Administration, as opposed to final approval. But experts say businesses, employers and state governments still generally have the authority to mandate them.
That's what is happening in California, as companies and storefronts come to the same conclusion: Staying open and productive is the only path forward. If it takes a hyperlocal vaccine requirement to make that happen, businesses are increasingly willing to consider it. And some larger corporations don't disagree: Both Google and Facebook said last week that all U.S. employees must be vaccinated before returning to those companies' offices, with Google CEO Sundar Pichai noting, "Getting vaccinated is one of the most important ways to keep ourselves and our communities healthy in the months ahead."
It's also good business. After a year of often staggering financial loss, the arrival of the vaccines has coincided with a crying need for places to open again—and stay open. "Let's be clear here: We're doing this because we need to protect our staff and their families and our customers," Ben Bleiman, founder of the San Francisco Bar Owner Alliance, told the Washington Post. "We know how to control this virus."
Source Newsweek This story is co-published with Capital & Main