Fall of Kabul: Afghan Refugees Expected to Surge Toward Turkey and Europe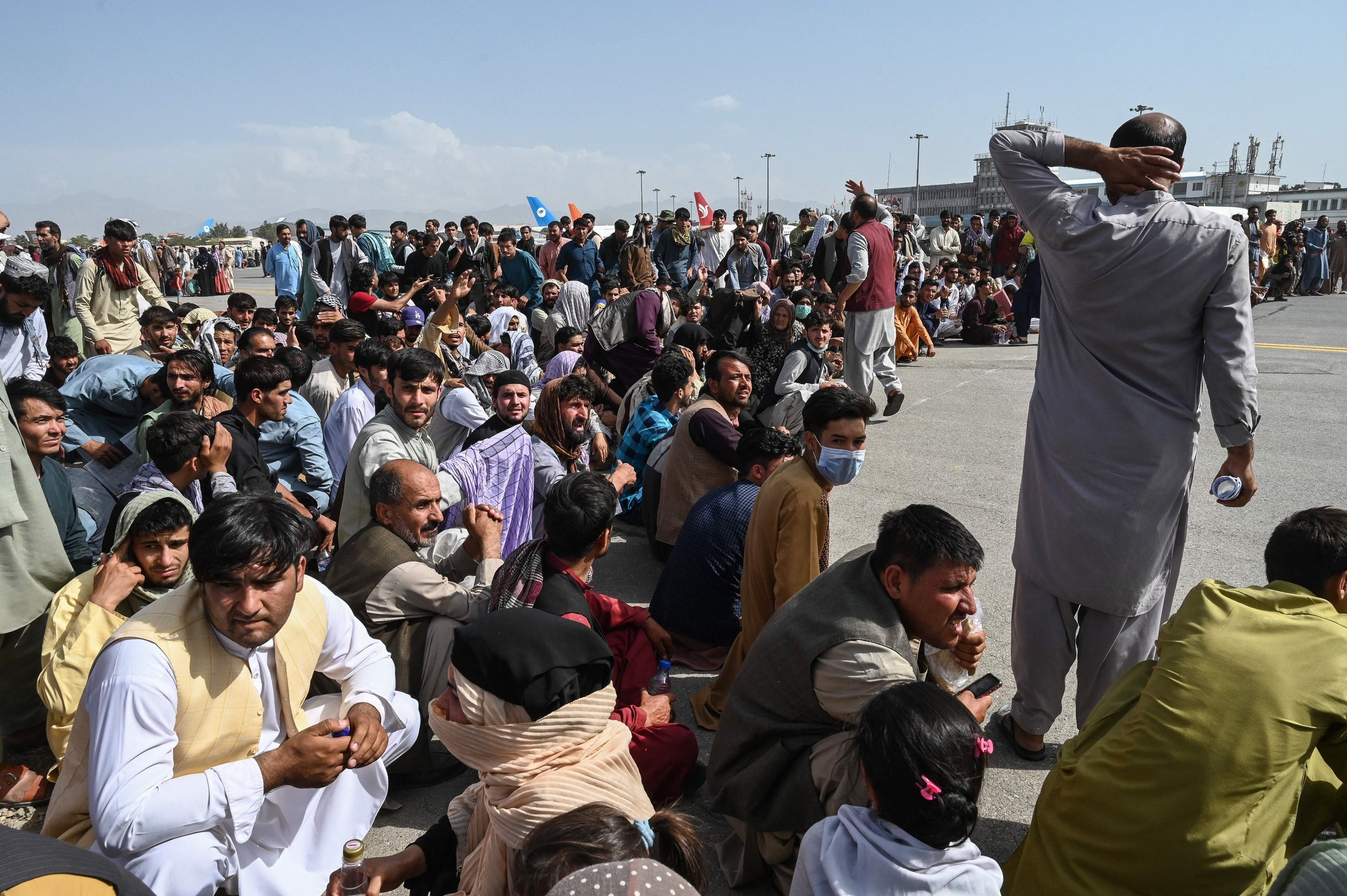 With the fall of Afghanistan to the Taliban, fears are rising in Turkey that the country will see a surge in refugees. Turkey is a major final destination for Afghan refugees, as well as a jumping off point for those intending to head to Europe. Already, there are up to 600,000 Afghans in Turkey, refugees who made their way there over the past decade. But the numbers can easily – in fact, will likely – spike. This is the next crisis waiting in the wings.
The refugees already were on their way before the fall of Kabul. Videos on social media lately have shown hundreds of Afghans, mostly men and boys, crossing the rugged border into Turkey. The country's easternmost province of Van abuts northern Iran and serves as a waypoint in the gruelling migratory path for Afghans hoping to start a new life in Turkey or to reach Europe.
Turkey, already host to 3.7 million refugees from Syria, cannot cope indefinitely with a new surge in refugees, and sees the uptick in conflict-related migrant flows as a global crisis that is being outsourced to neighbouring countries such as itself. There already is increased public unhappiness over the Syrians – originally viewed as temporary guests but are now a permanent, or at least long-term, presence in the country. They are blamed for social, economic, demographic and political tensions, sometimes resulting in armed violence or skirmishes in densely populated neighborhoods. Many Turks also complain of the special status extended to Syrians, who receive government stipends, subsidized healthcare, education and employment opportunities. There is a palpable sense of worry that new Afghan refugees would add to the already considerable strain.
Ankara lacks a comprehensive refugee settlement policy, and already is clearly struggling to limit irregular migration into the country. In the face of a fresh wave of Afghan refugees, one option is for Ankara to strike a new deal with the EU on greater burden-sharing. The template would be the 2016 EU-Turkey migration deal, which allowed EU states to stem the flow of Syrian refugees in exchange for 6 billion euros in aid and a pledge to negotiate frozen political issues with Ankara, including visa-free travel for Turks.
EU states obviously are keen to restrict the number of Afghan refugees reaching their shores, and all signs indicate a willingness to cooperate with Turkey to find a solution. Austria's chancellor, Sebastian Kurz, controversially declared recently that Turkey and other countries in the region are "definitely a better place than Austria, Germany or Sweden" for Afghans. On August 10, six EU member states – Austria, Denmark, Belgium, the Netherlands, Greece and Germany – urged against halting deportations of unsuccessful Afghan asylum seekers. Updating the migration agreement with the EU will be high on Turkey's agenda.
The US has also been eyeing Turkey as a solution to its self-made problem. In early August, Washington announced a refugees program for Afghan nationals who worked for the US, NGOs or the press, such as field interpreters and translators. The scheme contemplated third countries like Turkey and Pakistan being used as interim hosts for as many as 25,000 Afghans. They would stay there for up to a year while their applications are processed. But what happens to those with unsuccessful applications was left unclear.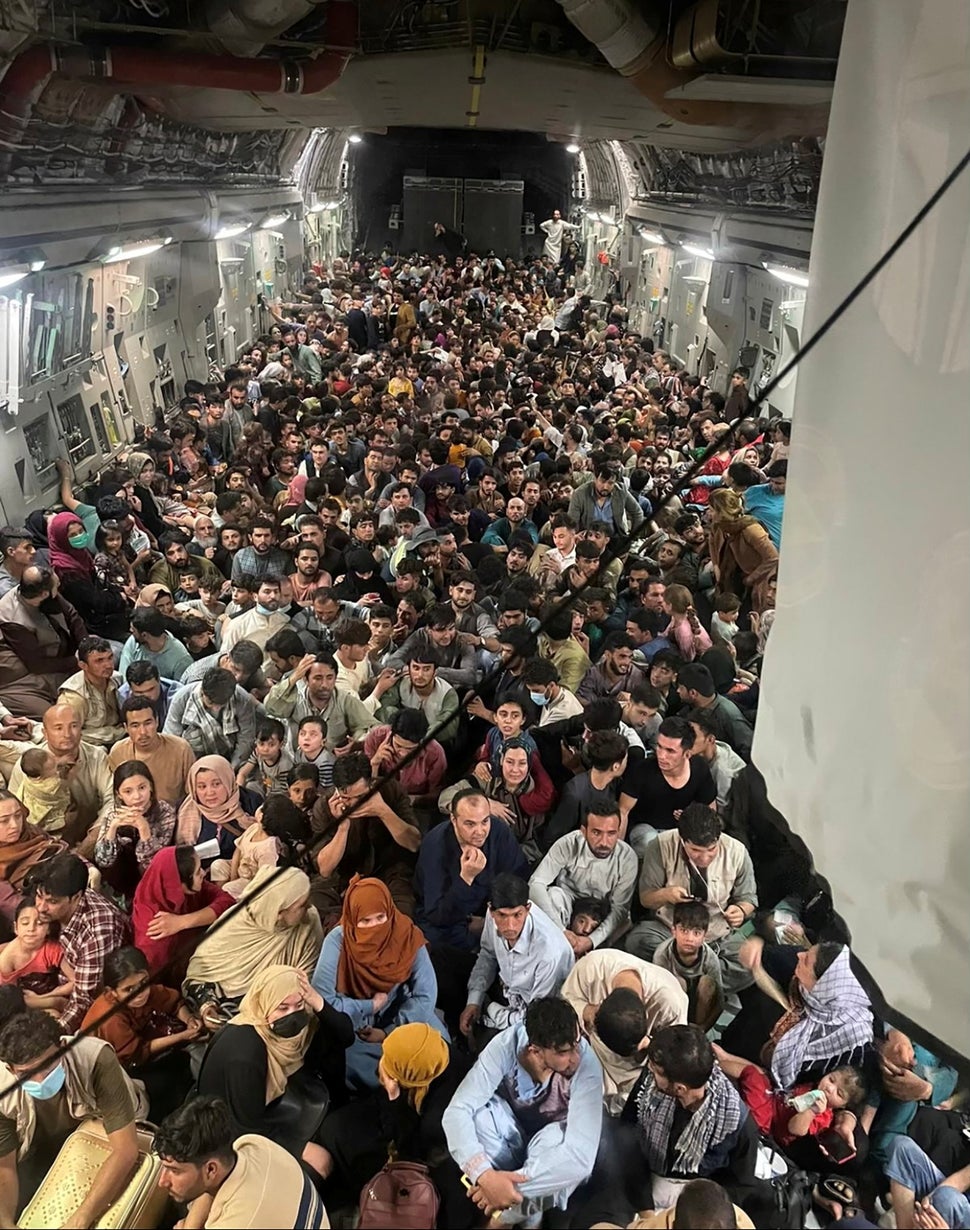 A striking new photograph shows 640 Afghans packed tightly into a U.S. plane leaving Kabul in a desperate bid to escape the Taliban.
---
The plan was quickly derided by Turkey. The foreign ministry's spokesman, Tanju Bilgi, said, "No one should expect the Turkish nation to bear the burden of the migration crises caused by the decisions of third countries in our region." The government's main communications director, Fahrettin Altun, called the initiative "utterly unacceptable," adding that Turkey would not serve as "any country's waiting room." However, it may all be moot as it is unclear how the plan would work with the Taliban now in complete control of the country.
Another idea that has been broached is a sub-regional arrangement to distribute the burden of a rise in refugee numbers. But this too is problematic. Combined, Pakistan and Iran already are home to nearly 90 percent of the 2.5 million registered Afghan refugees, with 1.4 million in Pakistan and almost a million in Iran (unofficial numbers are higher in both countries). Now, Pakistan has declared it will shut its 2,400-kilometer long, porous border and follow the "Iranian model" of housing refugee in border camps rather than allow onward movement to towns and cities. While Turkey and Pakistan are close allies, having signed a security cooperation agreement in Baku in July, it is not clear what joint measures can be taken to mitigate the crisis.
Iran could worsen the situation for Turkey by making crossings even easier for Afghans. Some have accused Tehran of wilfully turning a blind eye as thousands of Afghans in Iran are bused to the border with Turkey.
Ankara contributed troops to Nato's mission in Afghanistan over the past two decades, and until recently had 500 soldiers in non-combat roles there. But the rapid fall of Kabul has thrown in the air all plans predicated on an orderly departure by the US. The only thing clear is that there will be a flood of refugees.
Liza Schuster from the City University of London, who spent most of the past decade conducting fieldwork in Afghanistan, told me: "Afghans are finding it hard to believe that all those countries who were present in theirs for so long have so definitively turned their backs on them." She might have added how those countries now want to shift the burden to others already struggling with a decade of mass migration. What is required urgently is an international meeting to sort how to deal with the flow, and for nations to face up to their responsibility.
---
By Burcu Ozcelik
Burcu Ozcelik is a research fellow at the University of Cambridge. She received her PhD from Cambridge's Department of Politics and International Studies, where she was subsequently a teaching fellow in Conflict, Peacebuilding and the Politics of the Middle East (2015-2017). Her current book project examines women's right-wing political activism, political Islam and the gendered response to the rise of populist religious nationalism across many parts of the world.
Copyright: Syndication Bureau for Telegraf     
Biden's Botched Withdrawal From Afghanistan Is Consistent With Two Decades of America's Missteps There
The criticisms against Biden's withdrawal from Afghanistan are coming from all corners. But most are missing the point.
President Joe Biden is under a tremendous amount of pressure from his own Democratic Party and the liberal media establishment for daring to withdraw American troops from Afghanistan and allowing the country to fall back into the hands of the fundamentalist Taliban regime. Biden, in a statement on August 14, said, "One more year, or five more years, of U.S. military presence would not have made a difference if the Afghan military cannot or will not hold its own country." Just two days later, after the Afghan President Ashraf Ghani fled and the Taliban stormed into the capital, Kabul, President Biden in a speech from the White House defiantly maintained that "there was never a good time to withdraw U.S. forces," but was forced to admit that the Taliban resumed control of Afghanistan "more quickly than we had anticipated."
Republicans predictably jumped on this demonstrable foreign policy failure, neglecting to mention that it was Biden's predecessor Donald Trump who laid the groundwork for the withdrawal of U.S. troops and worked with the Taliban to do so. Senate Minority Leader Mitch McConnell (R-KY) expostulated, "This debacle was not only foreseeable, it was foreseen," as if Trump would have done any better as a second-term president. Trump's former Secretary of State Mike Pompeo in an interview on Fox News with Chris Wallace chimed in, saying, "It looks like the Biden administration has just failed in its execution of its own plan," even though of course the Democratic president was essentially carrying out Trump's plan. The Republican National Committee has now deleted a page on its website that had celebrated Trump's dealings with the Taliban, perhaps hoping no one would notice.
The corporate media was equally unforgiving of Biden. The Washington Post's editorial board issued a scathing opinion blaming Biden for any future deaths, saying that the U.S. "assumed at least partial responsibility for all Afghans. Leaving them now means walking away from that responsibility." The Post also worried about America's global prestige, saying, "at risk is the United States' reputation as a partner, as would-be allies around the world watch and calculate the value of an American commitment."
In a similar vein, the New York Times' Bret Stephens demanded to know, "What on earth was Joe Biden thinking—if, that is, he was thinking?" Like the Post, Stephens was deeply concerned about the nation's reputation, asking, "What kind of ally is the United States?"
Such criticisms miss several glaring points. First, if a foreign military occupation made no progress toward democracy and human rights in 20 years, it is unlikely to do so in 20 more. Second, they are more concerned about the U.S.'s reputation as a global superpower (which is what the term "ally" really implies) than human lives. And third, although a majority of Americans once supported the Afghanistan War and occupation, today most Americans want the occupation to end.
Moreover, most critics of Biden's botched exit from Afghanistan appear to have missed the fact that the entirety of the occupation has been flawed and led to the debacle of the Taliban's resurgence. Biden's missteps were apropos of the entire occupation. Every step of the way, the United States made the wrong choice, regardless of which president, Republican or Democrat, was in power, from George W. Bush's decision to work with corrupt and violent warlords, to Barack Obama's choice to validate the Taliban by being the first to engage in peace talks with the ostensible enemy forces.
Biden's fellow Democrats also joined in the criticism against him but got much closer to the questions that really need to be asked about the disastrous turn of events in Afghanistan. Senator Bob Menendez (D-NJ), chair of the Senate Foreign Relations Committee, said, "I am disappointed that the Biden administration clearly did not accurately assess the implications of a rapid U.S. withdrawal." More importantly, he made the astute observation that "We are now witnessing the horrifying results of many years of policy and intelligence failures."
Even though the U.S.-backed Afghan government has been ineffectual and corrupt directly as a result of choices that successive administrations made over the years, the Biden administration could have chosen to coordinate more closely with the institution if only to ensure that billions of dollars of U.S.-bought weapons would not fall into Taliban hands. Instead, according to Associated Press, "the ultimate beneficiary of the American investment [in Afghanistan's military] turned out to be the Taliban," who "grabbed not only political power but also U.S.-supplied firepower—guns, ammunition, helicopters and more."
To summarize, the U.S. went to war against Afghanistan in October 2001 in order to punish the Taliban and Al Qaeda for the September 11 terrorist attacks, spent nearly two decades fighting a "war on terror," and ended up leaving its ostensible enemy empowered both politically and militarily. American taxpayers, who naively backed the invasion and occupation, spent trillions of dollars in a brutal decades-long exercise in futility that resulted in lost lives, a traumatized Afghan population and a renewal of the forces that terrorized them.
The Taliban couldn't have asked for a better war
It may be hard to believe that things could have been even worse under Trump. But if the former Republican president were in power now, it is likely we would be witnessing a similar situation but with even more violence. Former Secretary of State Pompeo in his Fox interview advised the Biden administration to "crush these Taliban who are surrounding Kabul," adding, "We should do it with American airpower, we should put pressure on them, we should inflict cost and pain on them." Past wars have demonstrated with striking reliability that such infliction of pain is never precise and always results in so-called "collateral damage," a euphemism for civilian casualties. Trump had a proven penchant for using massive firepower with no regard for civilians, and with Pompeo offering him advice, we would likely have seen the same situation as we are seeing today but with the added horror of bombs falling on people attempting to flee the Taliban.
The Taliban's takeover of Kabul is being likened by many to the fall of Saigon. Before the Afghanistan War, there was the Vietnam War. And there were many other wars during and before Vietnam and Afghanistan that garnered less attention. If there is a lesson that Americans as a nation ought to take away from these devastating militaristic exercises that consistently do more harm than good, it is to ensure we never again rally behind a desire to bomb, raid, occupy and militarily strike another nation. This means standing up to the liberal and conservative establishments that find a detached comfort in the cold calculus of warfare with no concern for life, safety, or democracy.
---
By Sonali Kolhatkar
Sonali Kolhatkar is the founder, host and executive producer of "Rising Up With Sonali," a television and radio show that airs on Free Speech TV and Pacifica stations.

This article was produced by Economy for All, a project of the Independent Media Institute for Telegraf