Fortress Olympics: peak security measures dampen the mood as the games begin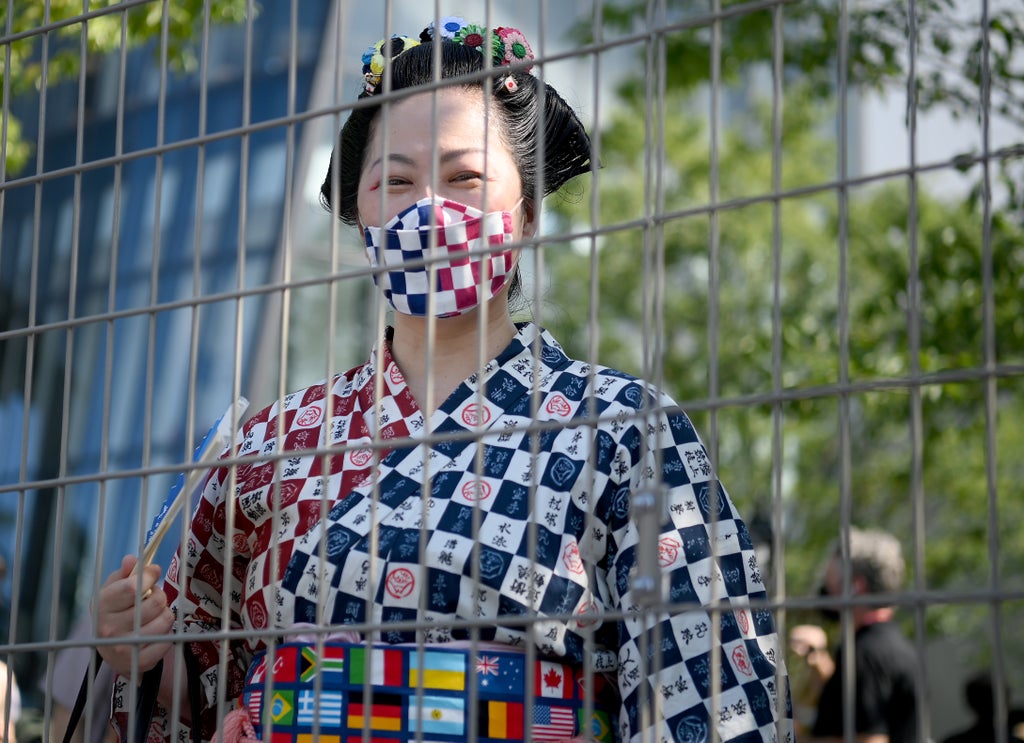 As the Tokyo Olympics gets underway, the atmosphere at the Olympic stadium is heavy with nervous expectation.
And it's not just the din of cicada singing in the trees, or the humidity that clings to your clothes, that's causing people to feel uneasy.
Along the tree-lined streets leading to the stadium, a phalanx of traffic police, security guards, and monitors stand ready.
Red and white traffic signs and barriers have been erected to direct general traffic one way, and Olympics-related traffic another. Access to a nearby highway is cut off.
Closer to the stadium's entrance, more personnel stand by. And there are yet more barriers, including a  15-foot makeshift wall skirting the perimeter of the stadium, impeding clear views of it.
A head of that barrier stands another one, a fence of about the same height—around fifteen feet—which seems to roll around the entire circumference of the stadium.
And at the main gate, where athletes, delegates, media and dignitaries slide by in silent cars and shuttle busses, an airport-style checkpoint awaits.
Remarkably, the checkpoint is staffed not just with volunteers, but private security, police and military. Beneath two large tents, scanners, monitors and airport-style bag checks ensure accredited people only can enter.
If you didn't know better, you'd think this operation was for a sensitive government facility or a high security prison, rather than the site of the Tokyo Games.
The same level of military precision and efficiency awaits at the Athletes Village, where thousands of Olympians from all over the world are ready to take to the stage.
And yet, many locals in Tokyo seem to be blissfully unaware of the well-oiled scheme going on right under their noses.
Across the street from the Olympic stadium, patrons sit down for afternoon tea in a luxury hotel, apparently unconcerned with what's going on right next door.
Further afield, in the popular Roppongi district of Tokyo, a young couple—a Thai-Japanese woman and a Spanish man—settle down to beer and pizza.
After all, it is a four-day weekend, and thoughts of the current state of emergency, which discourages social gathering and serving alcohol, seem far from people's minds.
"I don't have any information," she says, lamenting the apparent fact that, somehow, she isn't getting much news or promotion about the Games.
On the main drag in Roppongi, a few minutes up the road, flags declaring "Tokyo 2020" seem to have been replaced with banners promoting an art exhibition.
Her partner agrees, adding that they weren't really paying much attention to the Games.
Their lament is shared by a twenty-something Tokyo native: "I didn't really pay attention to it to be honest, but I wish we could have some public viewing spots."
Another Tokyo resident, a woman in her thirties, says she will watch the Games, but her voice reveals a distinct lack of enthusiasm: "I'll probably be watching online through news and insta stories for the highlights," she says, using the Japanese word for Instagram.
But it's not all doom and gloom at the Tokyo Games. One long-term Japan resident, an expat working in the tech industry, lives close to the Olympic stadium.
While he admits that the security operation nearby has caused him some inconvenience, he will watch the Games after all.
"I live near the stadium. There's now a huge big wall around it with a lot of police people," he says.
"We got a card from Japan Post [saying] that, because of the many road blocks, they can't guarantee timely delivery of packages during the Olympics."
"[I] was hoping to get a glimpse of the cycle race this weekend, but that also seems a challenge." He plans to watch the Games on television instead.
Another long-term Japan resident, a Frenchman in his fifties, notes: "As I was born in 1964 during same time [as the first Tokyo Games], I never imagined the Tokyo Olympics fifty-seven years [later] will be virtual on my iPhone."
Like the Frenchman, many in Tokyo plan to watch the games remotely on television, or catch highlights on mobile and web platforms such as YouTube and Instagram.
A Japanese man in his sixties notes: "d[I'll be]watching television and streaming [on my computer] while eating sashimi (raw fish)."
Another expat says his hope is to watch mountain biking and canoeing in person, if possible. Failing that, he is excited to watch some of the sports that are making a debut at these games.
"Since Karate was just added this year, that would be fun to watch. BMX and skateboard as well."
He adds: "My daughter wants to watch the field events in track and field since she does the javelin herself.  My son, besides track, probably [wants to watch] soccer, even though he doesn't play it. While he is half American, he will probably be rooting for team Japan!"
Back at the Athletes Village, the enthusiasm for the games is much more palpable than at the stadium—even though there was a sprinkling of domestic tourists at the stadium area.
On the way to the Olympi village on Thursday, a taxi driver was giddy at the thought of carrying an actual Olympian or a member of the foreign press.
Asked whether he is looking forward to the games, he replied: "Yes, I am. It's tomorrow right?"
But just as quickly, his excitement is tempered with, "Yes. Very sad that there are no spectators this time."
At least for that cabbie, who plans to watch the games on television, the Tokyo Games is something that has been a long time coming: "It's been over 50 years since the last Olympics, so this Olympic will be my first Olympic."
His sentiment was shared by a volunteer at the Athletes Village, who said he was happy to take up the rare opportunity to support an Olympic event.
Above all, he told me proudly, his uniform is a hit with Olympians at the village: "Athletes have  taken photos of me wearing it."
Volunteers at the Tokyo Games wear a matching blue, grey and white t-shirt with "Tokyo 2020" printed on it, grey shorts, and grey, blue and white trainers. Like so much of the Olympics, it's a somewhat muted look – a shadow, perhaps, of what it might have been.
Welcome to Tokyo's five-ring Olympic circus
The Tokyo 2020 Olympics and Paralympics have been plagued by defiled graves, bribes, lies, outbreaks of Covid-19, colossal mistakes and mysterious deaths.
At the massively expensive Olympic Stadium, when they light the Olympic flame on Friday night, reflect on one thing. The architects originally forgot to put a place for the stand in their designs, which wasn't noticed until 2016.
Even the opening ceremonies have been a fiasco before they started. The original music composer had to resign after his history of gleefully torturing the disabled became an issue. The former comedian turned director of the pre-game show was fired because of his past Holocaust jokes.
There are reports that the new music will be provided by an ultra-nationalist composer who denies the existence of comfort women and the Nanjing Massacre. That may not go over well with Japan's neighbors.
It seems like the games are cursed – and former Prime Minister Taro Aso has said so publicly. If something can go wrong it will. Is it supernatural bad luck or just the karma of the organizers?
At Asia Times we've decided to chronicle the series of unfortunate events that led us up to this day of days, not necessarily in chronological order, but in a way that you can meditate on the mandala of misfortune that is the Tokyo 2020 Five-Ring Circus. Can things get better?
Will the opening of the Olympics be prying open an already damaged Pandora's Box or will it somehow release "fighting spirit" to save the day?
The Big Lie (2013)
Shortly, after taking office in 2012,  Prime Minister Shinzo Abe in his second time at bat, began pushing to have Tokyo host the 2020 Olympics.  Naoki Inose, the governor of Tokyo, had his back.
At a September general meeting of the International Olympic Committee, Abe made a bold appeal to host the games. When concerns were raised about the Fukushima nuclear meltdown that had happened less than two years earlier, Abe confidently said, "Fukushima is under control."
It wasn't and it isn't now. In two years, Japan will start dumping radioactive water that has been piling up on site into our oceans. The clean-up will take decades.
The bribes (2013)
It wasn't until 2019, that it was reported that French prosecutors have investigated the head of the Japan Olympic Committee, for bribing former members of the IOC. At least two million dollars was allegedly spent buying off former IOC officials so that they lobbied African nations to vote for Japan's 2013 Olympic bid.
Reuters later reports that even more millions were spent currying favor and paid out to a former executive of Dentsu, Japan's incredibly powerful advertising agency.
Speaking of bribes, Tokyo Governor Inose, who helped secure the Olympics, was forced to step down after being accused of accepting a 50,000,000 yen ($450,000) contribution from a medical consortium.  Just like Abe, he wouldn't survive in office long enough to boast about the success of the Games.
Skeletons in the closet (2013)
In November of 2019, it was finally reported that 187 human bodies had been excavated between 2013 and 2015 from the construction site of Tokyo's new Olympic stadium. The bad news (and the bones) had been covered up for years.
Apparently, the Olympic organizers had built over an Edo era cemetery. Did anyone do the proper Buddhist rituals to quell the spirits of the dead? Nobody knows.
Like the movie Poltergeist, are the angry ghosts of the displaced now cursing the games? We know that many who were evicted from their apartments in the area to make room for the stadium are cursing the Games, but they're still alive.
Plagiarism (2015)
The Olympic emblem created by an elite former advertising agency man turns out to be a rip-off of a Belgian theatre emblem. With much haste, a new Olympics emblem had to be resigned.
When the in-house newspaper of the Foreign Correspondents Club of Japan later did a parody of the emblem, which likened it to the Covid-19 virus structure, the Japan Olympic Committee forced them to pulp the magazines.
It's a curse to have no sense of humor.
Back to the drawing board (2015)
In July, The Olympic Stadium plans of famous female architect, Zaha Adid, were rejected as the building costs ostensibly were out of control. In reality, it's probably because the architect was not Japanese, and she was a woman. A famous Japanese male architect was chosen to do the design, which some have said, resembles a rip-off of Zaha Hadid's design.
Everybody dies (2013-2021)
The architect Hadid did not take kindly to her design being rejected and went to court with the Japan Sports Council.  But while the courtroom battle was waging, she suddenly died in the spring of 2016.  Hers wasn't the last death.
As the fever pace to complete the stadium mounted, in March of 2017,  a freshly hired construction company employee, 23, killed himself after mental and physical exhaustion in a horrifying case of "Karoshi" – death by overwork. He logged 190 hours of overtime in a 30-day period before his death.
In May of 2020, the 54-year old owner of a fried pork cutlets restaurant, who was scheduled to be one of the Olympic Torch Relay runners, torched himself to death. Due to Covid-19, the Olympics had been postponed, he had to close down his shop and was in deep despair.
In June of 2021, an accountant for the Japan Olympic Committee killed himself by jumping in front of a train on the Asakusa line. Did he know something about the bribes? People began asking, will the accounting ledgers for the Tokyo Olympics be burned, like they were for the Nagano Winter Olympics?
The Japanese media has politely not followed the story. The Japan Olympic Committee refuses to discuss it.
Smells worse than fishy (2017-2021)
In 2017, the swimming area set aside for the triathlon near Odaiba was found to be polluted with fecal matter and not safe to swim in. It turns out that in times of heavy rain, the sewage system overflows into the pool area. The problem is allegedly fixed but the New York Post and the Korean Press have been reporting, "The area smells like a sewer" – even now.
The coronavirus outbreak was a curse for the world, but the government of Japan, desperate to hold the Olympics, downplayed the virus, under-tested and was slow to take action. Even in early March of 2020, Tokyo Governor Yuriko Koike, said, "It's inconceivable that we don't hold the Olympics this year."
The day after the Olympics were postponed, the number of Covid-19 cases in Tokyo mysteriously surged and Koike discussed having a lockdown and the "Covid-19 infection explosion."
Japan, eager to put on a good face and host the Games no matter what, has haphazardly handled the virus, which has resulted in more than 15,000 deaths now, the worst in East Asia.
In contrast, Korea has had a little over 2,000 deaths. Vietnam, which has a population of 95 million (Japan 126 million) has only  had 370 deaths.
Despite warnings, and even a scolding from the Emperor, the "safe and secure" Games are going forward, even while outbreaks continue in the Olympic Village and Tokyo hospital beds are now in short supply.
The army of the unlucky
It's hard to keep track of all those involved in the Olympics who have been fired or forced to resign from their jobs since Japan won the bid, but here's a partial list with their misdeeds. However, some of these unfortunate souls may still be haunting the Games.
Yoshiro Mori, former prime minister, head of the Tokyo Olympic Committee (sexist remarks)
Keigo Oyamada, original composer for the Tokyo Olympics Opening Ceremonies (abusing disabled children in the past)
Shinzo Abe, now honorary advisor to the Olympics (resigned as PM ostensibly because of stomach problems, but was also under investigation for election law violations)
Hiroshi Sasaki, former Olympics creative director (planning an opening ceremony skit that would ridicule obese people)
Tsunekazu Takeda, former president of The Japan Olympic Committee (allegations of giving bribes and corruption)
Most expensive summer Games
The price of hosting the Olympics and Paralympics has astronomically increased from 734 billion yen ($6.67 billion) when the bid was made.  Last December, the  Japanese government estimated it will cost about $154 billion.
That's a huge cost overrun. Part of the high costs might have come from a vice-president of the Japan Olympic Committee having reported ties to the largest yakuza group in Japan, but who really knows?
The cost to Japan's public image from these mishandled Games is probably incalculable.
Too damn hot
Jean-Paul Sartre once wrote that "Hell is other people" and in a Covid-19 infested Tokyo, that rings truer than ever but it's also true that Tokyo summers feel like being in an inferno.
If "Fukushima is under control" was the biggest lie told by Japan in this decade, the second can be found in Tokyo's original bid for the 2020 Games. They claimed July 24 to August 9 is a great time for sports "With many days of mild and sunny weather, this period provides an ideal climate for athletes to perform at their best."
Anyone who lives here knows this isn't true. With a heat index of 101 degrees and thousands hospitalized with heat-stroke each summer, Tokyo summers are not ideal for anything. That's why the 1964 Tokyo Olympics were held in October.
By 2019, Tokyo had to sort of admit it had lied and began trying out a coating on the marathon roads to reduce the heat. In August, it was reported that it had a reverse effect, making the temperatures rise 2.6 degrees celsius at 150 centimeters above the ground, and increasing damage from UV rays. The IOC later ignored Tokyo Governor Koike and moved the marathon to northern Japan's Sapporo City.
In these "cursed" Olympics,  athletes and participants face the double-threat of Covid-19 infections and/or heat-stroke.
Let the Games begin.