Global shares mixed as caution sets in on coronavirus worry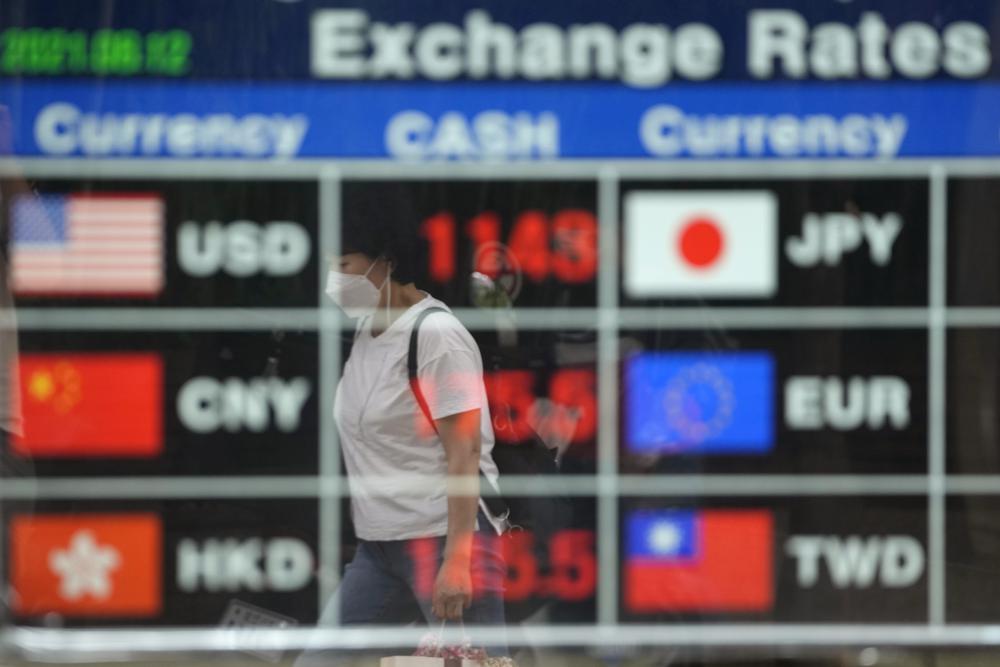 Global shares were mixed Thursday as caution set in among investors after banks and industrial companies helped lift stocks mostly higher on Wall Street.
France's CAC 40 inched up less than 0.1% to 6,860.88 in early trading, while Germany's DAX was virtually unchanged at 15,826.76. Britain's FTSE 100 slipped 0.2% to 7,205.48. U.S. shares were set to be mixed, with Dow futures up nearly 0.1% at 35,398. S&P 500 futures inched down less than 0.1% to 4,439.25.
Japan's benchmark Nikkei 225 edged down 0.2% to finish at 28,015.02. South Korea's Kospi slipped 0.4% to 3,208.38 after seesawing earlier in the day. Australia's S&P/ASX 200 ended up less than 0.1% at 7,588.20. Hong Kong's Hang Seng declined 0.5% to 26,517.82, while the Shanghai Composite fell 0.2% to 3,524.74.
Worries continued in the region about the recent regulatory crackdown in China. Analysts said the next target appeared to be the online insurance industry.
"This comes amid increasing COVID-19 risks, with further tightening of restrictions in several cities potentially impacting the services sector near-term," said Yeap Jun Rong, market strategist at IG in Singapore.
COVID-19 infection cases are also surging in Japan, where a state of emergency has been in place, even as the nation hosted the Tokyo Olympics and plans to do the same for the Paralympics, which open later this month. New cases are reaching record highs in Tokyo and several other regions. Medical officials say hospital facilities are getting stretched thin.
"On the COVID-19 front, worries over growing restrictions are becoming a cause of concern. Growth expectations in the region will likely take a hit in the coming weeks. The recent resurgence of the virus will probably slow the economic recovery," said Anderson Alves, a trader at ActivTrades.
After a stumbling start to the week, stocks have been moving higher on the back of strong earnings and better-than-expected economic data. Investors' concerns about inflation and uncertainty about the U.S. Federal Reserve's future plans to ease up on its support for low interest rates have been hanging over the market.
While the headline figures may seem bad, most of the rise in consumer prices has been tied to very specific goods that are not expected to impact the long-term health of the economy, like used cars, building materials and hotel rooms. These items came into short supply during the pandemic, and the increased economic activity has made prices for them rise faster than usual.
The Federal Reserve has repeatedly said it believes any increase in inflation would be temporary and largely a result of supply disruptions that happened because of the pandemic. Investors will get another inflation snapshot Thursday, when the Labor Department issues its July wholesale price data.
In energy trading, benchmark U.S. crude fell 4 cents to $69.21 a barrel. Brent crude, the international standard, edged up 1 cent to $71.45 a barrel.
In currency trading, the U.S. dollar slipped to 110.40 yen from 110.41 yen. The euro cost $1.1740, up from $1.1738. AP
Don't Blame Government Benefits for Inflation Blame the Modern Economy
Headlines are screaming that inflation is here to stay. Consumer prices have risen by an average of 6.2 percent in the past year, the sharpest increase since 1991. Although Americans are supposedly—in the words of the New York Times—"flush with cash and jobs," they are also deeply unhappy with the state of the economy.
It's no wonder Republicans are thrilled and are drawing a line between inflation, public anxiety about the economy, and Joe Biden's presidency.
What is surprising is that President Biden himself is helping them by citing his administration's achievement of putting more money into people's pockets as part of the explanation for the current spike in inflation. In a November 10 speech, Biden said, "You all got checks for $1,400. You got checks for a whole range of things," and with the patience of an academic teaching an Economics 101 class, he went on to explain, "Well, with more people with money buying product and less product to buy, what happens? … Prices go up."
The New York Post, a conservative-leaning paper, jumped on the speech, claiming that the president "concedes his COVID stimulus checks fueled [the] spike in inflation."
The paper downplayed Biden's assertion that, "The supply chain is the reason." In fact, the president led his audience through a fairly clear explanation of how globalization of the economy works, has artificially driven down the cost of goods for decades, and is vulnerable to disruptions such as that caused by the COVID-19 pandemic.
Biden said, "Products like smartphones often bring together parts from France, Italy; chips from the Netherlands; touchscreens from New York State; camera components from Japan—a supply chain that crosses dozens of countries."
He then concluded, "That's just the nature of a modern economy—the world economy," as if the massive web of consumer manufacturing was a fact of nature rather than a systematically deregulated system designed by multinational corporations to minimize the cost of materials and labor and maximize their profits.
Recall that this was precisely what the anti-globalization movements of the 1990s were protesting. According to a 2007 essay by Mark Engler, protesters included, "trade unionists, environmentalists, anarchists, land rights and indigenous rights activists, organizations promoting human rights and sustainable development, opponents of privatization, and anti-sweatshop campaigners" from all over the world who claimed that "the policies of corporate globalization have exacerbated global poverty and increased inequality."
When Biden explained in his speech that you "have to use wood from Brazil, graphite from India before it comes together at a factory in the United States to get a pencil," he didn't reveal that pencil manufacturers obtain wood from Brazil because they might be relying on illegal logging of the Amazon that drives down the price of wood. Nor did he mention that the cost of transporting goods from the far reaches of the globe generate massive carbon pollution that is driving climate change.
Rather than blaming globalization for inflation, he concluded it was simply "the nature of a modern economy" that we rely on. Most media outlets missed this connection too. Instead, there is blame on the increasingly rare instances of the U.S. government ensuring people have enough money to live on.
As to why Americans are so unhappy about the state of the economy? Apparently, according to Bloomberg's Ramesh Ponnuru, it is "a frequently recurring" pattern that when wages are rising there is broad pessimism. He rightly points out that, "Wages and benefits have been moving up smartly, but only in nominal terms," and that, "positive trends would have to continue before people began to register satisfaction."
Go back to polls conducted even before the pandemic (such as this one in 2018, and this one in 2019) and one can find widespread malaise about the state of the economy. In other words, Americans have spent decades being disappointed with the sustained suppression of wages and the trend of increasingly insecure jobs in the so-called "gig economy."
This may be why record numbers of people are continuing to resign in spite of their despair over the economy. The latest Bureau of Labor Statistics report found that a record 4.4 million workers resigned from their jobs in September alone, continuing a trend from August.
In addition to workers searching for jobs with better wages, the Washington Post concluded that the resignation trend is also linked to "problems finding child care."
But if conservative Republicans have their way, you'll see assertions that Americans are deeply unhappy about the government spending money on them and that child care subsidies and stimulus checks are at the root of the mass gloom—all readymade talking points to win back political power in the next election cycle in order to rein in spending.
This kind of conservative messaging includes claims that Biden "doesn't understand just how bad inflation is hurting Americans," and "[i]f congressional Democrats don't stop Biden and Pelosi's plan, a lot of Americans won't be able to pay their heating bills this winter," as is said in an advertisement by the conservative Club for Growth, aimed at vulnerable House Democrats.
Conservative Democrat Senator Joe Manchin of West Virginia is making similar connections to justify his stymying of Biden's proposals to expand government assistance.
The liberal Democrats' answer to the current economic crisis is not much better, advising either that people wait out inflation, or claiming that demand for better wages fuels inflation.
Larry Summers, former economic adviser to the Obama administration, wrote earlier this year that, "Higher minimum wages, strengthened unions, increased employee benefits and strengthened regulation are all desirable, but they, too, all push up business costs and prices." Summers echoed a Republican assertion that jobless benefits were bad for the economy, saying, "Unemployment benefits enabling workers to earn more by not working than working should surely be allowed to run out in September."
The prevailing message to Americans from political elites across the spectrum is the same one that Biden spelled out in his speech: "That's just the nature of a modern economy," and we have to deal with it.
A better takeaway from our current economic situation is that there is nothing natural about being at the mercy and whims of an economy designed by corporate profiteers for corporate profiteers.
---
By Sonali Kolhatkar
Sonali Kolhatkar is the founder, host and executive producer of "Rising Up With Sonali," a television and radio show that airs on Free Speech TV and Pacifica stations. She is a writing fellow for the Economy for All project at the Independent Media Institute.
This article was produced by Economy for All, a project of the Independent Media Institute to publish on Telegraf.