Global shares mixed as caution sets in on coronavirus worry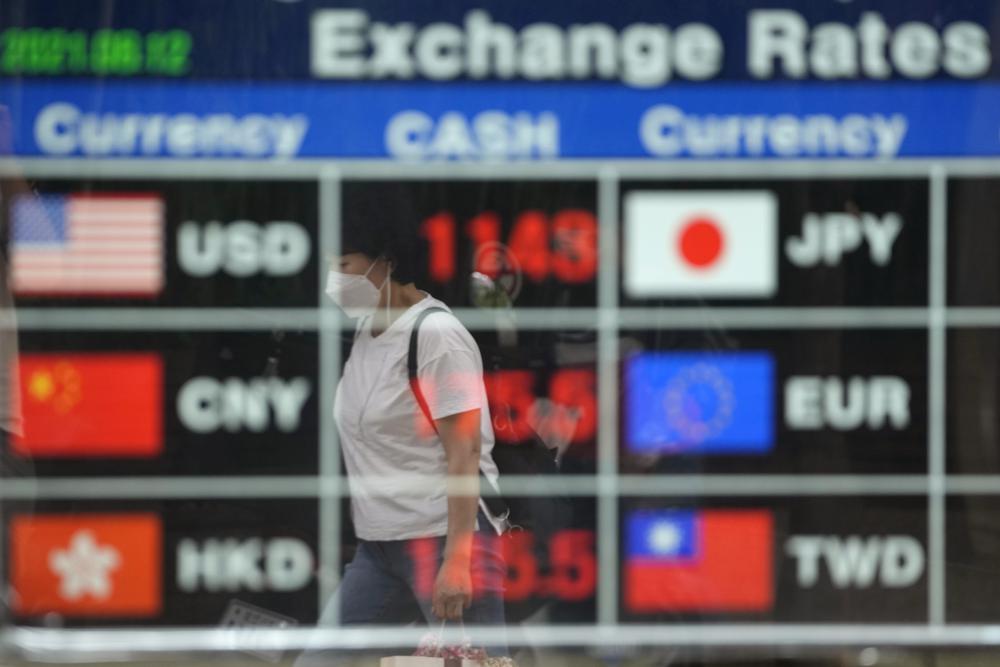 Global shares were mixed Thursday as caution set in among investors after banks and industrial companies helped lift stocks mostly higher on Wall Street.
France's CAC 40 inched up less than 0.1% to 6,860.88 in early trading, while Germany's DAX was virtually unchanged at 15,826.76. Britain's FTSE 100 slipped 0.2% to 7,205.48. U.S. shares were set to be mixed, with Dow futures up nearly 0.1% at 35,398. S&P 500 futures inched down less than 0.1% to 4,439.25.
Japan's benchmark Nikkei 225 edged down 0.2% to finish at 28,015.02. South Korea's Kospi slipped 0.4% to 3,208.38 after seesawing earlier in the day. Australia's S&P/ASX 200 ended up less than 0.1% at 7,588.20. Hong Kong's Hang Seng declined 0.5% to 26,517.82, while the Shanghai Composite fell 0.2% to 3,524.74.
Worries continued in the region about the recent regulatory crackdown in China. Analysts said the next target appeared to be the online insurance industry.
"This comes amid increasing COVID-19 risks, with further tightening of restrictions in several cities potentially impacting the services sector near-term," said Yeap Jun Rong, market strategist at IG in Singapore.
COVID-19 infection cases are also surging in Japan, where a state of emergency has been in place, even as the nation hosted the Tokyo Olympics and plans to do the same for the Paralympics, which open later this month. New cases are reaching record highs in Tokyo and several other regions. Medical officials say hospital facilities are getting stretched thin.
"On the COVID-19 front, worries over growing restrictions are becoming a cause of concern. Growth expectations in the region will likely take a hit in the coming weeks. The recent resurgence of the virus will probably slow the economic recovery," said Anderson Alves, a trader at ActivTrades.
After a stumbling start to the week, stocks have been moving higher on the back of strong earnings and better-than-expected economic data. Investors' concerns about inflation and uncertainty about the U.S. Federal Reserve's future plans to ease up on its support for low interest rates have been hanging over the market.
While the headline figures may seem bad, most of the rise in consumer prices has been tied to very specific goods that are not expected to impact the long-term health of the economy, like used cars, building materials and hotel rooms. These items came into short supply during the pandemic, and the increased economic activity has made prices for them rise faster than usual.
The Federal Reserve has repeatedly said it believes any increase in inflation would be temporary and largely a result of supply disruptions that happened because of the pandemic. Investors will get another inflation snapshot Thursday, when the Labor Department issues its July wholesale price data.
In energy trading, benchmark U.S. crude fell 4 cents to $69.21 a barrel. Brent crude, the international standard, edged up 1 cent to $71.45 a barrel.
In currency trading, the U.S. dollar slipped to 110.40 yen from 110.41 yen. The euro cost $1.1740, up from $1.1738. AP
Legit Group Secures Rp 205.3 Billion in Series A Funding for F&B Business Expansion
TELEGRAF – Legit Group, a multi-brand cloud kitchen conceptor and operator, has announced the success of its series A funding round, raising a total of US$13.7 million (IDR 205.3 billion) from several investors. The funding was led by MDI Ventures, the venture capital arm of PT Telkom Indonesia Tbk, and followed by Sinar Mas Digital Ventures (SMDV), East Ventures, and Winter Capital. In 2021, Legit Group also successfully raised seed funding worth US$3 million (IDR 43 billion) from East Ventures and AC Ventures, JAKARTA, TUESDAY (11 APRIL 2023).
Founded in 2021, Legit Group currently operates four well-known brands, including Pastaria, Sei'Tan, Sek Fan, and Ryujin, located in over 30 locations in Jabodetabek. Interestingly, Legit Group's brands do not have any offline locations, but operate using a cloud business model.
This new funding adds optimism to Legit Group to dominate the market through the right marketing strategy in the F&B industry. This confidence is supported by the strong traction the company has gained since the initial funding round, with sales reaching about three times in one month, and launching a new brand.
Bram Hendrata, Chairman of Legit Group said, "We are excited to have a strong group of investors to support us in creating a brand that carries the vision of 'Food for Everyone'. Through the funding obtained from MDI Ventures, this can strengthen Legit Group's commitment to bringing more food to various places, while continuing to innovate and improve the technology we have to achieve more efficient operating systems," said Bram, who has been a veteran in the F&B industry for 15 years.
Currently, Legit Group's business sector is rapidly growing. While most regular cloud kitchen business owners focus on improving their ability to serve more consumers in new areas, Legit Group has seen the potential for new generation F&B technology that focuses more on developing F&B brands by applying technology to maximize profits. Therefore, Legit Group believes that this focus will provide a competitive advantage in the cloud kitchen market.
Donald Wihardja, CEO of MDI Ventures said, "Legit Group's founders' experience, who have succeeded in the F&B business for 15 years, as well as their ability to develop innovative and effective products and marketing strategies, make MDI Ventures more confident that our support as investors will help strengthen their position in the F&B industry and accelerate their business growth. This collaboration is expected to create positive synergy and greater success for both parties. This investment is also an effort by MDI Ventures to provide a positive social impact on the growth of the agriculture sector in Indonesia."
Amidst the macroeconomic conditions that often demand startup businesses to remain profitable, Legit Group has set its top priority to achieve economic balance while continuing to strive for a healthy economic unit. To achieve this goal, Legit Group has announced its plan to expand in 2023, targeting Jabodetabek and other cities that have great potential for delivery market, after 95% of Legit Group's outlets were previously spread across several locations in Jakarta.
"Through the support from various parties, strategic approaches, and our commitment to product quality excellence, we believe we can continue to produce products that…