High costs dog Tokyo's hydrogen buses
[ad_1]

Tokyo 2020 is meant to be the "hydrogen Olympics" — a showcase for Japan's aspiration to make the lightest element in the periodic table the fuel of the 21st century, and a central technology in the drive to net-zero carbon emissions.
After a team of Japanese engineers spent months developing a suitably colourful additive, the Olympic flame will burn hydrogen. The athletes' village has been designed as a hydrogen society in miniature. What the world will take away, Japan hopes, is the image of a hyper-modern nation that has found the energy of the future.
"During the Olympics and Paralympics, cars and buses will run through the city powered by hydrogen, and the athletes' village will run on electricity made from hydrogen," said former prime minister Shinzo Abe in March 2020, as he geared up for a Games he later had to postpone for a year because of Covid-19.
Behind the hydrogen razzmatazz, however, the reality is considerably more prosaic — and nothing illustrates that better than the humble Tokyo bus. A central part of one of the world's best public transport systems, the Tokyo network has introduced 100 fuel cell buses, made by Olympic sponsor Toyota.
Along with a fleet of hundreds of Toyota's Mirai fuel cell cars, it is one of the most ambitious hydrogen experiments in the world. In a fuel cell, hydrogen reacts with oxygen to produce a flow of electricity, with water as the waste product. Hydrogen has a higher energy density than lithium batteries, making it particularly suitable for heavy vehicles such as buses.
The buses Tokyo has bought are a hit, according to Osamu Maekawa of the metropolitan government's transportation bureau. "The feedback from the drivers is extremely good. The buses are quiet and have lots of power," he says.
Nonetheless, having bought dozens in time for the Olympics, the city will not buy any more this year. The problem is cost. A fuel cell bus from Toyota costs ¥100m ($900,000) for a six-year lease. A diesel bus costs ¥24m ($220,000) and has a useful life of 15 years.
To get the initial 100 buses into service, the local and national authorities have paid subsidies covering 80 per cent of the lease cost. Even that is not enough to make them competitive.
"The fuel costs are also higher," says Daisuke Harayama, who is in charge of operations at Tokyu Bus, a private company that has introduced two of the fuel-cell vehicles (FCVs). "The fuel cost is 2.6 times higher for FCVs over diesel."
This reflects fundamental constraints: the high capital cost of the vehicle, with its complicated drive system and fuel cell full of exotic materials; the short lifespan, which is limited by the performance of the fuel cell; and the relatively high cost of hydrogen fuel.
There are also additional costs in time and money associated with early adoption. Operators have diesel fuel stands in their depots to refill buses in the evening, but the fuel cell buses must travel daily to one of a few hydrogen filling stations big enough for a bus.
The operators could bring costs down a little if they switched to hydrogen for all their buses, by installing fuel pumps in their depots, and sharing parts across the fleet. Yet they would still be far more expensive than diesel — and bus passengers will not tolerate higher fares.
More stories from this report
To make hydrogen feasible, manufacturers will have to cut prices hard. "If we can't get the costs down close to diesel, then it's going to be hard to continue this in the future," says Maekawa.
Harayama has a similar view about the short term. "I think it'll be hard to go to fuel cells for now," he says. "We don't look at it as whether fuel cells are good or bad. There'll come a time when we can no longer use diesel so we need to think about the options."
Where the bus experiment does make a difference is by increasing the demand for hydrogen and supporting the refuelling infrastructure that will be essential if it is ever to become mainstream.
"Running the buses creates a big increase in H₂ demand," says Maekawa. The buses run all day, unlike cars that mostly stay parked. "To have an H₂ bus in operation is equivalent to having 50 fuel cell vehicles on the road."
The most fundamental issue for all Japan's hydrogen aspirations is where that fuel comes from. At present, it is mainly made from natural gas at existing chemical plants, in a process that emits plenty of carbon dioxide.
In the future, Japan hopes to import large amounts of hydrogen from countries such as Australia, where it will be made from coal, with the carbon captured and stored, or produced using green electricity such as solar.
For now, however, the environmental benefit of the buses that will ship Olympic athletes and officials around the city is hypothetical. The Olympic flame will burn prettily, but to make a true transition to a hydrogen society will require years of patient effort — and some big breakthroughs on cost.
[ad_2]

Source link
Indonesia's B40 biodiesel plan faces new delay due to palm price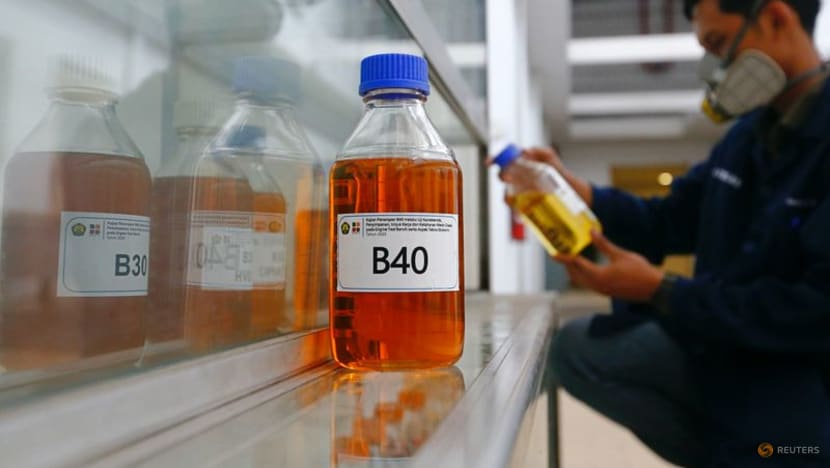 Indonesia's plans to raise the mandatory bio-content in its palm oil-based biodiesel to 40per cent may face further delays, after the high price of the vegetable oil has made the programme too costly, a senior government official told Reuters.
Indonesia, the world's largest palm oil producer and exporter, has a mandatory biodiesel programme with 30per cent palm oil content, known as B30, but intends to expand the use of the oil for energy to save on fuel imports.
Authorities had planned to increase the mix to 40per cent in July this year, but the timetable for the B40 programme is now unclear.
"We don't have a timeline yet for B40, although from the technical side, we're ready," Dadan Kusdiana, a director general at the energy ministry, said in an interview. He said implementing B40 in 2022 will be "challenging".
Indonesia funds its biodiesel programme with proceeds from palm export levies.
However, authorities have revised levy rules three times since last year as they sought to support the biodiesel programme after prices soared, but without hurting exports.
Malaysian palm oil futures hit a record of 4,560 ringgit (US$1,089.35) a tonne on Aug. 12 and have been trading around 4,300 ringgit recently, about 60per cent higher than a year earlier.
Dadan said 45 trillion rupiah to 46 trillion rupiah (US$3.1 billion-US$3.2 billion) is needed this year to fund the difference between using regular diesel and the palm-based fatty acid methyl ester (FAME) for B30.
If prices stayed constant, mixing 40per cent FAME would require around 60 trillion rupiah (US$4.16 billion), he said, while noting adopting B40 would likely boost palm oil prices by shrinking global supply, making the programme even more expensive.
"That is what we're considering, how capable are we in terms of the levies. We have to provide bigger financing, but it doesn't have to come from higher levies," Dadan said, without elaborating on alternatives.
The Indonesian Palm Oil Association (GAPKI) had already said in January it expected B40 to be delayed beyond 2022.
On the technical side, Dadan said the water and monoglyceride contents in FAME must be reduced for B40 to work, requiring new investment by biodiesel producers.
Although biodiesel promises lower emissions, the use of palm oil as a feedstock raises concern about deforestation in the clearance of land to grow it. The European Union is planning to phase it out as fuel for transport.
(US$1 = 14,425.0000 rupiah)
(US$1 = 4.1860 ringgit). REUTERS