'I lost my entire family, in an instant': Miracle baby is sole survivor of Israeli airstrike that kills 10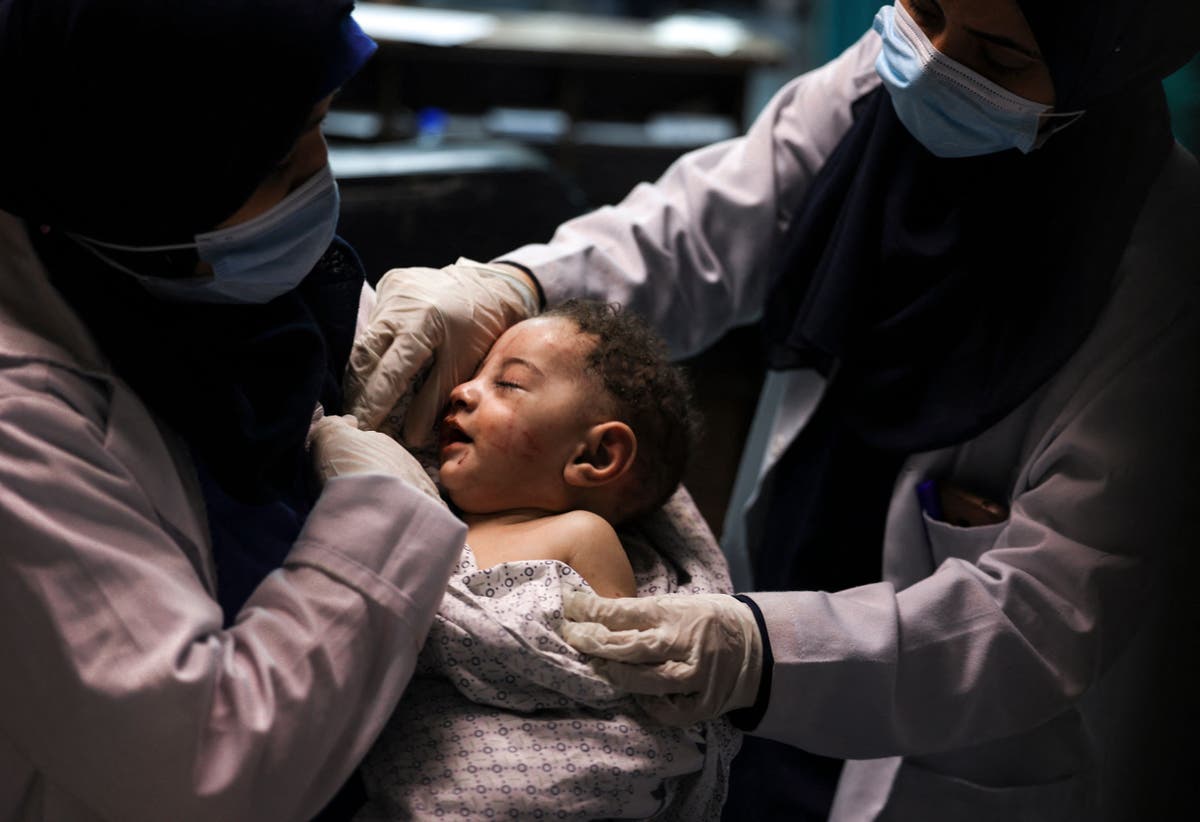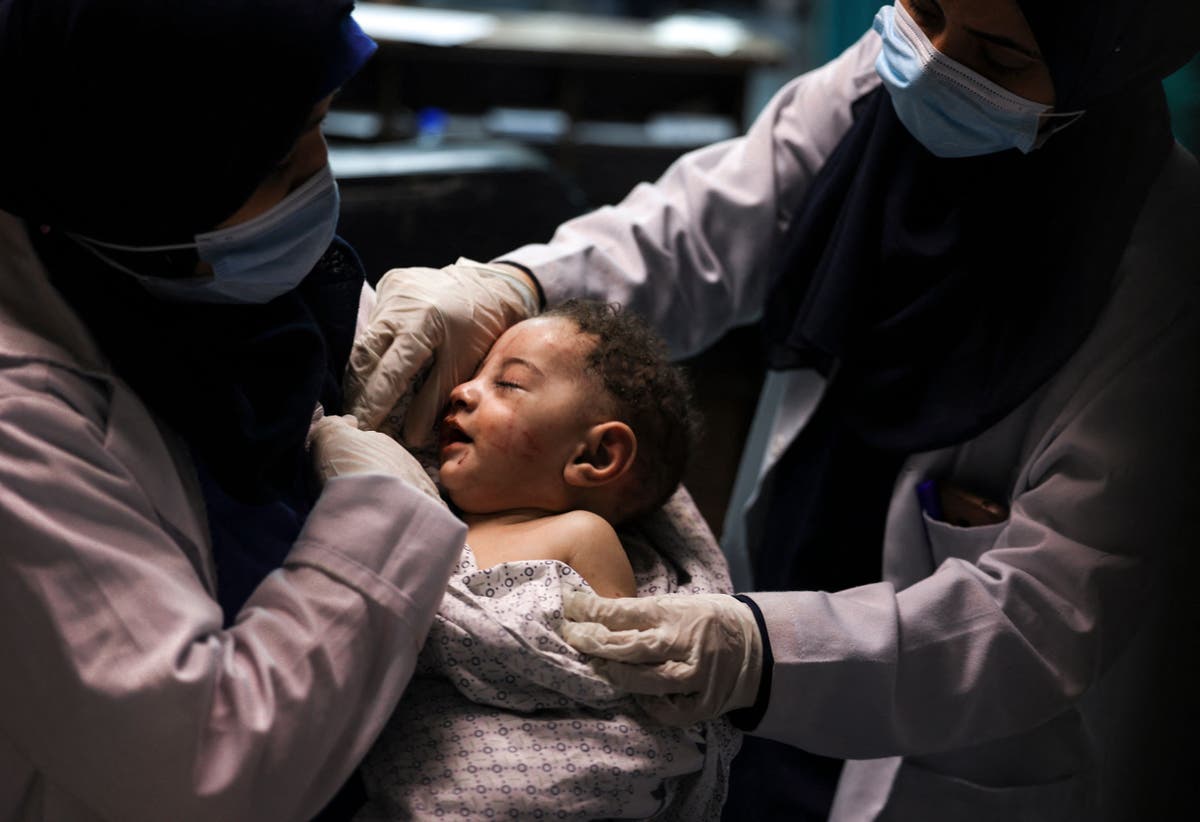 T
he baby was found clutching his dead mother's chest when the first responders in Gaza dug him out from underneath the rubble of a three-storey building.
In a split second 11 members of the Palestinian family, who had gathered for Eid, were buried by the giant claw of an Israeli airstrike.
The remains of the building in Gaza's Shati refugee camp were strewn with children's toys, a Monopoly board game and plates of uneaten food from the holiday gathering.
In total 10 were dead: eight children and their two mothers, who were sisters-in-law.
But by some miracle there was a cry: five-month-old Omar, the youngest, was alive.
"What had they done to the Israelis to be targeted while wearing their special Eid clothes as they sat in their uncle's house?" the distraught father Mohamed al-Hadidi, asked The Independent, from Shifa hospital where his son was being treated.
"They are only children, they haven't fired rockets, " he added, breaking down.
"Except Omar, I lost my entire family, in an instant."
At least 139 Palestinians – including 39 children and 22 women – have been killed, mostly by Israeli airstrikes, according to Gaza's health ministry.
In Israel, medics have reported 10 dead, including two children, and said six people were in a critical condition from Gaza's volleys of rockets. The latest victim was a 50-year-old Israeli who was killed by rocket fire on Saturday afternoon in Ramat Gan, near Tel Aviv.
For five nights across the blockaded strip families have cowered under what Israeli air force officials have told The Independent is one of the most "intense barrages of airstrikes" they have ever unleashed on the territory. It is in response to an almost unprecedented level of rocket fire from militants in Gaza.
The army has repeatedly said it does everything in its power to avoid civilian casualties, including deploying early warning systems for major targets like multi-storey buildings.
But Mr Hadidi, who had not been with his wife and children,  said his family knew nothing of the air raid which blew up their lives.
Under heavy bombardment, his wife Maha, 36, had taken her four children to her brother's home to celebrate the  Muslim holiday which marks the end of Ramadan.
After dinner with her sister-in-law, Yasmine Hassan, she decided to sleep there overnight,  a decision that would ultimately prove fatal.
"The Israelis didn't give any warning, they didn't call them. They didn't even fire drone [knock on the roof] rockets so they knew to escape," the father said.
"My house is just 400m away, I was running in the street shouting, the building was totally destroyed."
The latest cycle of cross-border fire erupted on Monday when Hamas, which runs Gaza, fired a volley of rockets at Jerusalem for the first time in seven years.
The militant group said it was in response to weeks of violence in the flashpoint city of Jerusalem that saw Israeli forces repeatedly storming the al-Aqsa mosque, the third holiest site in Islam, with stun grenades and teargas.
Israeli police defended the inflammatory action saying Palestinian rioters on the al-Aqsa compound were throwing stones, bottles and fireworks.
Since then, the Israeli military says Hamas and other militants in Gaza have fired over 2,300 rockets at Israel, in what a senior Israeli air force general told The Independent has been among the most "intense" barrages of all conflicts with Gaza.
Israeli warplanes have struck more than 650 targets, in an equally strong campaign.
Overnight on Friday Israel unleashed a 40-minute ferocious ground and air bombardment on Gaza, which the army said was targeting an underground network of attack tunnels they call the "metro".
Military officials said that night they dropped 500 tonnes of munitions on the strip, which is home to nearly 2 million people.
"I have never seen anything like this in my life. It was worse than the 2014 war,"  said, Hassan Mohammed Attar, 50,  whose daughter, son-in-law, grandchildren and half a dozen neighbours were wiped out during that night's bombardment along the northern border area.
"Everything has been destroyed, I have never seen such fire before spread through the houses. We were all suffocating,  vomiting, I don't know what that was," he added.
The air raids were so intense on Friday and Saturday that thousands of Palestinians living near the border with Israel packed up their belongings and fled south, fearing a protected war and possible ground invasion.
"The air raids have been unimaginable, Friday was a night of fear, terror and destruction," said Fareed Abu Haloup, 62, who spoke to The Independent as he was fleeing Beit Lahia in the north to the centre.
"We only just made it out of our house alive.  Even the ambulances can't get to us. We can't wait to see our children die in front of our eyes. "
Back at Shifa hospital, in Gaza City, Mr Hadidi sat playing with Omar, the only remaining member of his direct family.
"We ask where is the international law? Where is the international community to step in and stop this?" he asked.
"Where are our rights? We ask you to show the world what happened to us."
Source link
FirstFT: Today's top stories | Financial Times
Good morning. This article is an on-site version of our FirstFT Asia newsletter. Sign up here to get the newsletter sent straight to your inbox every weekday morning
Hong Kong's pro-democracy tabloid Apple Daily is on the verge of closure after its assets were frozen by the government last week, restricting its ability to operate.
The asset freeze follows the arrest of two of the newspaper's senior executives who were charged under China's tough national security law after a raid by 500 police officers on Apple Daily's offices on June 17. The paper's owner, Jimmy Lai, has already been jailed.
Critics say the actions mark a new low for press freedom in the Chinese territory, which was promised freedom of expression in the handover of the city from the UK to China in 1997. This changed after Beijing introduced a national security law that heralded a tough crackdown on civil society and politics.
The clampdown, aimed at quelling dissent on display during mass anti-government protests in 2019, has since extended to the previously freewheeling media. But police moves to charge Ryan Law, Apple Daily's editor-in-chief, were the first time the national security law had been used directly against journalists.
Five stories in the news
1. China orders banks to intensify anti-crypto campaign China's central bank warned several of its largest state-owned banks and Jack Ma's Alipay to "investigate and identify" bank accounts facilitating cryptocurrency trading and block all corresponding transactions, in Beijing's latest move against Bitcoin. Read more in Chris Nuttall's #techFT newsletter. You can sign up here.
2. Wall Street rebounds as markets adjust to Fed rate rise outlook US stocks bounced back and government bonds softened on Monday, reversing some of the tumultuous moves last week that followed a Federal Reserve meeting where officials took a more hawkish tone on interest rates and inflation.
3. Iran's president-elect signals tough line on nuclear deal Ebrahim Raisi, a conservative cleric and judiciary chief, told reporters that his government would not "negotiate for the sake of negotiations" and ruled out any meeting with US President Joe Biden.
4. Student athletes win US Supreme Court showdown The court's nine justices unanimously upheld a lower court decision finding that restrictions set by the National Collegiate Athletic Association on education-related benefits — including "scholarships for graduate or vocational school, payments for academic tutoring, or paid post-eligibility internships" — to student athletes were unfair.
5. Germany's Armin Laschet warns against cold war with China The frontrunner to become Germany's next chancellor agreed with Angela Merkel that Beijing was as much a partner as a systemic rival. In a wide-ranging interview Laschet, leader of Germany's centre-right Christian Democratic Union, suggested many in Europe were sceptical of US President Joe Biden's hawkish attitude to China.
Coronavirus digest
Follow our live coronavirus blog and sign up for our Coronavirus Business Update newsletter.
The day ahead
New York City mayoral primary In heavily Democratic New York City, the winner of today's primary will certainly carry November's general election. Eric Adams — a black former policeman who has called for more NYPD officers — is one of the favourites to win a contest that has become a referendum on New Yorkers' attitudes towards policing and public security.
Spain to pardon jailed Catalan separatists The leftwing government is to issue pardons for nine jailed Catalan separatists on Tuesday, in a move it says will pave the way for reconciliation on the country's most divisive issue but which the opposition says undermines the rule of law.
How should privacy considerations be addressed given data's emerging status as a tradable commodity? Senior industry leaders will share their insights at an FT virtual webinar starting on Wednesday. Register for free here.
What else we're reading
How China broke the Asian model While the economics of the China model are derivative, the politics are new, writes Gideon Rachman. Unlike Taiwan or South Korea, which turned from one-party states to democracies as they got richer, China under Xi has entrenched the dominance of the Communist party.
Tech Tonic podcast: The game-changer In this first episode of our five-part series on AI, the FT's innovation editor and host John Thornhill talks to some of the biggest names in AI research including the CEO of Google's DeepMind Demis Hassabis. He explores some of the latest innovations and asks a core question: will AI live up to its promise or succumb to its pitfalls? 
Esther Duflo and Abhijit Banerjee: 'Ours is a social science' The Nobel laureates call for better economic "plumbing" after the pandemic and warn about inaction over climate change. This is the latest in our Economists Exchange series featuring conversations between top FT commentators and leading economists about coronavirus economic recovery.
Capital for the people — an idea whose time has come While nobody these days has much sympathy for wealthy individuals or companies or really believes in trickle-down economics, the threat of tax and regulatory arbitrage by other states is real. California is applying some typically creative thinking to this problem, writes Rana Foroohar.
Masters in Finance The FT's 2021 ranking of the world's best masters in finance programmes have been published. HEC Paris again leads the rankings, which are dominated by French business schools. You can read the full list here and learn more about the methodology used to calculate the rankings here.
Life & Arts
Summer books of 2021 The FT today launches its annual summer review of the best books of the year, starting with the genres of science fiction, business and food and drink. You can share your favourite reads of the year so far here. The best responses will be published on FT.com as part of the wider series.
Source link