Indonesia's B40 biodiesel plan faces new delay due to palm price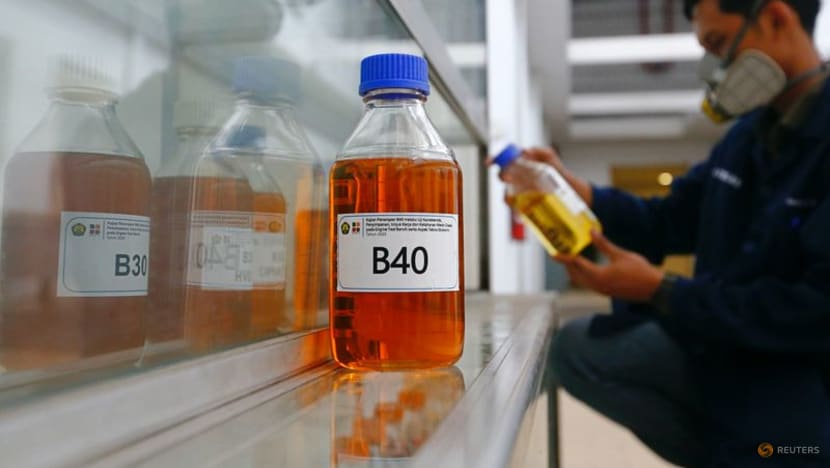 Indonesia's plans to raise the mandatory bio-content in its palm oil-based biodiesel to 40per cent may face further delays, after the high price of the vegetable oil has made the programme too costly, a senior government official told Reuters.
Indonesia, the world's largest palm oil producer and exporter, has a mandatory biodiesel programme with 30per cent palm oil content, known as B30, but intends to expand the use of the oil for energy to save on fuel imports.
Authorities had planned to increase the mix to 40per cent in July this year, but the timetable for the B40 programme is now unclear.
"We don't have a timeline yet for B40, although from the technical side, we're ready," Dadan Kusdiana, a director general at the energy ministry, said in an interview. He said implementing B40 in 2022 will be "challenging".
Indonesia funds its biodiesel programme with proceeds from palm export levies.
However, authorities have revised levy rules three times since last year as they sought to support the biodiesel programme after prices soared, but without hurting exports.
Malaysian palm oil futures hit a record of 4,560 ringgit (US$1,089.35) a tonne on Aug. 12 and have been trading around 4,300 ringgit recently, about 60per cent higher than a year earlier.
Dadan said 45 trillion rupiah to 46 trillion rupiah (US$3.1 billion-US$3.2 billion) is needed this year to fund the difference between using regular diesel and the palm-based fatty acid methyl ester (FAME) for B30.
If prices stayed constant, mixing 40per cent FAME would require around 60 trillion rupiah (US$4.16 billion), he said, while noting adopting B40 would likely boost palm oil prices by shrinking global supply, making the programme even more expensive.
"That is what we're considering, how capable are we in terms of the levies. We have to provide bigger financing, but it doesn't have to come from higher levies," Dadan said, without elaborating on alternatives.
The Indonesian Palm Oil Association (GAPKI) had already said in January it expected B40 to be delayed beyond 2022.
On the technical side, Dadan said the water and monoglyceride contents in FAME must be reduced for B40 to work, requiring new investment by biodiesel producers.
Although biodiesel promises lower emissions, the use of palm oil as a feedstock raises concern about deforestation in the clearance of land to grow it. The European Union is planning to phase it out as fuel for transport.
(US$1 = 14,425.0000 rupiah)
(US$1 = 4.1860 ringgit). REUTERS
Legit Group Secures Rp 205.3 Billion in Series A Funding for F&B Business Expansion
TELEGRAF – Legit Group, a multi-brand cloud kitchen conceptor and operator, has announced the success of its series A funding round, raising a total of US$13.7 million (IDR 205.3 billion) from several investors. The funding was led by MDI Ventures, the venture capital arm of PT Telkom Indonesia Tbk, and followed by Sinar Mas Digital Ventures (SMDV), East Ventures, and Winter Capital. In 2021, Legit Group also successfully raised seed funding worth US$3 million (IDR 43 billion) from East Ventures and AC Ventures, JAKARTA, TUESDAY (11 APRIL 2023).
Founded in 2021, Legit Group currently operates four well-known brands, including Pastaria, Sei'Tan, Sek Fan, and Ryujin, located in over 30 locations in Jabodetabek. Interestingly, Legit Group's brands do not have any offline locations, but operate using a cloud business model.
This new funding adds optimism to Legit Group to dominate the market through the right marketing strategy in the F&B industry. This confidence is supported by the strong traction the company has gained since the initial funding round, with sales reaching about three times in one month, and launching a new brand.
Bram Hendrata, Chairman of Legit Group said, "We are excited to have a strong group of investors to support us in creating a brand that carries the vision of 'Food for Everyone'. Through the funding obtained from MDI Ventures, this can strengthen Legit Group's commitment to bringing more food to various places, while continuing to innovate and improve the technology we have to achieve more efficient operating systems," said Bram, who has been a veteran in the F&B industry for 15 years.
Currently, Legit Group's business sector is rapidly growing. While most regular cloud kitchen business owners focus on improving their ability to serve more consumers in new areas, Legit Group has seen the potential for new generation F&B technology that focuses more on developing F&B brands by applying technology to maximize profits. Therefore, Legit Group believes that this focus will provide a competitive advantage in the cloud kitchen market.
Donald Wihardja, CEO of MDI Ventures said, "Legit Group's founders' experience, who have succeeded in the F&B business for 15 years, as well as their ability to develop innovative and effective products and marketing strategies, make MDI Ventures more confident that our support as investors will help strengthen their position in the F&B industry and accelerate their business growth. This collaboration is expected to create positive synergy and greater success for both parties. This investment is also an effort by MDI Ventures to provide a positive social impact on the growth of the agriculture sector in Indonesia."
Amidst the macroeconomic conditions that often demand startup businesses to remain profitable, Legit Group has set its top priority to achieve economic balance while continuing to strive for a healthy economic unit. To achieve this goal, Legit Group has announced its plan to expand in 2023, targeting Jabodetabek and other cities that have great potential for delivery market, after 95% of Legit Group's outlets were previously spread across several locations in Jakarta.
"Through the support from various parties, strategic approaches, and our commitment to product quality excellence, we believe we can continue to produce products that…