Russian retailers embrace hard discount trend
[ad_1]

As soaring food prices and a years-long economic slump force Russians to tighten their belts, retailers are tapping surging demand for no-frills hard discount stores.
With incomes increasingly stretched, Fix Price, a discount business akin to Poundland in the UK and Dollar Tree in the US, is one of the country's fastest-growing companies — and raised $2bn in the largest initial public offering of any Russian group for nearly a decade in March.
Now, grocers are following its lead. Svetofor, a Siberia-based chain where customers shop from cardboard boxes on the floor, lifted its revenue 39 per cent last year to Rbs189bn ($2.5bn) — a faster growth rate than any other Russian supermarket operator.
X5 and Magnit, Russia's top two food retailers, are opening hundreds of similar hard discounters, and hypermarket leader Lenta is experimenting with the format as the companies seek to adapt to Russians' decreasing purchasing power.
Real incomes are down 11 per cent since 2013, while as many as 20m Russians live below the poverty line. Rising food prices have added to the pressure.
During President Vladimir Putin's annual call-in show last week, one woman dialled in from a supermarket in southern Russia to complain that even locally grown vegetables are unaffordable.
The first Russian business to catch the discount wave was Fix Price, which sells roughly 1,800 mostly non-food products for less than Rbs250 ($3.40) and lifted its revenues 33 per cent last year to Rbs190.1bn. It recently opened its 4,500th store in Russia and six other former Soviet states and is planning further expansion abroad.
"The worse the macroeconomic situation gets or the more people whose incomes fall, the better things are for us," Sergei Lomakin, Fix Price co-founder, told the FT.
Lomakin and his co-founder Artem Khachatryan, previously shareholders in low-cost supermarket Kopeyka, launched Fix Price in 2007 after studying the low-overhead, high-margin model of dollar stores in other countries and seeing a gap in the Russian market.
"We had the right model at the right time," Lomakin said. "The way you offer the best prices is by beating your competitors on price and offering a better service. You have to make more than you spend, sell cheaper than everyone else, and the in-store experience has to be better."
Discount stores are a departure from major retailers' innovations in recent years, which have focused on brightening up often drab stores, introducing online delivery and expanding ranges with previously scarce produce such as avocados and kale. Vkusvill, a chain that styles itself on Trader Joe's, is Russia's second-fastest growing grocer after Svetofor.
But now the largest grocers are trying to balance their portfolios.
Covering more bases
Magnit launched Moya Tsena and aims to open 200 stores by the end of the year. The focus on own-brand goods makes it a natural fit for Magnit, which is based in Krasnodar in Russia's farming belt and owns four farms and 13 of its own production facilities.
Yet low prices will not be enough to attract customers, according to chief executive Jan Dunning.
"Our customers trade up, they don't trade down. They move much more in value. That doesn't mean there isn't space for the poor economy — as a retailer, you try to build a format portfolio that covers as much customer demand as possible," Dunning said.
X5 launched its Chizhik format last October and plans to operate 45 of them by the end of the year.
Chizhik aims to beat X5's own grocery store Pyaterochka — Russia's largest supermarket chain with Rbs1.6tn in revenue last year and 16,709 stores — by 15 to 20 per cent on price through focusing on own-brand goods, which make up 70 per cent of the assortment, and limiting their variety.
"If you go to Pyaterochka, there'll be five or six different cartons of milk. In Chizhik there'll be two of them but they'll be good quality," said X5 chief executive Igor Shekhterman. "We're helping the buyer by studying which milk is the most popular."
X5 is also aiming to offer a better customer experience through store design. "When a customer goes to Chizhik, he's not going to feel [like] he's in Svetofor," Shekhterman said. "Our concept is different. We're trying to make the customer feel comfortable."
Lenta, the largest hypermarket retailer, is exploring the format but has not embraced it as quickly as X5 and Magnit.
"We are much more focused on quality and service. Costs matter, but not only," owner Alexei Mordashov, Russia's richest man, told the FT. "If you speak about hard discounters, we still don't know if we should move there because it's a different segment."
Consumer mind shift
Russian consumers have become increasingly sensitive to price as they spend more time online, according to Marat Ibragimov, an analyst at Gazprombank. Popular videos on YouTube feature shoppers rummaging through Svetofor and Fix Price in search of bargains.
Meanwhile, consumers "don't want to go to large boxes which would take several hours of their precious time and — on top of that — would force them to buy a lot of unnecessary items," said Ibragimov.
"In that respect, hard discounters are a perfect solution for these consumers. They offer a selected range of most demanded products at a very attractive price. Plus they're located in proximity to residential areas which guarantees reasonably short time spent on shopping."
The internet-driven search for lower prices has pushed Fix Price to explore building an ecommerce platform having previously avoided the web. The pandemic drove a threefold increase in the e-grocery business to Rbs135bn in turnover last year, according to researcher Infoline.
But Lomakin pointed out "our logistics cost several times less than online does".
Still, the major retailers are well positioned to move into hard discounting, said Ibragimov, as they can increase margins by using some goods as loss leaders.
"Retailers always benefit from the fact they could sell the most demanded items, which are always considered traffic builders, at the lowest price, because it simply guarantees that they would attract shoppers to their stores," he added.
Lomakin is counting on the growth in hard discount supermarkets to benefit Fix Price.
"We have what they don't because they don't make money on what we have," he said. "Our goods are mostly impulse buys that people get when they see the low price. The discounters that are appearing now are going to benefit from us being next door."
[ad_2]

Source link
Taliban take over Afghanistan: What we know and what's next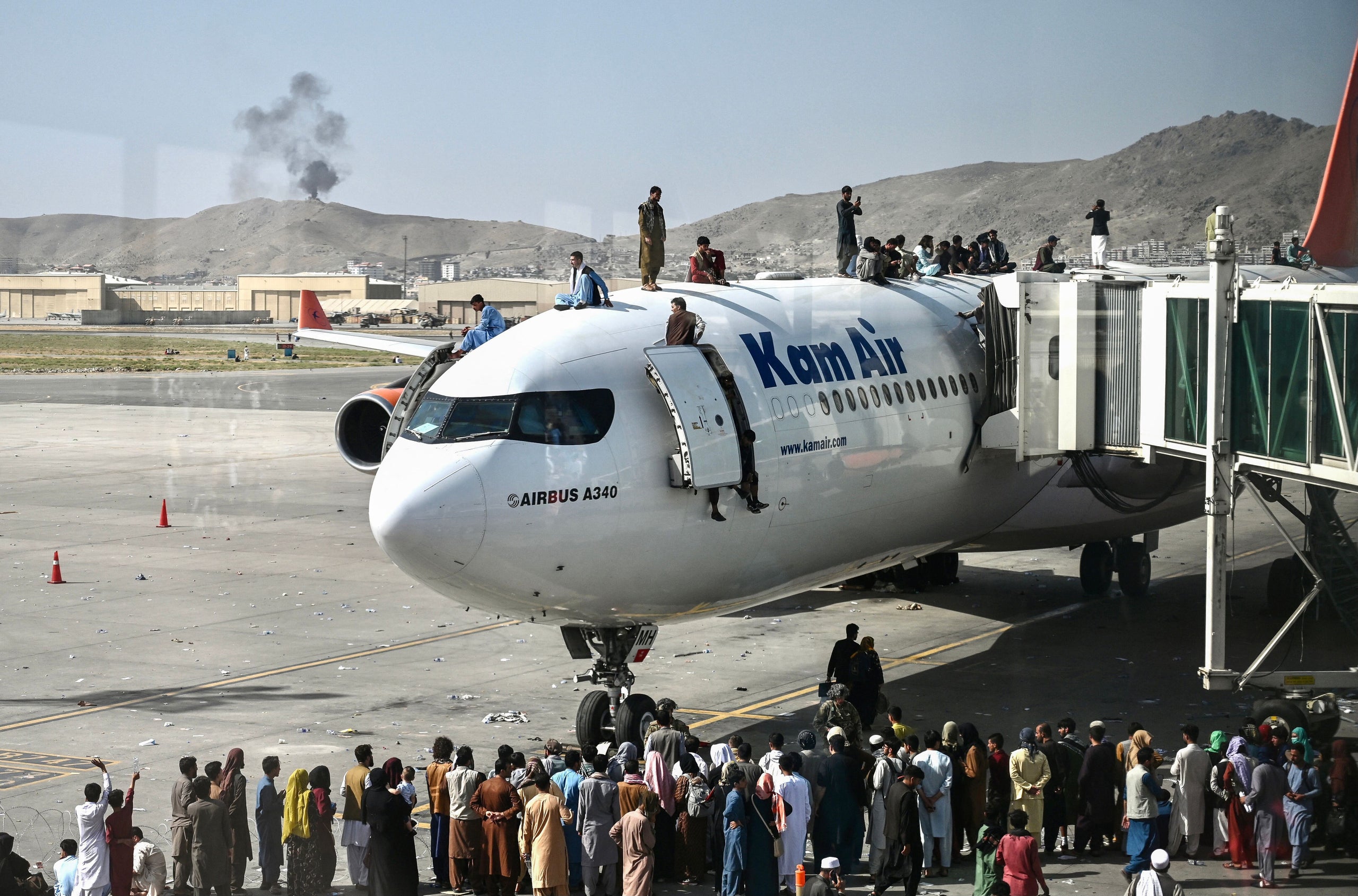 The Taliban have seized power in Afghanistan two weeks before the US was set to complete its troop withdrawal after a costly two-decade war.
The insurgents stormed across the country, capturing all major cities in a matter of days, as Afghan security forces trained and equipped by the US and its allies melted away.
Here is a look at what happened and what comes next:
WHAT IS HAPPENING IN AFGHANISTAN?
The Taliban, a militant group that ran the country in the late 1990s, have again taken control.
The US-led invasion of Afghanistan in 2001 ousted the insurgents from power, but they never left.
After they blitzed across the country in recent days, the Western-backed government that has run the country for 20 years collapsed.
Afghans, fearing for the future, are racing to the airport, one of the last routes out of the country.
WHY ARE PEOPLE FLEEING THE COUNTRY?
They are worried that the country could descend into chaos or the Taliban could carry out revenge attacks against those who worked with the Americans or the government.
Many also fear the Taliban will reimpose the harsh interpretation of Islamic law that they relied when they ran Afghanistan from 1996 to 2001.
Back then, women were barred from attending school or working outside the home. They had to wear the all-encompassing burqa and be accompanied by a male relative whenever they went outside.
The Taliban banned music, cut off the hands of thieves and stoned adulterers.
The Taliban have sought to present themselves as a more moderate force in recent years and say they will not exact revenge, but many Afghans are skeptical of those promises.
WHY ARE THE TALIBAN TAKING OVER NOW?
Probably because US troops are set to withdraw by the end of the month.
The US has been trying to get out of Afghanistan, its longest war, for several years now.
American troops ousted the Taliban in a matter of months when they invaded to root out Al-Qaeda, which orchestrated the 9/11 attacks while being harboured by the Taliban.
But it proved more difficult to hold territory and rebuild a nation battered by repeated wars.
As the US focus shifted to Iraq, the Taliban began to regroup and in recent years took over much of the Afghan countryside.
Last year, then-President Donald Trump announced a plan to pull out and signed a deal with the Taliban that limited US military action against them.
President Joe Biden then announced that the last troops would leave by the end of August.
As the final deadline drew close, the Taliban began a lightning offensive, overrunning city after city.
WHY DID THE AFGHAN SECURITY FORCES COLLAPSE?
The short answer? Corruption.
The US and its NATO allies spent billions of dollars over two decades to train and equip Afghan security forces.
But the Western-backed government was rife with corruption. Commanders exaggerated the number of soldiers to siphon off resources, and troops in the field often lacked ammunition, supplies or even food.
Their morale further eroded when it became clear the US was on its way out. As the Taliban rapidly advanced in recent days entire units surrendered after brief battles, and Kabul and some nearby provinces fell without a fight.
WHAT HAPPENED TO THE PRESIDENT OF AFGHANISTAN?
He fled.
President Ashraf Ghani hunkered down and made few public statements as the Taliban swept across the country.
On Sunday, as they reached the capital, he left Afghanistan, saying he had chosen to leave to avoid further bloodshed.
It's not clear where he went.
WHY ARE PEOPLE COMPARING AFGHANISTAN TO THE FALL OF SAIGON?
The Fall of Saigon to North Vietnamese forces in 1975 marked the end of the Vietnam War.
It became an enduring symbol of defeat after thousands of Americans and their Vietnamese allies were airlifted out of the city on helicopters.
US Secretary of State Antony Blinken has rejected any comparisons to Afghanistan, saying: "This is manifestly not Saigon."
WHAT WILL HAPPEN NEXT IN AFGHANISTAN?
It's not clear.
The Taliban say they want to form an "inclusive, Islamic government" with other factions. They are holding negotiations with senior politicians, including leaders in the former government.
They have pledged to enforce Islamic law but say they will provide a secure environment for the return of normal life after decades of war.
But many Afghans distrust the Taliban and fear that their rule will be violent and oppressive.
One sign that worries people is that they want to rename the country the Islamic Emirate of Afghanistan, which is what they called it the last time they ruled.
WHAT DOES THE TALIBAN TAKEOVER MEAN FOR WOMEN?
Many fear it could mean a severe rollback of rights.
Afghan women have made major gains since the overthrow of the Taliban.
Many are worried they will once again be confined to their homes.
The Taliban have said they are no longer opposed to women attending school but have not set out a clear policy on women's rights.
Afghanistan remains an overwhelmingly conservative country, especially outside major cities, and the status of women often varied, even under Taliban rule.
WILL THE TALIBAN ONCE AGAIN HARBOUR AL-QAEDA?
That is anyone's guess, but American military officials are worried.
In the peace deal signed with the United States last year, the Taliban pledged to fight terrorism and prevent Afghanistan from again becoming a base for attacks.
But the US has little leverage to enforce that.
Technological advances over the last 20 years allow the United States to target suspected militants in countries like Yemen and Somalia where it does not have a permanent troop presence.
The Taliban paid a heavy price for their role in the Sep 11 attacks and likely hope to avoid a repeat as they seek to consolidate their rule.
But earlier this year, the Pentagon's top leaders said an extremist group like Al-Qaeda may be able to regenerate in Afghanistan, and officials are now warning that such groups could grow much faster than expected.
Afghanistan is also home to an Islamic State group affiliate that has carried out a wave of horrific attacks targeting its Shiite minority in recent years. The Taliban have condemned such attacks and the two groups have fought each other over territory, but it remains to be seen whether a Taliban government will be willing or able to suppress IS. AP