Stephen Colbert Reveals The Dumbest New Trend Among Anti-Vaxxers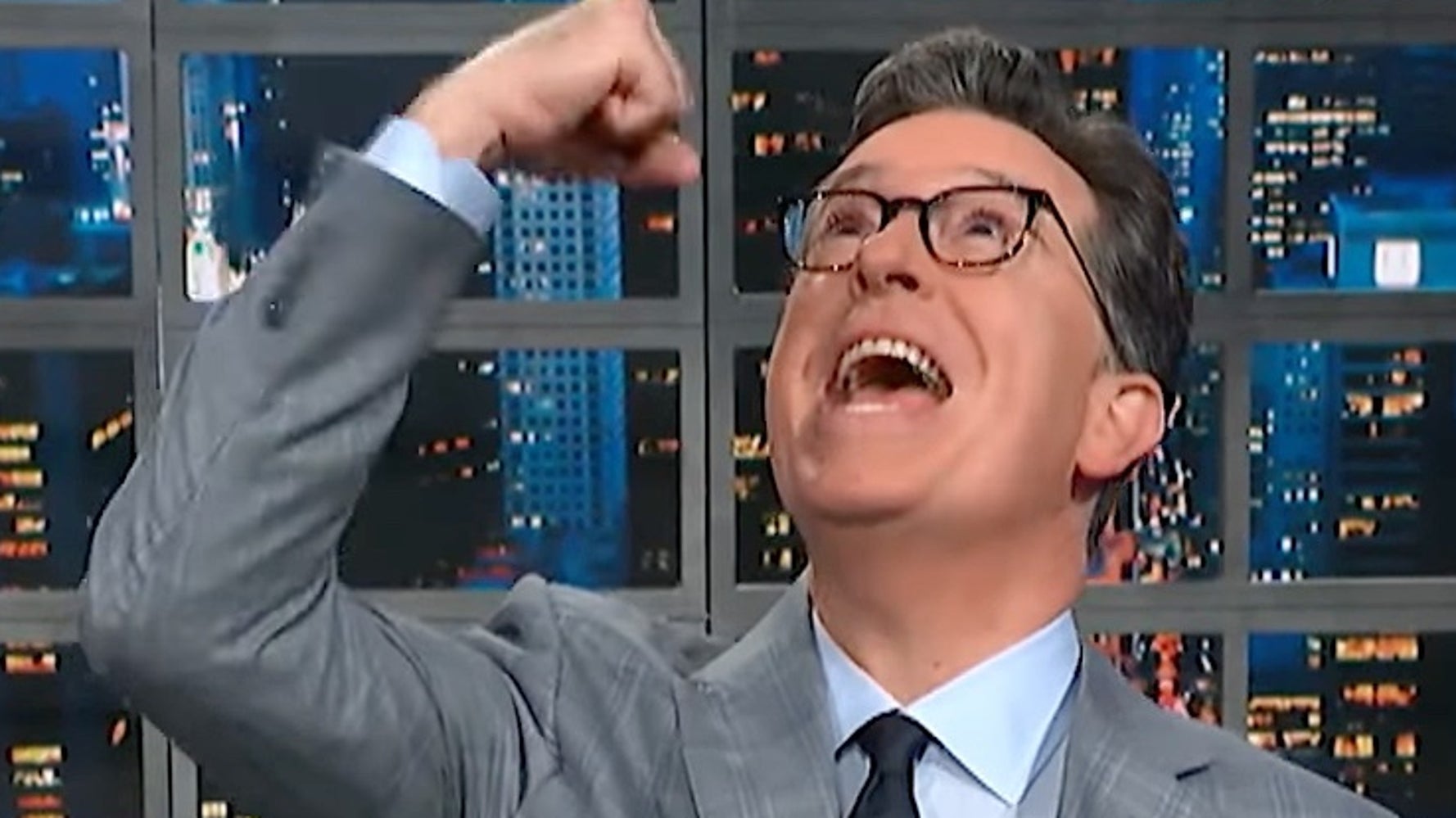 Stephen Colbert said anti-vaxxers have been cooking up weird ways to get around Facebook's crackdown on misinformation about the coronavirus vaccine, such as changing their groups to names like "dance party" to evade detection.
"So get ready for new dance crazes like Actual Saturday Night Fever, the Harlem Ache and The Floss (Of Taste and Smell)," he joked.
They also use code words, so instead of saying someone "got the vaccine," they'll say that person "danced" or "drank beer." Pfizer is called "pizza" and Moderna is called "Moana," as in the Disney film.
"If you're going to describe something you think is killing everybody, maybe don't use code words that are things that everybody universally loves," he said.
In one group, a member said her husband got sick after he went on "a cross-country trip where he spent 2 nights with dancers."
"In this case, 'dancers' is code for 'vaccinated people,'" Colbert pointed out. "But now her husband has a perfect alibi for going to strip clubs. Honey, I spent the night with two 'dancers,' and now I have 'chlamydia.'"
The trailer for Spider-Man: No Way Home is out and is that Doc Ock we see?
The first teaser trailer for Spider-Man: No Way Home has finally dropped. Marvel Studios and Sony debuted the highly-anticipated clip at CinemaCon on Tuesday (Aug 24) and it provides a glimpse of what to expect in the upcoming film, which is to say, a lot.
It picks up right after the events of Far From Home, the 2019 movie where spoiler alert: Spider-Man's identity was revealed to the whole world to be Peter Parker (Tom Holland).
No Way Home sees Peter dealing with the fallout of his identity reveal. Desperate, he approaches Doctor Strange (Benedict Cumberbatch) for help in making people forget he's Spider-Man. But things go awry when Strange's spell unleashes the multiverse, leading to the return of former villains and (possibly) other Spideys.
We see Doctor Octopus (Alfred Molina) at the end of the three-minute clip, as well as teasers of other villains such as Electro and the Green Goblin. And there have also been whispers that other versions of Spider-Man as played by Tobey Maguire and Andrew Garfield will appear in this film.
"We tampered with the stability of space-time," Doctor Strange told Peter in the trailer. "The multiverse is a concept about which we know frighteningly little."
As we mentioned, it's A LOT – and it's just a teaser trailer.
On Sunday, leaked versions of what was rumoured to be the trailer began circulating on the Internet. The topic trended on Twitter as Spider-Man fans, eagerly awaiting their first look at the forthcoming film, shared the link.
Sony Studios quickly stepped in to take down links to the purported trailer and issue a copyright statement.
And in an ironic turn of events, Tom Holland – notorious for sharing spoilers at inopportune times – responded on Instagram Stories, saying  "You ain't ready!".
The latest installment in the Spider-Man series also sees the return of  Zendaya, Jacob Batalon and Marisa Tomei reprising their roles from previous films. On top of which, viewers can anticipate a few other familiar faces, such as the afore-mentioned villains and (possibly) Spideys.
Marvel boss Kevin Feige has also confirmed that the events of No Way Home will tie into the next Doctor Strange film, due out in March 2022.
Representing the third Spider-Man movie in the Marvel Cinematic Universe, No Way Home is currently slated for release in theatres on Dec 17. CNA