This Holiday Season, Resist The Unbearable Whiteness Of Wellness
[ad_1]

'Tis the season when thoughts turn to gift buying, and this year, many of us will wrap up, and receive, presents designed to encourage self-care. We'll be on the hunt for the perfect face mask, and ready to unwrap bottles of lotion or boxed-up aromatherapy candles.
It's not just the holiday season, though. Since the 2016 election, there's been an uptick in self-care. According to 2017 data, Americans may be spending more time and money on yoga (34 percent increase from the previous year), morning walks (19 percent increase), meditation (up 16 percent) and therapy (up 17 percent).
It makes sense that in the wake of the terrible, stolen victory by the narcissist-in-chief, we are looking for some self-soothing relief. And women like Gwyneth Paltrow, and other white women in the wellness industry, have been there to reap the benefits of this trend.
In an interview last year, Jimmy Kimmel asked Paltrow about the practice of "earthing," one of many self-care techniques recommended on Goop. 
It makes sense that in the wake of the terrible, stolen victory by the narcissist-in-chief, we are looking for some self-soothing relief.
"So one of the things we like to do on Goop is find what the alternative world says about feeling good in the modern-day world," she said. " … I don't actually know that much about earthing, and it came out of me not knowing anything about earthing but hearing about it. They say that we lost touch with sort of being barefoot in the earth, and there's some sort of electromagnetic thing that we're missing. It's good to take your shoes off in the grass." 
Paltrow's answer reveals the cultural appropriation at the heart of her enterprise, as well as her cluelessness. There is something gratifying about hearing Paltrow admit that she doesn't know much about she's hawking on Goop. More than that, her vague call for reconnecting to the land by "being barefoot on the earth" speaks to a kind of entitlement of the white lady settler who is at ease with "finding" what "the alternative world says" and using it for her own, electromagnetic, ends. The problem, though, is not simply the pseudoscience promulgated by her brand, or her own lack of awareness about her privilege, it is the whiteness of the wellness industry more broadly.   
The editors at Self magazine recently proclaimed that "wellness has a race problem," but it would be more accurate to say that wellness has a whiteness problem. Wellness is pitched to consumers through a constellation of luxuries that white women are more likely to enjoy, like spare time and disposable income. It's often provided in facilities ― spas, gyms, retreats ― with aesthetics that are implicitly white, upper-middle-class and walled off from by any consciousness about their own place in American society's racial landscape. One journalist who attended the "In Goop Health" Summit in California earlier this year described the scene in which there were "more blondes than one is accustomed to seeing in one place at one time."
Wellness is pitched to consumers through a constellation of luxuries that white women are more likely to enjoy, like spare time and disposable income.
The problem with "wellness" isn't that white women are the target market for these products, and gather in primarily white spaces to purchase and enjoy them, or that white women like Paltrow make gobs of money off of them.
No, the problem is that health magazines, self-care gurus, and "In Goop Health" summits all work to make a particular kind of white-hetero-lady-identity seem natural and in need of care. Once the discussion in those spaces turns to having your chakras realigned and anchoring your pelvic wall, what doesn't get mentioned or, likely even noticed, is that there are only white women talking to other white women in those spaces. The combination of making the straight, white, upper-middle-class white woman's identity seem both natural and in need of care, while never mentioning it as a specific racial and gender identity, or a class identity, is part of what gives whiteness a soothing power for those who have access to it.
The brands of "wellness" that Paltrow, and most of the other wellness gurus, are selling, ignore the things people actually need to be well, like ending poverty and systemic racism or providing access to free, reliable health care. Instead, these versions of "wellness" ignore the large, structural problems that affect everyone's health, while they work hard to reflect back the special, precious individuality of each and every white woman who subscribes to their services. And, this sort of wellness drives home an entitlement to all the things from the "alternative worlds" that Goop and other purveyors of wellness are unearthing for their benefit.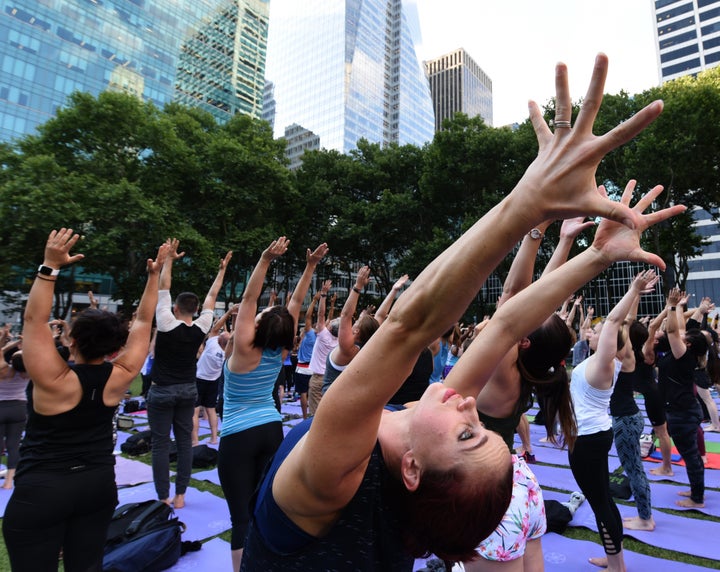 The banner held aloft over so much self-care is Audre Lorde's famous quote, rooted in her experience as a Black, radical, lesbian, warrior-poet. You've probably seen it on Instagram, accompanied by the hashtag #selfcare. "Caring for myself is not self-indulgence," Lorde wrote, "it is self-preservation, and that is an act of political warfare." Feminist writer Sara Ahmed talks about self-care as a form of warfare for women of color surviving under late capitalism. Philosopher and activist Angela Davis said in a 2014 speech that "self-care has to be incorporated" into a "holistic approach to organizing."
But, for the most part, self-care today is not part of any resistance to the current regime. Most self-care is not connected to political organizing, nor is it engaged in sustaining people as they conduct warfare against capitalism. Self-care is big business, and it's white women who are the main audience and the biggest profiteers. What makes this even more destructive than the usual Columbusing of Black women's culture for profit is that it feeds a kind of white narcissism, which is at the heart of the very culture that's destroying us.
Most self-care is not connected to political organizing, nor is it engaged in sustaining people as they conduct warfare against capitalism. Self-care is big business.
Of course, there are Black women who are working to take the whiteness out of self-care. The Chicago-based Lauren Ash, for example, created Black Girl in Om, a space that encourages "self-care, self-love, and self-empowerment for communities of color." What Ash is doing, ― situating self-care and self-love within communities of color ― is the key difference between her endeavor and the narcissism inherent in the whiteness of the dominant self-care culture.
Without connection, care and community, self-care is simply narcissism. And, without engagement in real, political efforts to change the racial and economic status quo, the ideology of self-care amounts to a radical reinvestment in the individual, in neoliberal capitalism, and in regimes of whiteness that reinforce the mythology of the primacy of the individual. Wellness without a radical, collective politics doesn't offer resistance to regimes of power, but rather, a way to remain in them.
Jessie Daniels is a Professor at The City University Of New York, and the author of the forthcoming book Tweetstorm: The Rise of the "Alt-Right" and the Mainstreaming of White Nationalism.
Calling all HuffPost superfans!
Sign up for membership to become a founding member and help shape HuffPost's next chapter


[ad_2]

Source link
Biden's Botched Withdrawal From Afghanistan Is Consistent With Two Decades of America's Missteps There
The criticisms against Biden's withdrawal from Afghanistan are coming from all corners. But most are missing the point.
President Joe Biden is under a tremendous amount of pressure from his own Democratic Party and the liberal media establishment for daring to withdraw American troops from Afghanistan and allowing the country to fall back into the hands of the fundamentalist Taliban regime. Biden, in a statement on August 14, said, "One more year, or five more years, of U.S. military presence would not have made a difference if the Afghan military cannot or will not hold its own country." Just two days later, after the Afghan President Ashraf Ghani fled and the Taliban stormed into the capital, Kabul, President Biden in a speech from the White House defiantly maintained that "there was never a good time to withdraw U.S. forces," but was forced to admit that the Taliban resumed control of Afghanistan "more quickly than we had anticipated."
Republicans predictably jumped on this demonstrable foreign policy failure, neglecting to mention that it was Biden's predecessor Donald Trump who laid the groundwork for the withdrawal of U.S. troops and worked with the Taliban to do so. Senate Minority Leader Mitch McConnell (R-KY) expostulated, "This debacle was not only foreseeable, it was foreseen," as if Trump would have done any better as a second-term president. Trump's former Secretary of State Mike Pompeo in an interview on Fox News with Chris Wallace chimed in, saying, "It looks like the Biden administration has just failed in its execution of its own plan," even though of course the Democratic president was essentially carrying out Trump's plan. The Republican National Committee has now deleted a page on its website that had celebrated Trump's dealings with the Taliban, perhaps hoping no one would notice.
The corporate media was equally unforgiving of Biden. The Washington Post's editorial board issued a scathing opinion blaming Biden for any future deaths, saying that the U.S. "assumed at least partial responsibility for all Afghans. Leaving them now means walking away from that responsibility." The Post also worried about America's global prestige, saying, "at risk is the United States' reputation as a partner, as would-be allies around the world watch and calculate the value of an American commitment."
In a similar vein, the New York Times' Bret Stephens demanded to know, "What on earth was Joe Biden thinking—if, that is, he was thinking?" Like the Post, Stephens was deeply concerned about the nation's reputation, asking, "What kind of ally is the United States?"
Such criticisms miss several glaring points. First, if a foreign military occupation made no progress toward democracy and human rights in 20 years, it is unlikely to do so in 20 more. Second, they are more concerned about the U.S.'s reputation as a global superpower (which is what the term "ally" really implies) than human lives. And third, although a majority of Americans once supported the Afghanistan War and occupation, today most Americans want the occupation to end.
Moreover, most critics of Biden's botched exit from Afghanistan appear to have missed the fact that the entirety of the occupation has been flawed and led to the debacle of the Taliban's resurgence. Biden's missteps were apropos of the entire occupation. Every step of the way, the United States made the wrong choice, regardless of which president, Republican or Democrat, was in power, from George W. Bush's decision to work with corrupt and violent warlords, to Barack Obama's choice to validate the Taliban by being the first to engage in peace talks with the ostensible enemy forces.
Biden's fellow Democrats also joined in the criticism against him but got much closer to the questions that really need to be asked about the disastrous turn of events in Afghanistan. Senator Bob Menendez (D-NJ), chair of the Senate Foreign Relations Committee, said, "I am disappointed that the Biden administration clearly did not accurately assess the implications of a rapid U.S. withdrawal." More importantly, he made the astute observation that "We are now witnessing the horrifying results of many years of policy and intelligence failures."
Even though the U.S.-backed Afghan government has been ineffectual and corrupt directly as a result of choices that successive administrations made over the years, the Biden administration could have chosen to coordinate more closely with the institution if only to ensure that billions of dollars of U.S.-bought weapons would not fall into Taliban hands. Instead, according to Associated Press, "the ultimate beneficiary of the American investment [in Afghanistan's military] turned out to be the Taliban," who "grabbed not only political power but also U.S.-supplied firepower—guns, ammunition, helicopters and more."
To summarize, the U.S. went to war against Afghanistan in October 2001 in order to punish the Taliban and Al Qaeda for the September 11 terrorist attacks, spent nearly two decades fighting a "war on terror," and ended up leaving its ostensible enemy empowered both politically and militarily. American taxpayers, who naively backed the invasion and occupation, spent trillions of dollars in a brutal decades-long exercise in futility that resulted in lost lives, a traumatized Afghan population and a renewal of the forces that terrorized them.
The Taliban couldn't have asked for a better war
It may be hard to believe that things could have been even worse under Trump. But if the former Republican president were in power now, it is likely we would be witnessing a similar situation but with even more violence. Former Secretary of State Pompeo in his Fox interview advised the Biden administration to "crush these Taliban who are surrounding Kabul," adding, "We should do it with American airpower, we should put pressure on them, we should inflict cost and pain on them." Past wars have demonstrated with striking reliability that such infliction of pain is never precise and always results in so-called "collateral damage," a euphemism for civilian casualties. Trump had a proven penchant for using massive firepower with no regard for civilians, and with Pompeo offering him advice, we would likely have seen the same situation as we are seeing today but with the added horror of bombs falling on people attempting to flee the Taliban.
The Taliban's takeover of Kabul is being likened by many to the fall of Saigon. Before the Afghanistan War, there was the Vietnam War. And there were many other wars during and before Vietnam and Afghanistan that garnered less attention. If there is a lesson that Americans as a nation ought to take away from these devastating militaristic exercises that consistently do more harm than good, it is to ensure we never again rally behind a desire to bomb, raid, occupy and militarily strike another nation. This means standing up to the liberal and conservative establishments that find a detached comfort in the cold calculus of warfare with no concern for life, safety, or democracy.
---
By Sonali Kolhatkar
Sonali Kolhatkar is the founder, host and executive producer of "Rising Up With Sonali," a television and radio show that airs on Free Speech TV and Pacifica stations.

This article was produced by Economy for All, a project of the Independent Media Institute for Telegraf