US must press China on coal-plant proliferation
[ad_1]

As nations gear up for a critical year for climate negotiations, it has become increasingly clear that success may hinge on one question: How soon will China end its reliance on coal and its financing of overseas coal-fired power plants?
China represents more than a quarter of all global carbon emissions, and it has spent tens of billions of dollars to build coal power facilities in 152 countries over the past decade through its Belt and Road Initiative. Roughly 70% of the coal plants built globally now rely on Chinese funding.
That's a problem for the climate. The International Energy Agency warns in a new analysis that if the world hopes to reach net zero emissions by 2050, widely seen as necessary to meet the Paris climate agreement goals, there should be no investment in new fossil fuel supply projects or in new coal-fired power plants that don't capture their carbon emissions.
Shortly after that report came out, the Group of Seven leading industrialized democracies called for an end to international financing of unabated coal projects on May 21, 2021.
US presidential special climate envoy John Kerry was asked pointedly about China's progress on climate change when he testified before the House of Representatives Foreign Affairs Committee in mid-May.
Chinese President Xi Jinping had called climate change a "crisis" during a world leaders' summit on climate change a few weeks earlier, but Kerry said talks between the two countries grew "very heated" over China's continued insistence on financing coal-fired power plants around the world.
While he stopped short of saying it explicitly, Kerry made the US position clear: China's climate pledges won't be credible or legitimate until it stops overseas coal financing. "We've got five more months left to get them to embrace something we hope you will view as legitimate," he said. "We're not there yet."
China and the United States together represent 43% of global carbon-dioxide emissions. They worked together to make the Paris Agreement happen. They will have to push each other to make it a success.
Closing some at home, but building overseas
China has been the world's largest carbon emitter for 20 years. It has been responsible for 28% of the world's carbon emissions for the past decade. That number hasn't budged, despite rapid growth of China's renewable energy and clean tech industries.
One of the central reasons is coal, the most carbon-intensive fossil fuel. Coal accounted for 58% of China's total primary energy consumption as recently as 2019 – even as coal use was collapsing elsewhere.
China currently operates 1,058 coal plants, roughly half of all such plants worldwide. To meet even its modest climate goals, it will have to shut down more than half of them, according to a recent analysis by TransitionZero, a US-based think-tank.
But will it?
China has incentive to cut emissions. With air pollution choking some of its largest cities, it has shuttered dozens of old coal facilities in recent years, and has subsidized renewable energy projects, both domestically and globally.
But despite this progress, China is still building new coal plants.
It has also made a strategic decision to export its industrial and manufacturing might across the globe under its Belt and Road Initiative. Japan and South Korea, which traditionally financed overseas coal projects, have started to abandon them, and China sees opportunity. Nearly all of the 60 new coal plants planned across Eurasia, South America and Africa – 70 gigawatts of coal power in all – are financed almost exclusively by Chinese banks.
It's clear that China is juggling energy security and economic growth concerns. That's why analysts were surprised when Xi announced in late 2020 that China would be carbon-neutral by 2060, a decade earlier than planned, and make sure its carbon emissions peaked before 2030.
Such an effort would require huge investments in renewable energy, electric cars and technology like carbon capture and storage. None of this will be easy for China. The country has made little progress on reducing emissions, according to recent reports from organizations including the International Energy Agency.
US-China talks
Seasoned climate negotiators are watching what China does with coal today – not just the pledges it makes that are 10 or even 20 years in the future.
The US-China climate relationship was central to reaching the Paris climate agreement, Todd Stern, former US climate negotiator, has said. Failure to revive such engagement "would have grave national security consequences in the United States and around the world."
Shortly before the recent world leaders' summit on climate change, the United States and China agreed to work together again on the climate issue, and US President Joe Biden announced ambitious new climate plans.
But talk isn't action. The world will expect both to commit to measurable actions ahead of the United Nations climate summit in November. Countries are expected to strengthen their pledges this year – enough, it is hoped, to keep global warming in check.
I worked in both the George W Bush and Barack Obama administrations and have been involved in climate change issues for several years. It's clear that if China and the US don't lead the way, the world won't get on track to meet the Paris climate goals.
China has reason to cooperate
China is already planning for a world in which fundamental natural resources like water and food grow scarce because of climate change. For example, when China saw a looming threat to its ability to grow enough soybeans, due in part to climate change, it went from importing virtually no soybeans to importing more than half the soybeans sold on Earth. I outline the reasons for this tectonic shift in my book This Is the Way the World Ends.
China also sees economic opportunity in solving the climate crisis. It is mining raw materials essential to battery storage solutions at the heart of a global renewable-energy industry; building cheap electric vehicles as fast as it can for domestic and foreign consumers; and aggressively subsidizing solar-panel manufacturing and exporting those panels worldwide.
China lost the tech revolution race that defined the global economy of the 20th century. It does not intend to lose the renewable-energy and clean-tech revolution that will define the 21st.
But even that imperative has not kept China from financing the world's reliance on coal-fired power. Which is why climate negotiators hope China does more than make promises for the future. Ending coal financing overseas would be a serious first step in that direction.
This article is republished from The Conversation under a Creative Commons license. Read the original article.
[ad_2]

Source link
Taliban show conciliatory face at first Kabul news conference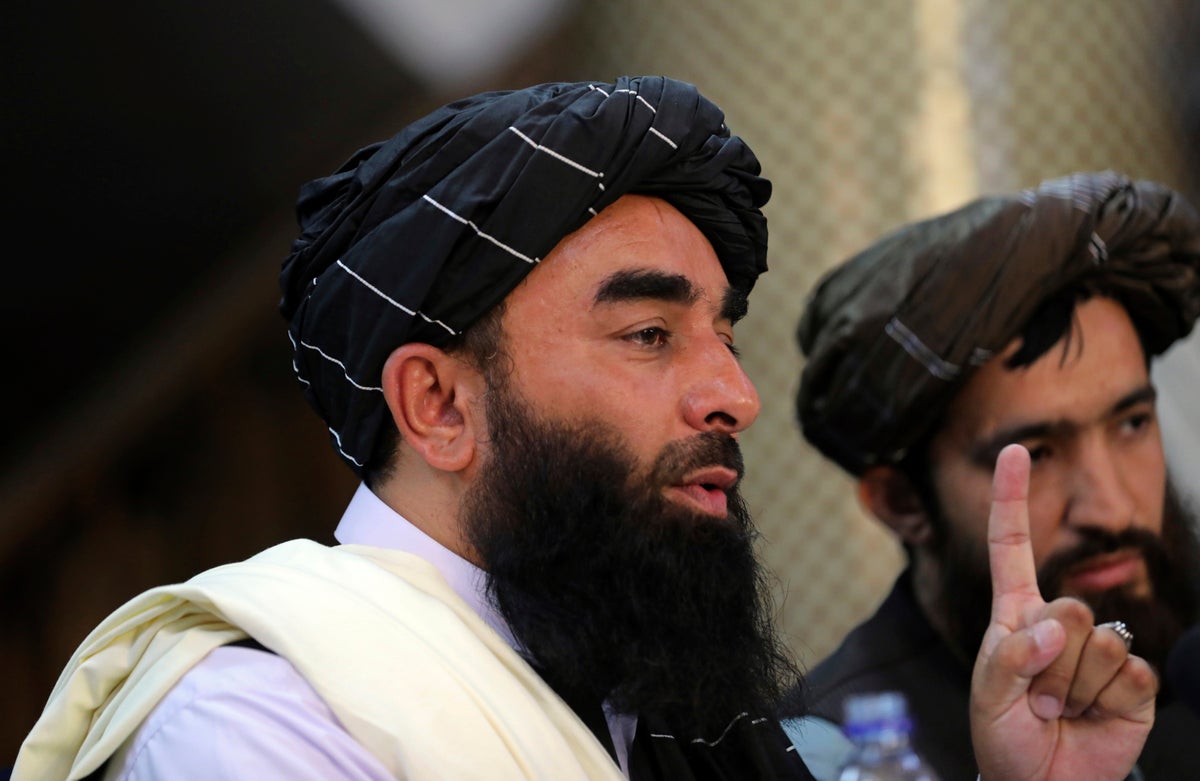 The Afghan Taliban said on Tuesday (Aug 17) they wanted peaceful relations with other countries and would respect the rights of women within the framework of Islamic law, as they held their first official news briefing since their shock seizure of Kabul.
The Taliban announcements, short on details but suggesting a softer line than during their rule 20 years ago, came as the United States and Western allies resumed evacuating diplomats and civilians the day after scenes of chaos at Kabul airport as Afghans thronged the runway.
"We don't want any internal or external enemies," the movement's main spokesman, Zabihullah Mujahid, said.
Women would be allowed to work and study and "will be very active in society but within the framework of Islam," he added.
As they rushed to evacuate, foreign powers assessed how to respond to the transformed situation on the ground after Afghan forces melted away in just days, with what many had predicted as the likely fast unraveling of women's rights.
US President Joe Biden and British Prime Minister Boris Johnson said they had agreed to hold a virtual meeting of Group of Seven leaders next week to discuss a common strategy and approach to Afghanistan.
During their 1996-2001 rule, also guided by Islamic sharia law, the Taliban stopped women from working and meted out punishments including public stoning. Girls were not allowed to go to school and women had to wear all-enveloping burqas to go out and then only when accompanied by a male relative.
The UN Human Rights Council will hold a special session in Geneva next week to address "serious human rights concerns" after the Taliban takeover, a UN statement said.
Ramiz Alakbarov, the UN humanitarian coordinator for Afghanistan, told Reuters in an interview the Taliban had assured the United Nations it can pursue humanitarian work in Afghanistan, which is suffering from a drought.
'WALK THE TALK'
The European Union said it would only cooperate with the Afghan government following the Taliban's return to power if they respected fundamental rights, including those of women.
Within Afghanistan, women expressed scepticism.
Afghan girls' education activist Pashtana Durrani, 23, was wary of Taliban promises. "They have to walk the talk. Right now they are not doing that," she told Reuters.
Several women were ordered to leave their jobs during the Taliban's rapid advance across Afghanistan.
Mujahid said private media could continue to be free and independent in Afghanistan and that the Taliban were committed to the media within their cultural framework.
He also said families trying to flee the country at the airport should return home and nothing would happen to them.
RESISTANCE AND CRITICISM
Mujahid's conciliatory tone contrasted with comments by Afghan First Vice President Amrullah Saleh, who declared himself the "legitimate caretaker president" and vowed not to bow to Kabul's new rulers.
It was not immediately clear how much support Saleh enjoys in a country wearied by decades of conflict.
NATO Secretary General Jens Stoltenberg said the Taliban should allow all those who wanted to leave the country, adding that NATO's aim was to help build a viable state in Afghanistan and warning that the alliance could strike if the country again becomes a breeding ground for terrorism.
The decision by Biden, a Democrat, to stick to the withdrawal deal struck last year by his Republican predecessor, Donald Trump, has stirred widespread criticism at home and among US allies.
Biden's approval rating dropped by 7 percentage points to 46 per cent, the lowest level of his seven-month-long presidency, according to a Reuters/Ipsos poll conducted on Monday. It also found that less than half of Americans liked how he has handled Afghanistan.
US forces took charge of the airport – the only way to fly out of Afghanistan – on Sunday as the militants wound up a week of rapid advances by taking over Kabul without a fight.
US General Frank McKenzie, the head of US Central Command, was at Kabul's airport on Tuesday to evaluate security.
The State Department said on Tuesday that Washington had completed a drawdown of embassy personnel from Kabul and remaining diplomats were assisting in the evacuation.
US military flights evacuating diplomats and civilians restarted after having been suspended on Monday due to chaos at Kabul airport.
Asked how Washington would hold the Taliban to their pledge to respect women's rights, Biden's national security adviser, Jake Sullivan, signalled that options included sanctions and marshalling international condemnation and isolation.
Washington was blocking the Taliban from accessing any Afghan government funds held in the United States, including about US$1.3 billion of gold reserves held at the Federal Reserve Bank of New York, a Biden administration official said.
Biden said he had had to decide between asking US forces to fight endlessly or follow through on the withdrawal deal.
He blamed the Taliban takeover on Afghan political leaders who fled and the army's unwillingness to fight. REUTERS