What is the Islamic State threat in Afghanistan?
As desperate Afghans crowd Kabul airport trying to get on any evacuation flights to flee the Taliban, officials have warned of another jihadist threat: The Islamic State group.
President Joe Biden said there is "an acute and growing risk" of an attack at the airport by the group's regional chapter, called Islamic State-Khorasan or ISIS-K.
The United States, Britain and Australia have told people to leave the area for safer locations.
When asked directly about the threat, a Taliban spokesman acknowledged a risk of "nuisances" causing trouble in a chaotic situation they blamed entirely on the US-led evacuation.
What is Islamic State-Khorasan?
Months after the Islamic State declared a caliphate in Iraq and Syria in 2014, breakaway fighters from the Pakistani Taliban joined militants in Afghanistan to form a regional chapter, pledging allegiance to Islamic State leader Abu Bakr al-Baghdadi.
The group was formally acknowledged by the central Islamic State leadership the next year as it sunk roots in northeastern Afghanistan, particularly Kunar, Nangarhar and Nuristan provinces.
It also managed to set up sleeper cells in other parts of Pakistan and Afghanistan, including Kabul, according to United Nations monitors.
Latest estimates of its strength vary from several thousand active fighters to as low as 500, according to a UN Security Council report released last month.
"Khorasan" is a historical name for the region, taking in parts of what is today Pakistan, Iran, Afghanistan and Central Asia.
What kind of attacks has it carried out?
The Islamic State's Afghanistan-Pakistan chapter has been responsible for some of the deadliest attacks of recent years.
It has massacred civilians in both countries, at mosques, shrines, public squares and even hospitals.
The group has especially targeted Muslims from sects it considers heretical, including Shiites.
Last year, it was blamed for an attack that shocked the world – gunmen went on a bloody rampage at a maternity ward in a predominantly Shiite neighbourhood of Kabul, killing 16 mothers and mothers-to-be.
Beyond bombings and massacres, IS-Khorasan has failed to hold any territory in the region, suffering huge losses because of Taliban and US-led military operations.
According to UN and US military assessments, after the phase of heavy defeats IS-Khorasan now operates largely through covert cells based in or near cities to carry out high-profile attacks.
What is IS-Khorasan's relationship with the Taliban?
While both groups are hardline Sunni militants, there is no love lost between them.
They have differed on the minutiae of religion and strategy, while claiming to be the true flag-bearers of jihad.
That tussle has led to bloody fighting between the two, with the Taliban emerging largely victorious after 2019 when IS-Khorasan failed to secure territory as its parent group did in the Middle East.
In a sign of the enmity between the two jihadist groups, Islamic State statements have referred to the Taliban as apostates.
How has the Islamic State reacted to the Taliban victory in Afghanistan?
Not well.
Islamic State had been highly critical of the deal last year between Washington and the Taliban that led to the agreement for withdrawing foreign troops, accusing the latter of abandoning the jihadist cause.
Following the Taliban's lightning takeover of Afghanistan, a number of jihadist groups around the world congratulated them – but not Islamic State.
One Islamic State commentary published after the fall of Kabul accused the Taliban of betraying jihadists with the US withdrawal deal and vowed to continue its fight, according to the SITE Intelligence Group, which monitors militant communications.
What is the threat at Kabul airport?
US officials say Kabul airport, with thousands of US-led foreign troops surrounded by huge crowds of desperate Afghans, is under high threat from IS-Khorasan.
A flurry of near-identical travel warnings from London, Canberra and Washington late Wednesday urged people gathered in the area to move to safer locations.
They have not provided any specific details about the threat.
"ISIS-K is a sworn enemy of the Taliban, and they have a history of fighting one another," Biden said Sunday.
"But every day we have troops on the ground, these troops and innocent civilians at the airport face the risk of attack from ISIS-K."
Some military transports taking off from Kabul airport in recent days have been seen launching flares, which are normally used to attract heat-seeking missiles. AFP
Taliban show conciliatory face at first Kabul news conference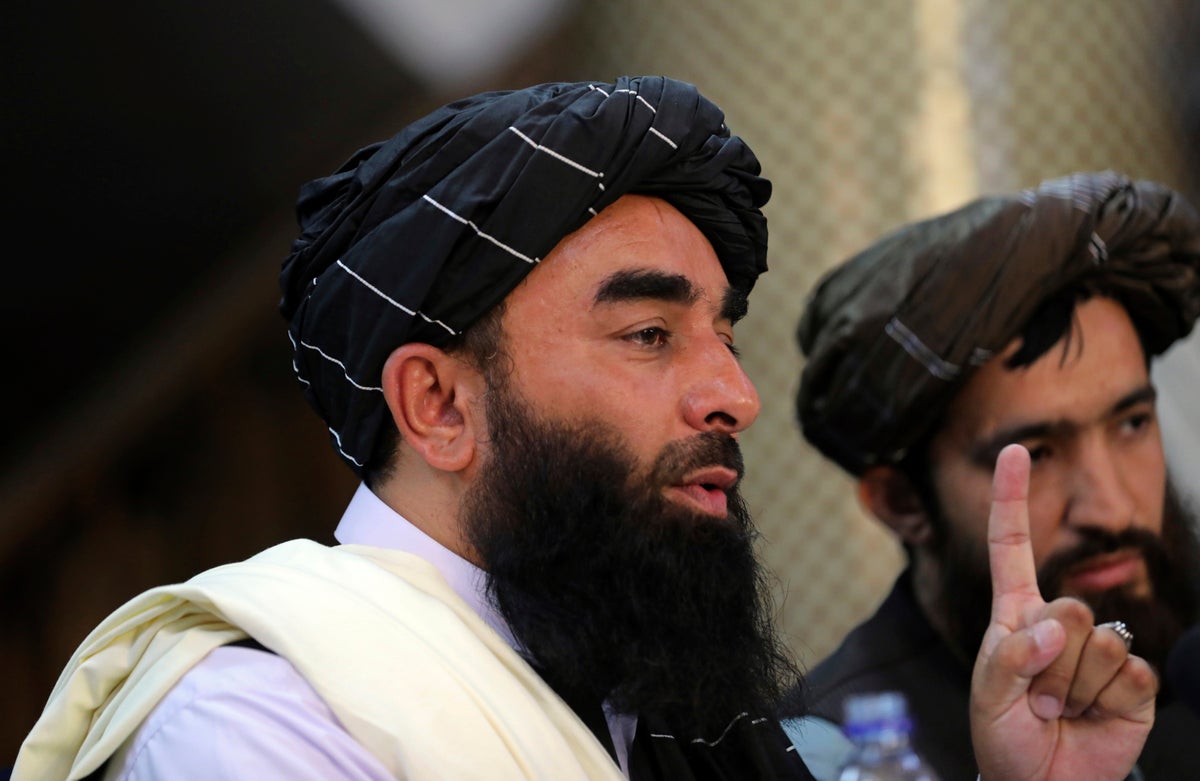 The Afghan Taliban said on Tuesday (Aug 17) they wanted peaceful relations with other countries and would respect the rights of women within the framework of Islamic law, as they held their first official news briefing since their shock seizure of Kabul.
The Taliban announcements, short on details but suggesting a softer line than during their rule 20 years ago, came as the United States and Western allies resumed evacuating diplomats and civilians the day after scenes of chaos at Kabul airport as Afghans thronged the runway.
"We don't want any internal or external enemies," the movement's main spokesman, Zabihullah Mujahid, said.
Women would be allowed to work and study and "will be very active in society but within the framework of Islam," he added.
As they rushed to evacuate, foreign powers assessed how to respond to the transformed situation on the ground after Afghan forces melted away in just days, with what many had predicted as the likely fast unraveling of women's rights.
US President Joe Biden and British Prime Minister Boris Johnson said they had agreed to hold a virtual meeting of Group of Seven leaders next week to discuss a common strategy and approach to Afghanistan.
During their 1996-2001 rule, also guided by Islamic sharia law, the Taliban stopped women from working and meted out punishments including public stoning. Girls were not allowed to go to school and women had to wear all-enveloping burqas to go out and then only when accompanied by a male relative.
The UN Human Rights Council will hold a special session in Geneva next week to address "serious human rights concerns" after the Taliban takeover, a UN statement said.
Ramiz Alakbarov, the UN humanitarian coordinator for Afghanistan, told Reuters in an interview the Taliban had assured the United Nations it can pursue humanitarian work in Afghanistan, which is suffering from a drought.
'WALK THE TALK'
The European Union said it would only cooperate with the Afghan government following the Taliban's return to power if they respected fundamental rights, including those of women.
Within Afghanistan, women expressed scepticism.
Afghan girls' education activist Pashtana Durrani, 23, was wary of Taliban promises. "They have to walk the talk. Right now they are not doing that," she told Reuters.
Several women were ordered to leave their jobs during the Taliban's rapid advance across Afghanistan.
Mujahid said private media could continue to be free and independent in Afghanistan and that the Taliban were committed to the media within their cultural framework.
He also said families trying to flee the country at the airport should return home and nothing would happen to them.
RESISTANCE AND CRITICISM
Mujahid's conciliatory tone contrasted with comments by Afghan First Vice President Amrullah Saleh, who declared himself the "legitimate caretaker president" and vowed not to bow to Kabul's new rulers.
It was not immediately clear how much support Saleh enjoys in a country wearied by decades of conflict.
NATO Secretary General Jens Stoltenberg said the Taliban should allow all those who wanted to leave the country, adding that NATO's aim was to help build a viable state in Afghanistan and warning that the alliance could strike if the country again becomes a breeding ground for terrorism.
The decision by Biden, a Democrat, to stick to the withdrawal deal struck last year by his Republican predecessor, Donald Trump, has stirred widespread criticism at home and among US allies.
Biden's approval rating dropped by 7 percentage points to 46 per cent, the lowest level of his seven-month-long presidency, according to a Reuters/Ipsos poll conducted on Monday. It also found that less than half of Americans liked how he has handled Afghanistan.
US forces took charge of the airport – the only way to fly out of Afghanistan – on Sunday as the militants wound up a week of rapid advances by taking over Kabul without a fight.
US General Frank McKenzie, the head of US Central Command, was at Kabul's airport on Tuesday to evaluate security.
The State Department said on Tuesday that Washington had completed a drawdown of embassy personnel from Kabul and remaining diplomats were assisting in the evacuation.
US military flights evacuating diplomats and civilians restarted after having been suspended on Monday due to chaos at Kabul airport.
Asked how Washington would hold the Taliban to their pledge to respect women's rights, Biden's national security adviser, Jake Sullivan, signalled that options included sanctions and marshalling international condemnation and isolation.
Washington was blocking the Taliban from accessing any Afghan government funds held in the United States, including about US$1.3 billion of gold reserves held at the Federal Reserve Bank of New York, a Biden administration official said.
Biden said he had had to decide between asking US forces to fight endlessly or follow through on the withdrawal deal.
He blamed the Taliban takeover on Afghan political leaders who fled and the army's unwillingness to fight. REUTERS