Why Japan's whalers are an endangered species
[ad_1]

Hideki Tokoro, the last and only hope of Japan's commercial whaling industry, wears a light-blue suit, a patterned blue shirt, a tie with whales on it and a large whale tie pin.
A self-made accountant who founded his own firm, Tokoro was brought in last year to run Kyodo Senpaku after working on a previous restructuring. The company owns and operates Japan's only long-range whaling vessel — the Nisshin Maru — and dominates the controversial industry.
With Japan now withdrawing subsidies from whalers, Tokoro is on a mission to make Kyodo Senpaku turn a profit. His success or failure is likely to determine whether Japan remains a whaling nation or not.
"We're now engaging in heavy promotional activity," he says, in a rare interview with the Financial Times. "We need to get this shrinking market back on the increase."
The commercial challenge Tokoro has taken on shows the profound crisis triggered in his industry by Japan's 2019 withdrawal from the International Whaling Commission, the global regulatory body, and resumption of whaling within its exclusive economic zone.
Researchers with harpoons
As an IWC member, Japan had agreed to abide by the organisation's catch
quotas — which, since 1986, have been set at zero for commercial whaling. Japan got round this moratorium via a loophole in the IWC's founding convention, which permits whales to be killed "for purposes of scientific research", with quotas determined by individual governments. The resulting "research whaling" programme was bitterly opposed by conservationists and other IWC members.
Ultimately Japan grew tired both of the IWC's refusal to countenance a revival of commercial whaling, and of the expensive subsidies for research whaling. Pushed by powerful politicians from its whaling heartlands, Tokyo chose to leave the IWC, avoid international waters and let the industry sink or swim on its own commercial merits.
Kyodo Senpaku now has a government-set quota of 1,550 tonnes, which must be caught inside Japan's exclusive economic zone — less than the 2,400 tonnes previously permitted, and comprising less commercially attractive species.
"Initially, everyone was excited to restart commercial whaling, and then the reality hit that the allowable catch was reduced," Tokoro says.
Traditionally, whale is regarded in Japan not as a delicacy but as a source of cheap protein. It was widely used in school dinners during the 1950s and 1960s and still has that image.
Tokoro, who insists that whaling is an ecological positive, wants to rebuild consumer demand and finance a replacement for the Nisshin Maru, which is nearing the end of its life.
"Our targets are wealthy people and the young. The older Japanese people are, the more they regard whale as a low-level food," he says.
Tokoro has teamed up with an Italian restaurant to produce whale haute cuisine. Talking in the office of his accountancy business, he shows a promotional CD of karaoke tunes and produces a tub of whale ice-cream to try. Made from 30 per cent whale oil, it is sorbet-like, with a slightly unpalatable citrus flavour.
Economic realities
Tokoro's ebullience masks a grim financial situation. Sales fell from ¥3bn ($27m) in the 2018 financial year to ¥2.6bn ($24m) in 2020 as the price of whale fell from ¥1,200 ($11) per kilogramme to around ¥800, before picking up again more recently.
Kyodo Senpaku makes a large operating loss. Until last year, it received a ¥1.3bn annual subsidy, which has now been replaced by ¥1bn in government loans for each of the next three years. From 2024, it must survive on its own resources, all while financing a new ship that Tokoro expects to cost ¥6bn.
Tokoro is scornful of change-averse bureaucrats and of Japan's coastal whalers, such as those who carry out the infamous Taiji dolphin hunt. "We're aiming to be self-sufficient but the land-based whalers can't possibly do it," he says, because of their low sales and high costs.
Anti-whaling groups argue that hunting the marine mammals is both cruel and ecologically unsustainable. Governments such as the UK and Australia oppose whaling, and have blocked any attempt to lift the IWC moratorium.
Tokoro argues the opposite: that failure to hunt whales is unsustainable. He says whale numbers have been growing by 4 per cent a year since the moratorium began and claims they are putting pressure on fish stocks. "In the future, if we plan to catch fish then we'll have to hunt whales," he says.
More stories from this report
Joji Morishita, a professor at the Tokyo University of Marine Science and Technology and Japan's last commissioner at the IWC before it withdrew, says there is little evidence to support Tokoro's theory. But he adds that Japan's quotas are based on strict IWC calculations to ensure sustainability, and that current levels of whaling have little impact on whale populations.
The switch to whaling only in Japan's exclusive economic zone has reduced international pressure, and Japan's coast guard can prevent campaigners carrying out direct action against whalers in local waters.
Tokoro is defiant towards activists who regard whales as different from other animals killed for food. "To the people who say that whales are cute like pandas, so you shouldn't eat them, all we can say is 'fine'," he says.
But the greater threat to Kyodo Senpaku is the changing tastes of the Japanese public and the short remaining lifespan of the Nisshin Maru, without which it will in effect be out of business.
Unless Tokoro can revive the nation's appetite for whale, the industry is likely to die not from international outrage, but from Japanese indifference.
[ad_2]

Source link
Taliban show conciliatory face at first Kabul news conference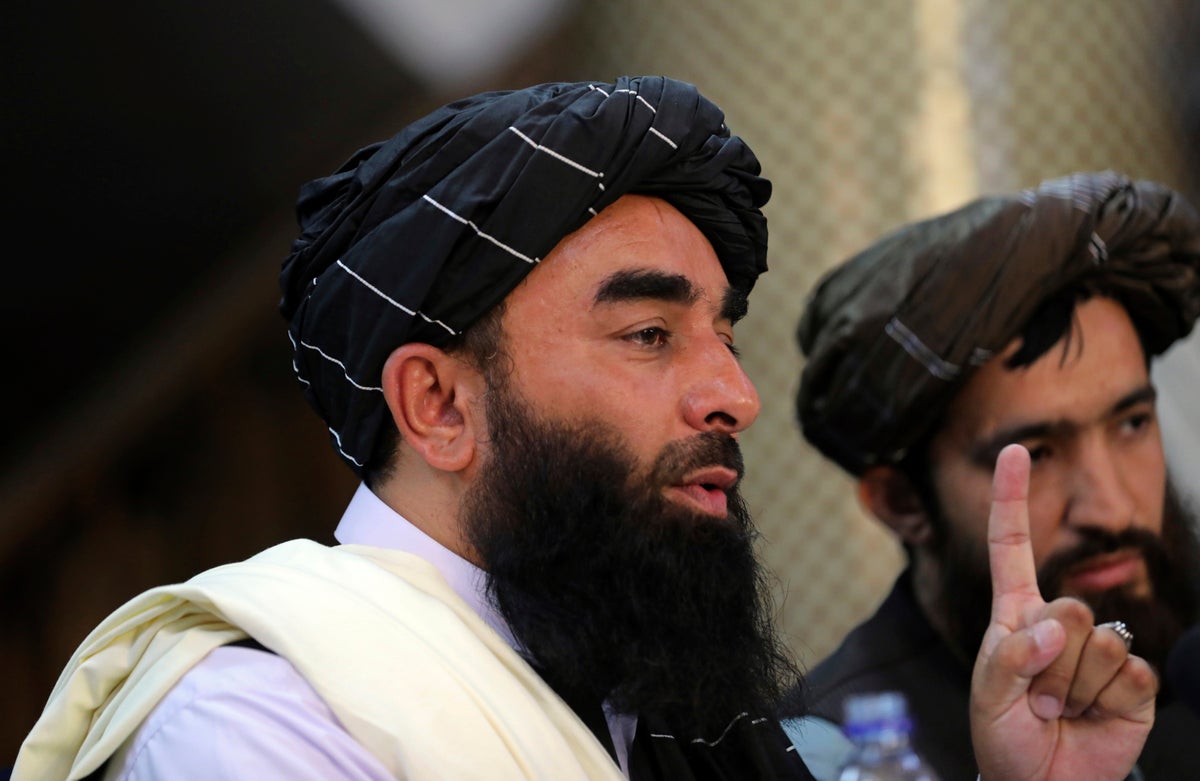 The Afghan Taliban said on Tuesday (Aug 17) they wanted peaceful relations with other countries and would respect the rights of women within the framework of Islamic law, as they held their first official news briefing since their shock seizure of Kabul.
The Taliban announcements, short on details but suggesting a softer line than during their rule 20 years ago, came as the United States and Western allies resumed evacuating diplomats and civilians the day after scenes of chaos at Kabul airport as Afghans thronged the runway.
"We don't want any internal or external enemies," the movement's main spokesman, Zabihullah Mujahid, said.
Women would be allowed to work and study and "will be very active in society but within the framework of Islam," he added.
As they rushed to evacuate, foreign powers assessed how to respond to the transformed situation on the ground after Afghan forces melted away in just days, with what many had predicted as the likely fast unraveling of women's rights.
US President Joe Biden and British Prime Minister Boris Johnson said they had agreed to hold a virtual meeting of Group of Seven leaders next week to discuss a common strategy and approach to Afghanistan.
During their 1996-2001 rule, also guided by Islamic sharia law, the Taliban stopped women from working and meted out punishments including public stoning. Girls were not allowed to go to school and women had to wear all-enveloping burqas to go out and then only when accompanied by a male relative.
The UN Human Rights Council will hold a special session in Geneva next week to address "serious human rights concerns" after the Taliban takeover, a UN statement said.
Ramiz Alakbarov, the UN humanitarian coordinator for Afghanistan, told Reuters in an interview the Taliban had assured the United Nations it can pursue humanitarian work in Afghanistan, which is suffering from a drought.
'WALK THE TALK'
The European Union said it would only cooperate with the Afghan government following the Taliban's return to power if they respected fundamental rights, including those of women.
Within Afghanistan, women expressed scepticism.
Afghan girls' education activist Pashtana Durrani, 23, was wary of Taliban promises. "They have to walk the talk. Right now they are not doing that," she told Reuters.
Several women were ordered to leave their jobs during the Taliban's rapid advance across Afghanistan.
Mujahid said private media could continue to be free and independent in Afghanistan and that the Taliban were committed to the media within their cultural framework.
He also said families trying to flee the country at the airport should return home and nothing would happen to them.
RESISTANCE AND CRITICISM
Mujahid's conciliatory tone contrasted with comments by Afghan First Vice President Amrullah Saleh, who declared himself the "legitimate caretaker president" and vowed not to bow to Kabul's new rulers.
It was not immediately clear how much support Saleh enjoys in a country wearied by decades of conflict.
NATO Secretary General Jens Stoltenberg said the Taliban should allow all those who wanted to leave the country, adding that NATO's aim was to help build a viable state in Afghanistan and warning that the alliance could strike if the country again becomes a breeding ground for terrorism.
The decision by Biden, a Democrat, to stick to the withdrawal deal struck last year by his Republican predecessor, Donald Trump, has stirred widespread criticism at home and among US allies.
Biden's approval rating dropped by 7 percentage points to 46 per cent, the lowest level of his seven-month-long presidency, according to a Reuters/Ipsos poll conducted on Monday. It also found that less than half of Americans liked how he has handled Afghanistan.
US forces took charge of the airport – the only way to fly out of Afghanistan – on Sunday as the militants wound up a week of rapid advances by taking over Kabul without a fight.
US General Frank McKenzie, the head of US Central Command, was at Kabul's airport on Tuesday to evaluate security.
The State Department said on Tuesday that Washington had completed a drawdown of embassy personnel from Kabul and remaining diplomats were assisting in the evacuation.
US military flights evacuating diplomats and civilians restarted after having been suspended on Monday due to chaos at Kabul airport.
Asked how Washington would hold the Taliban to their pledge to respect women's rights, Biden's national security adviser, Jake Sullivan, signalled that options included sanctions and marshalling international condemnation and isolation.
Washington was blocking the Taliban from accessing any Afghan government funds held in the United States, including about US$1.3 billion of gold reserves held at the Federal Reserve Bank of New York, a Biden administration official said.
Biden said he had had to decide between asking US forces to fight endlessly or follow through on the withdrawal deal.
He blamed the Taliban takeover on Afghan political leaders who fled and the army's unwillingness to fight. REUTERS